Kitchen Inspiration
The Barefoot Way: Cooking, Music, Art, and Creativity in the Mountains
Have you ever had that wild dream where you sell your house in the city to move to a beautiful place in the countryside? Living with energy from the sun, harvesting your food and enjoying the good things in life like cooking, music, love, and art. Meet The Barefoots, a family that made this dream a reality in a secret location in the California mountains.
Gabriela Alvarado
June 30, 2023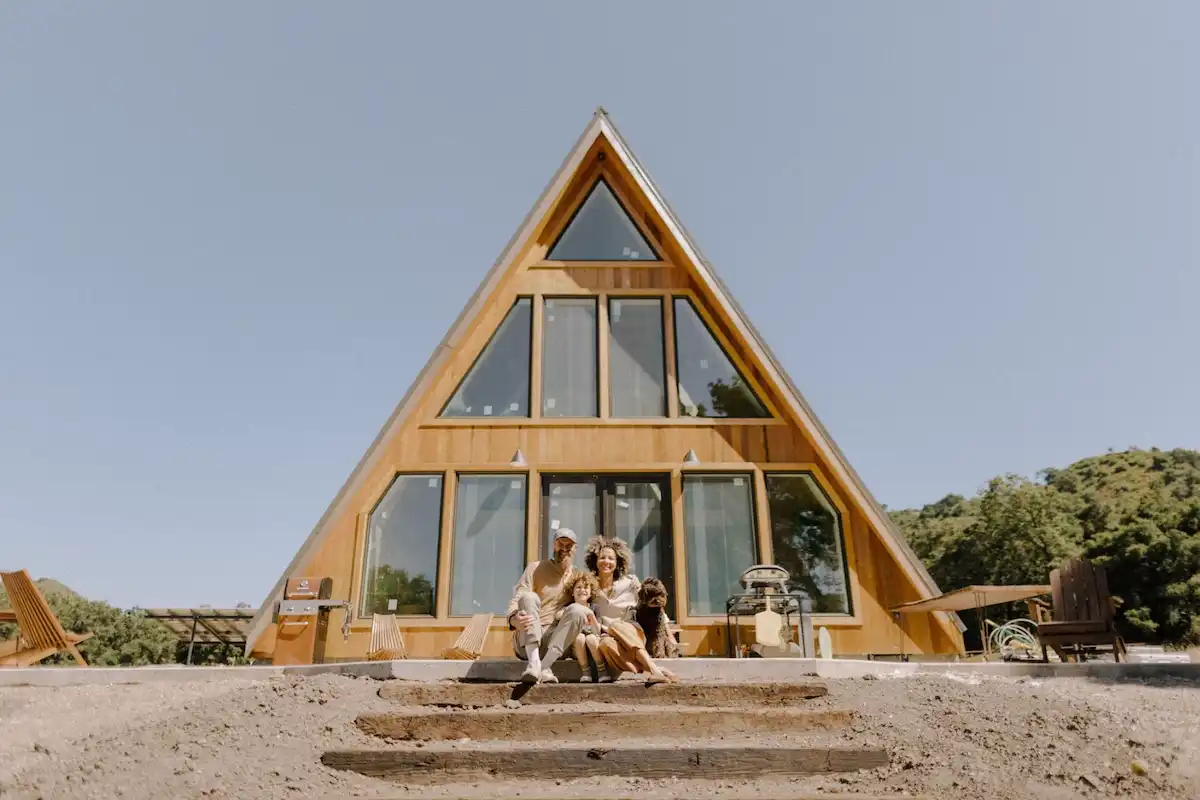 In 2020, Drew Barefoot and his wife decided to build their home, a creative haven for two artists and their son and their dog. Inspired by their childhood memories in the mountains, and the desire to build an inspiring place to feed their creativity, Drew and his wife decided to buy a piece of land in a secret location a few kilometers from the coast.
Building their AVRAME house has been a unique, long and challenging journey that started back in 2020. It's 2023 and their beautiful home is finally finished, and as FORM was in charge of the kitchen design, we had the chance to know a bit more about their story of building a house with carefully designed spaces that would inspire their creativity.
Tell me your house's story and how you decided to move to the mountains.
Drew Barefoot:  We wanted a house that we loved being in, that was unique and located somewhere inspiring. We're both artists, my wife is a ceramic artist, and I'm a photographer, videographer, and musician, so living in a space that inspires our creativity is super important.
We both grew up going to the mountains, Tahoe, Truckee, and the Sierras. So I had always thought it would be great to live in a cabin. That way, I would always feel like I was on vacation. We bought a piece of land in the mountains of California. So when we started this journey, it was just land, and we needed a type of house that we could build with our budget.
We decided to build an A-Frame house, which is shaped like a triangle or the letter A, with four walls beginning at the foundation and meeting at a pointed roof. Then we found this company called AVRAME, and the more we learned about the sustainability, design, and benefits of this type of house, the more we were convinced.
We love our house and even though it has been difficult at times, we've been able to solve some issues because I think that when you are trying to create something unique, there are many challenges. For example, one of the challenges with this house was that there is no storage, no closets, no kitchen cabinets, and there are no designated spaces for this. We didn't really know how to do all that when we were starting.
How did you found FORM Kitchens?
When we first started thinking about a kitchen, we both knew that we wanted something very simple in terms of design but really efficient. And when we visited the local kitchen studios, they were super outdated and the kitchen styles were very over the top.
An A-frame house is like a blank canvas inside, it's just like a large empty space, and you need to design the rooms and where to put them, including the kitchen. I realized that we needed a designer because we can get kitchen cabinets pretty much anywhere, but we needed someone to design our kitchen. And you could only get a designer locally if you did the whole kitchen, cabinetry, design and installation with the same contractor. And then we found FORM online and we realized you guys were able to solve all of these pain points we were facing.
How was the experience with FORM?
Early on in the process with FORM, my favorite thing was the level of professional design. I had an actual designer and not just someone telling me what I wanted to hear. Debora was our Designer, she was super professional and she actually had an opinion. Debora would disagree with some of the things we wanted in the beginning and always gave us a design proposal that would improve our design so much more. And now that I'm seeing it all come together, I'm so thankful we had the support of a professional designer.
"Early on in the process with FORM, my favorite thing was the level of professional design. I had an actual designer and not just someone telling me what I wanted to hear."
What was the inspiration behind this kitchen design?
My wife and I have a five-year-old, and I mostly cook. I love to cook. It's like therapy for me, and I wanted a kitchen that could support real cooking use. A kitchen that was efficient and with enough storage for all of our things, and an open plan to be able to see outside and host people.
As the space is small, I wanted to make the most of a tiny little spot. One of the things I really like is how Debora solved the storage point, I wanted to have as much hidden storage as possible and she created so much clever storage space, like even on our island, the part where the bar stools are all like shallow cabinets that all open.
We also really wanted an island, because I love that when I am prepping food I can be talking to people and I can see all the way through the living room.
"I love to cook. It's like therapy for me, and I wanted a kitchen that could support real cooking use."
You mentioned you love cooking, what does cooking mean to you?
I got into cooking like six years ago. I was in a pretty bad motorcycle accident and I wasn't able to walk for four months. When I was finally able to move a little bit I really wanted to do something because I was stuck at home all the time. So I started baking, cooking and even making pizza. Pretty soon I loved it and I actually started making pizza for the neighborhood or hosting pizza nights with our friends.
It started as a lonely activity, just me cooking, and it was like therapy for me. But now it's a family thing, because our son loves helping me cook. It's a really fun thing to do with a kid. They get so into it, and it's so tangible, they can touch different textures, smell, taste, and get creative. This is why I wanted a kitchen that could get hammered, that could get dirty and chaotic but that is also beautiful. And I think you guys really nailed it with this design.
Like The Barefoots, we believe in the importance of designing liveable spaces that inspire you and make your life easier. We loved working with them and creating this cabin kitchen that combines perfectly the wood cabin look and minimalistic cabinet fronts for a modern look that will be a canvas for their cooking experiences.