Kitchen Inspiration
A stunning transformation of a 19th century kitchen
Amy Eckhardt and Tim Demars transformed an 1800s home in Greenville's West End into their dream home. They discovered FORM while searching for modern cabinets and were impressed with their quality and design process. Learn how they transformed their original kitchen space into a functional and beautiful hub of their home.
Michael Quinn
April 10, 2023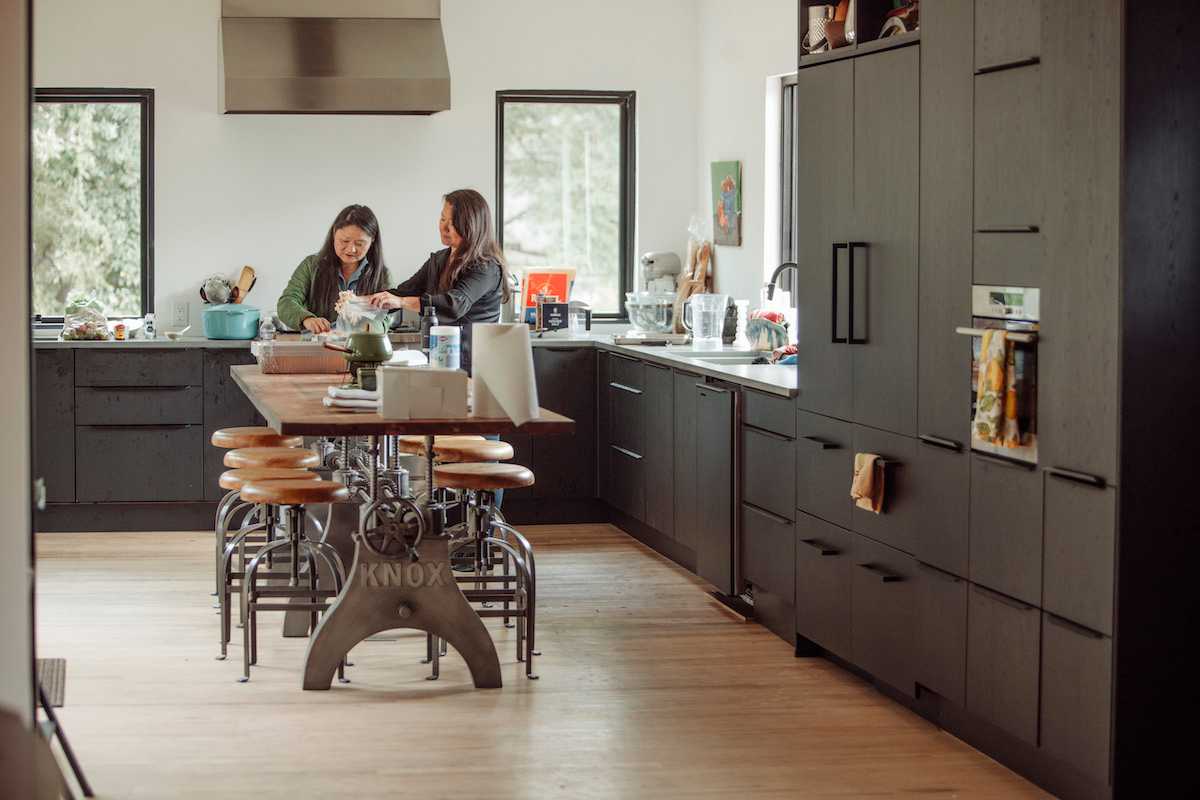 When Amy Eckhardt and Tim Demars purchased their historic, 1800s home in Greenville, SC's West End, Amy had a specific aesthetic in mind for her home and kitchen renovation.
"I had a vision of an old, restored home, but with a modern, streamlined kitchen. I absolutely did not want something traditional. And I didn't want to attempt to replicate something from the 19th century." 
Her kitchen style, as described to her FORM designer at the beginning of the process, was a "combination of old and new, industrial and clean but not cold…with an organic feel."
Amy's inspiration came from childhood memories, family trips visiting historic homes in England that had been restored with very modern interiors. It was the blending of the two aesthetics that left her with vivid memories she now wanted to replicate in South Carolina.
Her online search for modern cabinets led her away from Ikea and KraftMaid, neither of which had the finishes or quality she was looking for, and directly to FORM. She spent time researching reviews, perusing FORM's Instagram, reading about the design process and designer that each FORM project comes with, and after seeing the 25-year warranty, she was sold. 
"The cabinets came out the exact way I envisioned them. And that's not the case with a lot of things in a renovation. This kitchen space is so open to the rest of the house, so I was extremely specific about wanting the cabinets to visually blend in. I got the exact streamlined look I was going for. Even the handles choices FORM offered work perfectly, everything blends in like it's decor instead of just really functional cabinets."
Amy and Tim did not have a typical kitchen space. The original kitchen area was the "working kitchen" from the 1880s. The ceilings were incredibly low; it was dark and cramped. Moreover, because it was original, the space was an entirely separate building, with a covered portico connecting it to the rest of the house as a way to prevent fire, heat, dirt and noises from reaching the main house.
The newly built kitchen required the expertise of Palacios Hunt Architecture and RPM Renovations – both located in Greenville, SC – to connect the spaces. During the process, Amy and Tim requested that their builder save and reuse or repurpose every piece of material possible.
Tim found use for the ceiling beams the builder removed from the original working kitchen to build a custom table top that also functions as the kitchen island. He added a replica of a machine shop table base to it to give them a functional eating and working space. They're able to raise the table up to bar height or down for standard seating by turning the crank. 
Their careful attention to the functionality of each element extended to what they describe as their "mud-space-landing-area." This is not a separate room, but an extension of their kitchen, located directly next to a side door off their driveway that they come through multiple times a day. This is their spot for putting shoes on, taking coats off and  putting things down until they can be put away. They leveraged their FORM designer to create this area with FORM's cabinetry so that it integrated seamlessly and connected visually to the kitchen. Tim continued that integration of materials by using leftover wood from the kitchen table top as the surface of the bench.
Amy was hyper-focused on making an extremely functional work space for her when she cooks. She is self-described as "short" (5'3) and Tim is tall (6'3). She knew from previous experience that upper cabinets were not going to work well for her. As a result, she designed the kitchen with mostly drawers, no upper cabinets, and several floor to ceiling cabinets that gave them added storage space that she could reach (mostly!) without a stepstool.
"The quality of the product is exceptional. The drawers are extremely sturdy. I use them for all of my dishes and they handle completely full drawers of plates and bowls without any problem. They just feel durable and I can tell they will last us a long, long time."
Amy also added, "The kitchen renderings my designer Debra provided us ended up being critical to our design process for the rest of our space beyond the kitchen. The renderings helped us make design selections and enabled our contractor and my husband to understand where I was trying to go.
Photo by Julia Potatpenko