Kitchen Inspiration
An Entertainer's Dream Kitchen in the Pacific Northwest
Check out this tour of one of our newest projects just outside of Seattle. Our clients Chad and Trisha bought an older home with the intention of putting their full stamp on it. They wanted plenty of storage, an airy feel, a modern look, and a layout and flow that allowed them to do what they enjoy most, entertain.
Michael Quinn
September 13, 2022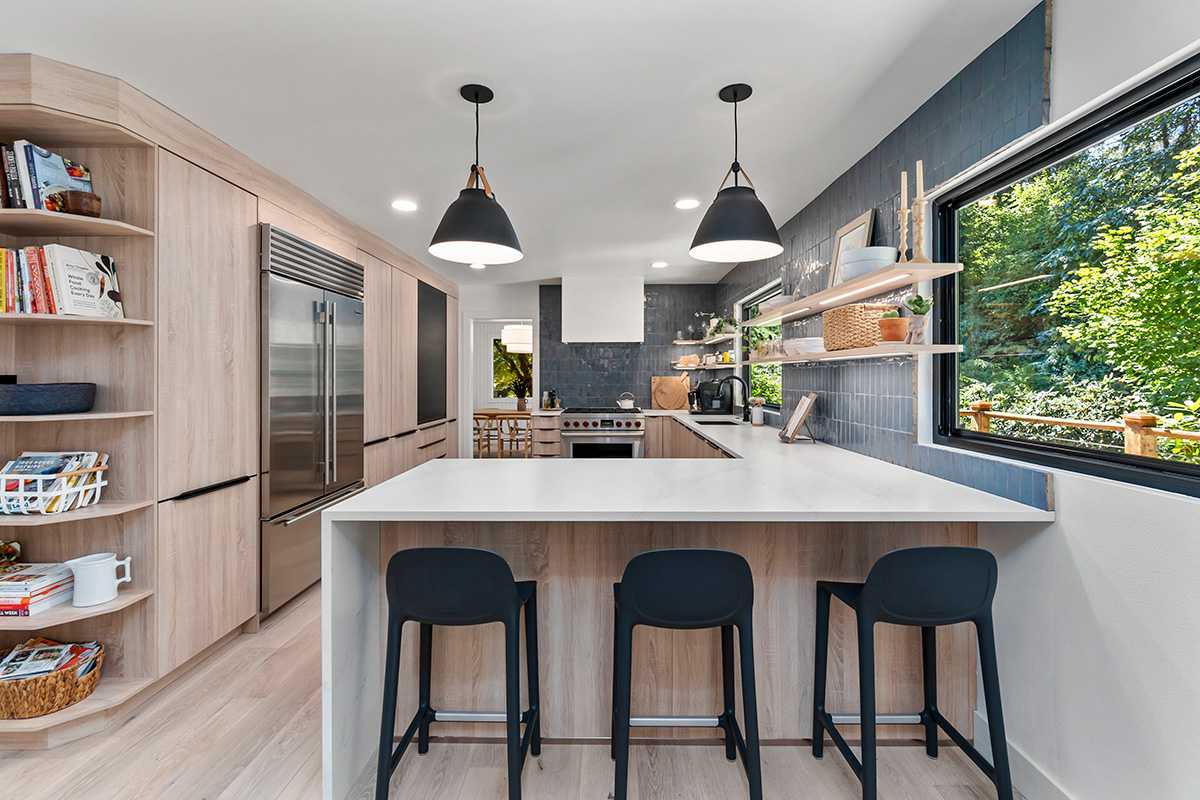 What were you looking for in your kitchen renovation?
We purchased our home last summer with the intention of investing in it to put our own stamp on it. It was originally built in the 1980s and much of the house remained stuck there, including the kitchen. Our goals for the kitchen included making it bigger, improving the flow, providing adequate storage, and bringing the finishes and appliances into the present day. In addition, we leaned on the use of open shelving to create a more airy feel and create room for our plant babies. Our designer helped us quite a bit on the overall look and feel and we relied on FORM to bring it all together with the cabinets, which came out even better than we imagined.
"The kitchen effectively serves as the heart of our home and we love using that space as a place to connect with family and friends."
What do you love to do in your kitchen?
After such a transformation, you wish you were able to say "cooking" is what you love to do most, but for us it would probably be entertaining. Our kitchen is adjacent to our family room and we probably spend more than 90% of our time living in these two rooms, particularly when we're entertaining. The kitchen effectively serves as the heart of our home and we love using that space as a place to connect with family and friends.
What are your favorite features?
We love the expanse of windows that look out on the back of our property. The tall evergreen trees on our property help create a sense of privacy and connection to nature we weren't expecting when we purchased the home. The open shelving in the kitchen allows us to better take full advantage of that natural backdrop. Some of our other favorite kitchen features include the clean, minimal design of the cabinets and pulls, the functionality of the Lazy Susan's in two of the lower cabinets, the pegboard organizers in two other lower cabinets, and the appliance garage. Storage was a big focus for us and everything in the kitchen has a home, which we love.
"Working with FORM was painless, easy, and enjoyable from start to finish."
What was working with FORM like?
The design process was surprisingly fun, as the rendering that was presented to us was very life-like and included our exact appliances and other finish selections. Watching the finished product turn out almost exactly like the rendering was pretty incredible to see.
What advice would you give to someone renovating a kitchen?
Our two biggest recommendations would be to have a very strong sense of what you want before you engage a contractor and to be realistic about your budget and assume you will overshoot it. These are more general remodeling comments, but it's especially true for a kitchen, particularly one that involves going down to the studs. For us, FORM proved to be the most on-budget part of our entire whole-home renovation, which is pretty incredible when you consider how time- and resource-intensive a kitchen can be. So of course we would recommend giving FORM a hard look.
Book a free 1:1 consultation