Kitchen Inspiration
Design Inspiration for a Modern White and Black Kitchen
Some may think that combining white and black colors in a kitchen is a thing of the past. But we think differently. As our designers say, white and black are a great match for a modern style kitchen. Whether you already decided these will be your kitchen colors or consider them an option but don't know how to incorporate them in your kitchen design, we've got great tips to inspire you.
Gabriela Alvarado
May 26, 2023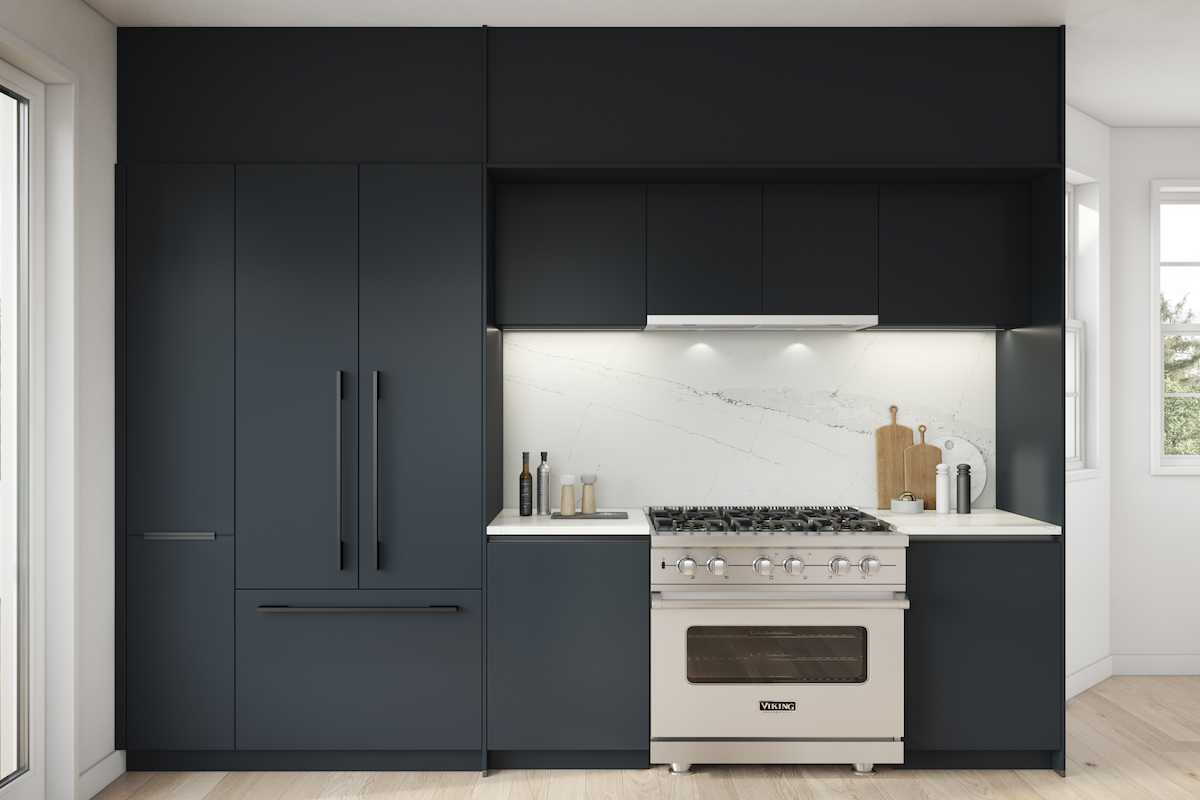 What we love about White and Black Kitchens
In interior design, white and black combination is considered as the yin yang as it balances a space and also brings these benefits to your design:
• Few color combinations rival black and white's timeless elegance and striking contrast. 
• These two classic shades create a harmonious balance that effortlessly enhances any kitchen space. 
• As neutral colors, they make a style that matches perfectly with modern-style kitchens. 
This blog post will explore the captivating allure of black and white contemporary kitchens and some inspiring ideas to help you infuse this color scheme into your culinary haven.
The Power of Contrast
At the heart of black and white kitchen designs lies the power of contrast. The juxtaposition of these two contrasting hues adds depth, drama, and visual interest to the space. Bold, black kitchen cabinets or countertops against a backdrop of white walls or a white kitchen backsplash and a white marble island create a striking focal point, capturing attention and making a powerful design statement. This dynamic interplay of light and dark lends a sense of sophistication and modernity to the kitchen.
For white kitchen ideas, white kitchen cabinets offer a white canvas and can make a small kitchen feel more extensive, and when you add statement details in black like stools or lamps, it can create a more elegant look and feel. We love this design where the center piece is the black island front. Don't forget about other elements of the kitchen like the hanging lamps and tap in the sink, which can also be black and add a cooler minimalist look.
Sleek and Contemporary
Black and white color schemes are synonymous with sleek, contemporary design. Incorporating glossy black surfaces, such as lacquered cabinets or appliances, alongside gleaming white countertops and backsplashes creates a chic and polished look. The clean lines and minimalist aesthetic of black and white kitchens evoke a sense of modernity and timelessness. This style is perfect for those who appreciate a refined, uncluttered atmosphere.
Playing with Textures
Black and white kitchens offer an excellent opportunity to play with textures, adding depth and dimension to the space. Pair glossy black cabinets with a white subway tile backsplash for a sleek and contemporary look, or add some cabinet fronts in wood to have a nice contrast that will make it look a bit more warm. Alternatively, combine matte black surfaces with a textured white quartz countertop or back splash. Incorporating a variety of textures can transform a monochromatic color scheme into a modern and captivating visual experience.
Pops of Color and Texture
While black and white form the foundation of the color scheme, don't shy away from introducing pops of color to add vibrancy and personality. Choose a bold red or vibrant yellow to accentuate kitchen accessories, such as bar stools or pendant lights. Adding wood utensils can also infuse a lively touch. These splashes of color create a striking contrast against the black and white backdrop, injecting energy and individuality into the space. You can also play with color in details like the cabinet handles or appliances like the fridge or the oven. The key is to have a pop of color that stands out but makes sense with the black and white kitchen.
Black and white kitchen designs are a testament to the enduring beauty of contrasting colors. Their ability to adapt to modern styles makes them ideal for any kitchen renovation. Black and white kitchens are a timeless choice that will never go out of style, making them practical and cost-effective.
Even though this combination might be considered monochromatic, with these tips you can create a more exciting atmosphere that will transform your kitchen into a state of the art space.
Book a Free Consultation with one of our designers to discover how your white and black kitchen will look like.