Kitchen Inspiration
Busy Professionals Bring Texture, Joy, and Order to Their New Kitchen
Michael Quinn
October 23, 2020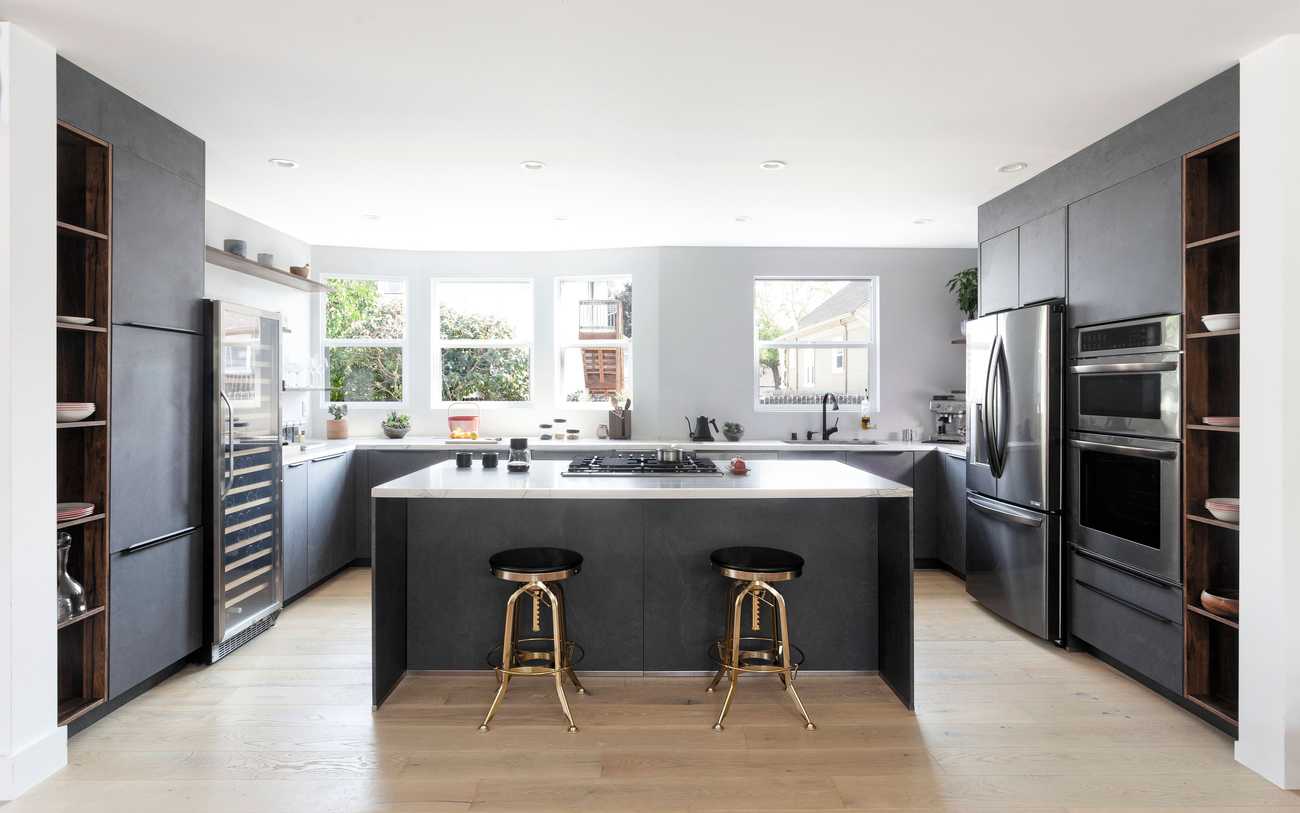 The kitchen is an important room for them. It's their social and communal space. It's where they can indulge in their favorite activities, like cooking, baking and cocktail-making all while their dog Waffles stretches out for a snooze.
We started by working with them on the layout. We wanted to provide great flow and also create distinct zones to support what they need and love.
One side of the kitchen is effectively an integrated bar area. It features a tall wine fridge, with a counter-height pull-out storage unit for liquors, mixers, and the tools to make the perfect libation.
There's also a tall pull-out pantry unit for abundant storage. We wanted to make all the elements of this signature space personalized to Hari's dream home bar.
The anchor of the kitchen is the generously sized island, which provides plenty of space for meal prep and has a built-in cooktop with an array of drawers and inserts below.
There, they can store everything from vegetables to cookware to utensils to make sure everything is within easy reach from the stove. To design this part of the kitchen, we went drawer-by-drawer with the couple 
to hand-pick the best mix for functionality.
Plus, with the cooktop facing out into the great room, the person at the stove has an open view to the dining and living rooms and is still a part of the action, mingling with guests (once socialization goes back to normal).
The other side of the kitchen provides functionality with the double wall ovens and the fridge. You also get extra storage with the open shelving, as well as a sense of balance—since it mirrors the open shelving on the opposite side of the room.
Beyond functionality, Hari and Mitali also had a strong vision for look-and-feel. They told us in one of our early planning calls, that they wanted a space with visual complexity and physical texture.
They also infused thoughtful details throughout, like the black integrated handles on the cabinets, which add a level of elegance and order to the kitchen.
Since sustainability is important to them, we co-created a pull-out trash cabinet that has several bins to separate out trash, recycling and compost–with a lid for the compost to make sure it doesn't smell!
Hari and Mitali were some of our first clients, and have been an absolute pleasure to work with. We're thrilled that we could help bring their vision to life and make the kitchen space theirs. And last we talked, Hari had mixed up some potent cocktails to celebrate the kitchen coming to life.
Photography by James Zhou