Kitchen Inspiration
Caesarstone + FORM Kitchens: surface more possibilities
Unveiling FORM Kitchens' newest collaboration with Caesarstone. Experience the collaboration of top-tier countertop design with our modern kitchen expertise, harmonizing beauty, functionality and longevity. Explore a partnership that's set to transform your kitchen space.
Kristen Davis
October 20, 2023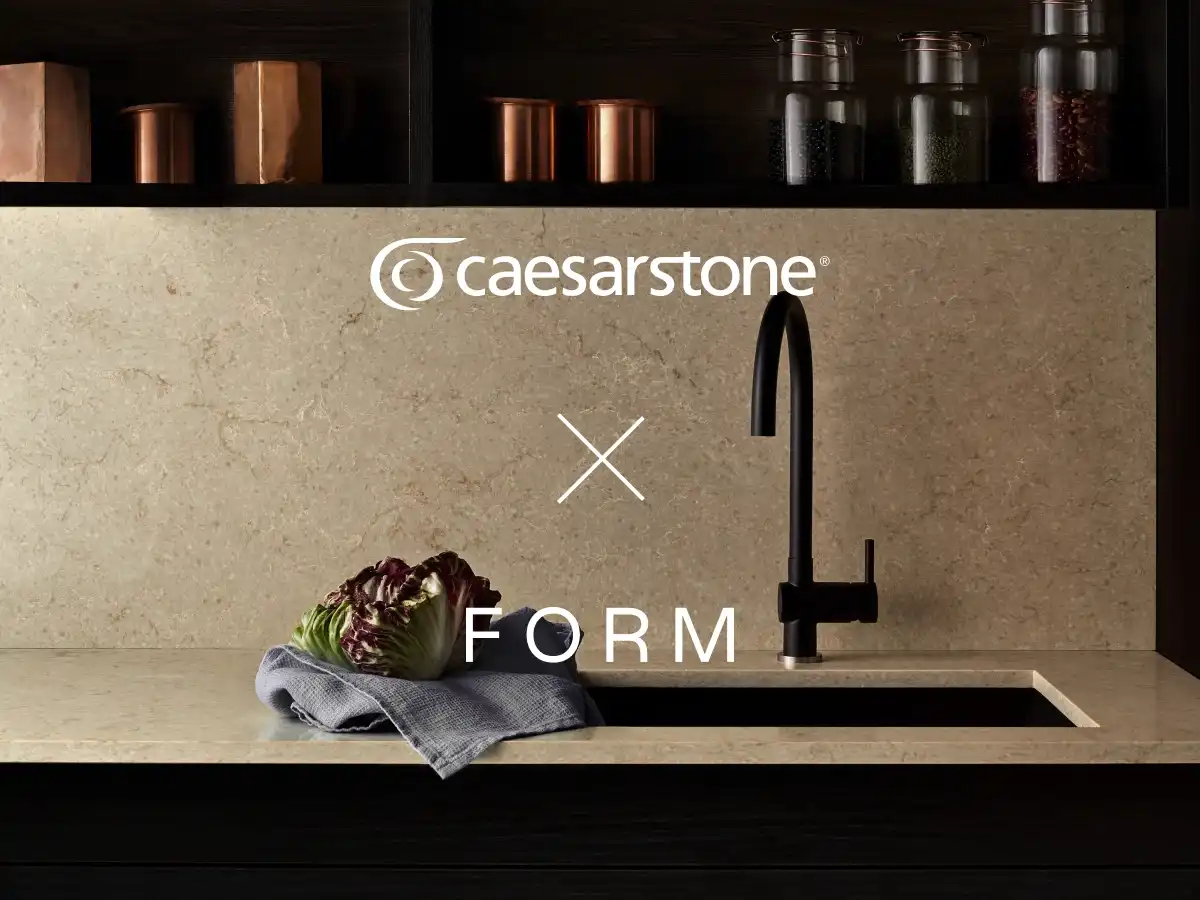 Caesarstone and FORM are joining forces
In the world of modern kitchen design, collaboration is key. At FORM Kitchens we are truly excited to share our latest partnership with Caesarstone, a leader in countertop design and manufacturing. This alliance promises to really elevate the kitchen experience for our customers, offering a seamless blend of design aesthetics and unmatched functionality all under one digital roof.
That's right, a one-stop-design-shop 
FORM was built on buying kitchens in a more thoughtful, modern way, and that's precisely what this partnership brings to the table. By integrating our product lines, we eliminate the need to juggle multiple store visits, ensuring that the big ticket items—from cabinets to countertops—can be explored, designed, refined and installed as part of the same project. A streamlined process that saves time, reduces stress, and guarantees design cohesion.
Tell Me More About Caesarstone
Originating in 1987, Caesarstone has, over the years, solidified its position as a frontrunner in the world of kitchen surfaces. Their standing in the industry isn't solely attributed to their premium quality products, but also their relentless drive towards innovation. Their expansive portfolio, showcasing over 100 diverse colors, is a testament to this commitment. 
Caesarstone leverages advanced technology alongside a keen sense of design, ensuring that their countertops serve not just as a functional workspace, but also as a centerpiece in every kitchen. Their ability to blend durability with aesthetic appeal makes Caesarstone a preferred choice for modern kitchens around the globe.
The Caesarstone Range at FORM Kitchens
Together we have hand-picked a range of quartz countertops, each chosen for its unique aesthetic appeal and robust durability. In the coming months we look forward to announcing new Caesarstone materials as they are added to our catalog. In particular, keep an eye out for the new Mineral range.
Want more inspiration? Add your email to receive more beautiful surface ideas.
- Our Caesarstone: FORM Catalog
- Pantry and Bar Lookbook
- Bathroom Lookbook
Caesarstone Quartz: A stand-out material
Quartz is not just a trend; it's a statement. In fact the majority of our customers invest in Caesarstone quartz countertops because they marry perfectly with the quality, style and durability of the FORM cabinets they rest upon. Just another good reason to make it official and partner with the beautiful surfaces at Caesarstone.
Caesarstone quartz is made from engineered stone, which offers a level of resilience and resistance to wear and tear, making it an excellent choice for busy kitchens. If you need to know more, here's what makes Caesarstone quartz a great option for a built-to-last experience in your new space.
Durability: Caesarstone quartz outperforms natural stones like marble and granite, making it harder, stronger, and safer.
Maintenance: It's easy to clean with a non-abrasive cloth and mild cleaners, ensuring longevity.
Quality: The nonporous nature of Caesarstone quartz ensures it's dense and resilient, making it resistant to stains, scratches, and everyday wear and tear.
Variety: Caesarstone quartz offers numerous options in patterns, textures, and colors, with fewer visible seams than other materials.
Installation: Fabrication and installation are straightforward, ensuring exceptional finishes.
Hygiene: Its nonporous characteristic inhibits the growth of bacteria, mold, or mildew, keeping surfaces sanitary.
Heat Resistance: Caesarstone quartz can handle high temperatures, allowing direct contact with heated items.
Warranty: Enjoy a lifetime warranty that covers defects for materials manufactured and installed by a Certified Fabricator.
Beautiful in any room
Beyond the stunning kitchen countertops and backsplashes, you'll find that Caesarstone quartz is versatile enough for bars and pantries, bathroom countertops, laundry rooms and elegant powder rooms. Making a statement with modem FORM Cabinetry and timeless Caesarstone surfaces has never been more simple - or more stunning.
Want more inspiration? Add your email to receive more beautiful surface ideas.
- Our Caesarstone: FORM Catalog
- Pantry and Bar Lookbook
- Bathroom Lookbook
Five beautiful finishes at FORM
Caesarstone quartz offers a range of finishes, whether you're aiming for a sleek look, a tactile experience, or the raw feel of industrial materials, there's a finish tailored to your kitchen's needs.
- Polished: Beyond its aesthetic appeal, the high-gloss finish of the polished quartz is a testament to its durability. Its reflective surface not only enhances space but is also designed for easy cleaning and maintenance.
- Natural: The Natural finish isn't just about achieving a particular look. It's about capturing the tactile essence of natural stone, offering warmth and a unique sensory experience.
- Honed: Balancing luminosity with a soft touch, the Honed finish quartz surfaces are both visually and functionally appealing, making them suitable for a variety of kitchen designs.
- Concrete: Drawing inspiration from urban landscapes, our Concrete finish embodies the raw strength of industrial materials while maintaining a refined appearance.
- Rough: A testament to our commitment to innovation, the Rough finish introduces a new dimension to quartz surfaces. It's rugged yet refined, making a statement in any kitchen setting.
Design, Combine and Order together
We're more than a little excited about this partnership. With Caesarstone by our side, we're set to bring you kitchens that are more beautiful, more functional, and more you. 
Get set and go with the new one-stop-shop approach
Step 1: Book a Free Consultation
When you sit down with your online FORM designer, it's not just about cabinetry. Make sure to ask about Caesarstone to explore how their premium countertops can elevate your kitchen design.
Step 2: All-In-One Quote
No more juggling multiple quotes from different suppliers. At FORM, we provide you with a quote for both cabinetry and countertops, giving you a clear picture of your project's budget.
Step 3: Samples Right to Your Door
Move ahead with a FORM design deposit and your cabinetry and countertop samples will be delivered right to your doorstep, allowing you to experience the materials in the comfort of your home.
Step 4: The Final Mile
After selecting your desired countertop, place a Caesarstone deposit to secure your choice. A local Caesarstone fabricator will then take the reins – providing a final quote, taking precise measurements, and ensuring a perfect fit to your FORM cabinetry.
A natural fit 
At FORM, we really value Caesarstone's dedication to design and sustainability. As companies , we're both driven by a spirit of innovation, and our mutual love for beautiful, functional, long-lasting kitchen spaces is evident in our collective work. Like us, they prioritize performance without compromise. Teaming up with Caesarstone isn't just about collaboration; it's about two teams with the same vision coming together for the ultimate kitchen experience.