Kitchen Inspiration
An Architect's Kitchen, Created for Baking and Entertaining
In this blog post, James and Sandra Bloomer opened the door to their house giving us the opportunity to tour their newly renovated kitchen. They co-designed with FORM a kitchen that is conducive to how they live, as described by James. The result is a modern, white, and sleek open-plan kitchen that serves as a backdrop for the color in their lives: the people and food they love.
Gabriela Alvarado
May 12, 2023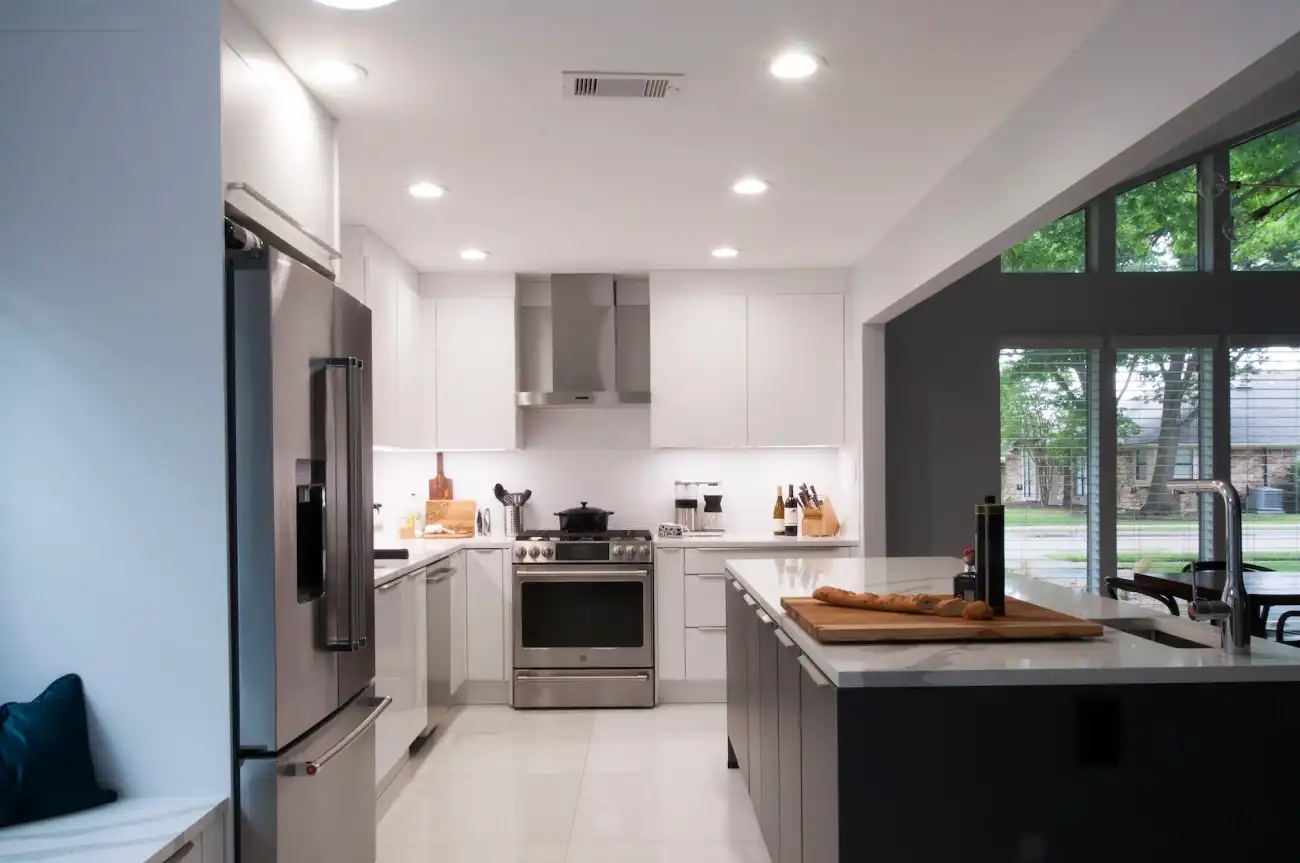 After living in Dubai, the Bloomers settled in Dallas, Texas, in a lovely house they bought five years ago. The house didn't need many changes, but one piece that was really not functioning for them was the kitchen. According to James, there were two major problems. First, It was not functional. Although the big appliances like the stove and fridge were placed where the couple needs them –forming a nice working triangle–, some of the cabinets and storage were not in the right place, they needed cabinetry that actually made sense for their routine and desired aesthetic.
The Perfect Kitchen for entertaining
The Bloomers had a very clear idea of what they wanted in terms of aesthetics and functionality. Style wise they were looking to complement the modern sleek style they have at home "kind of like a Dutch Scandinavian style, very minimalist but still inviting", described James.
They like neutral colors, but they decided to stay with white for the cabinet fronts and backsplash as they wanted to have a clear backdrop to highlight the color that the food and the people they love add to the kitchen.
Talking with James is very easy to feel the love and appreciation he and Sandra have for their loved ones and how much they enjoy being hosts. The old kitchen didn't allow them to do this as it was enclosed by walls, creating an isolating effect from the other communal spaces. "You had to go through two doors to get to the dining and living rooms", mentioned James. So they opened the space by removing the walls and making a completely large opening.
The space is now connected to the rest of the house "and conducive to the way we like to live and talk, and have parties and have people over", adds James.
Crafting a Conducive Kitchen Design
We always learn something new from our clients, and James, being an architect reminded us about designing with purpose and about conducive spaces. Conducive means tending to cause or produce something, regarding design and architecture it can be used as crafting a design that generates atmospheres that lead us to perform certain actions. For this modern couple, this meant a space with a good cooking flow and no obstacles for entertaining and gatherings. They worked closely with FORM designer Eva, ensuring she knew their needs and how they live. This meant communicating what they like to cook, what activities they do often in the kitchen, and prioritizing according to their routine. This was very helpful when selecting features for this kitchen, from the aesthetic options they had like cabinet fronts, to functional features like storage and organization accessories they discovered in FORM's catalog. For example, a pull-out cabinet for spices and a carousel unit with rotary shelves maximize the storage space of a corner cabinet.
"FORM worked really well for me. it was nice to work with a designer, mainly because I had an idea of what I wanted, but I was also wanting to hear other ideas because a lot of times other people have great ideas. Our designer was very knowledgeable about all of what was available in FORM's catalog regarding types of cabinetry styles, colors, and things like that", says James.
This kitchen is a great example of a modern kitchen and a conducive kitchen design that truly sets the perfect stage for cooking and sharing their love. At FORM we believe in improving people's lives through design, and seeing the Bloomers enjoy their new kitchen doing the things they love, makes our hearts feel proud.