Kitchen Inspiration
Create a Modern Dream Kitchen with Cream Kitchen Cabinets
In this blog post, we will explore the beautiful and elegant cream color as cream-colored kitchen cabinets have been gaining popularity in recent years due to their timeless appeal and ability to create a warm and inviting atmosphere in the kitchen.
Gabriela Alvarado
June 16, 2023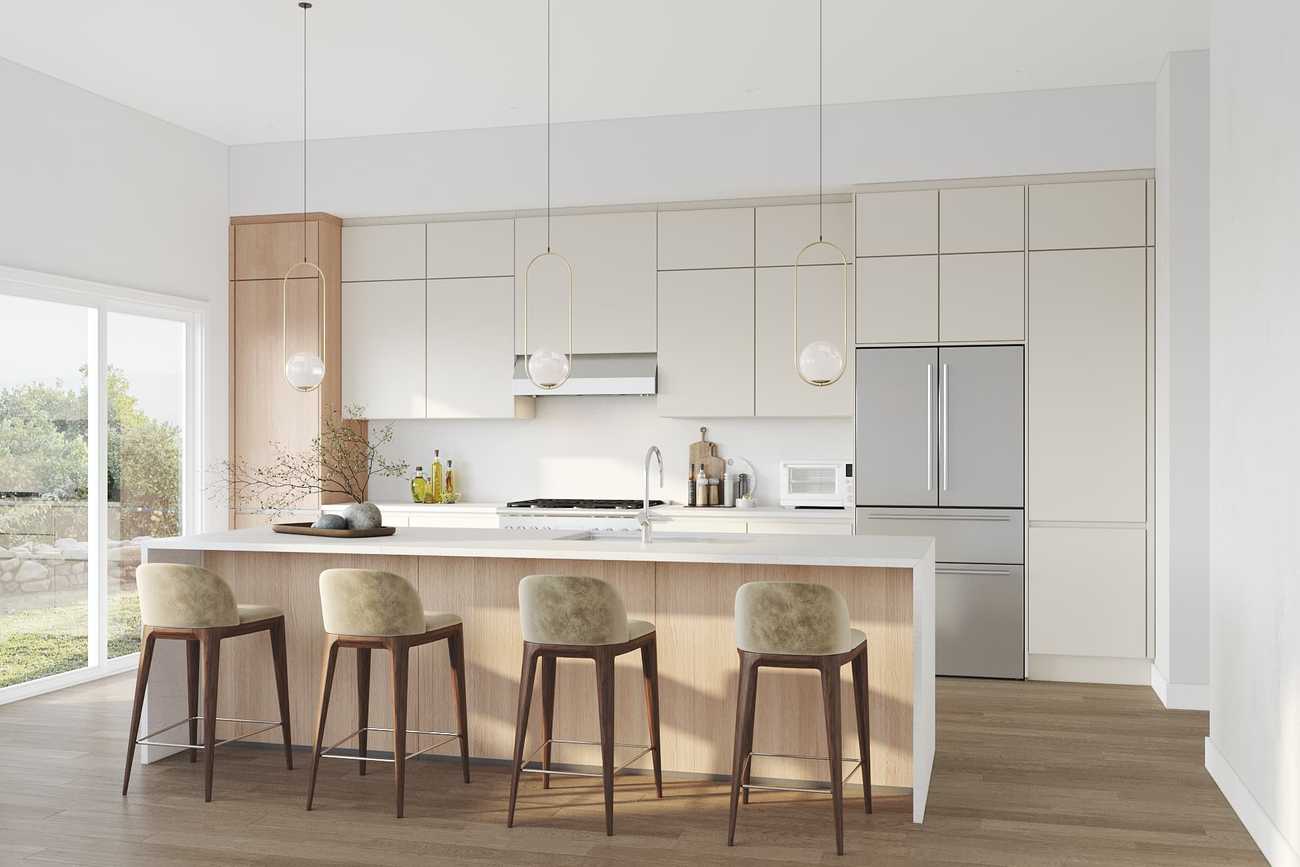 One essential element that can transform the look and feel of your kitchen is the choice of color for the kitchen cabinets. Color matters in interior design as it can create an illusion of a bigger or smaller room, and it can affect our mood by making a room feel brighter or gloomier. Cabinet fronts can come in many colors and choosing one is a big decision as it will be the main splash of color in your new kitchen. At FORM Kitchens we offer a wide range of colors and finishes and one of the most popular is cream or its variant in ivory.
With top tips from our designers, we created this guide on how you can bring your dream kitchen to life by incorporating modern kitchen cabinets in a beautiful cream or ivory color, to achieve a space that exudes elegance and sophistication while providing a warm and inviting atmosphere.
The Cream Kitchen Trend
Cream is a versatile color that effortlessly blends with various design styles, making it an excellent choice for modern kitchen cabinets. It creates a soft and timeless aesthetic, complementing both traditional and contemporary kitchen designs. Cream-colored cabinets bring warmth to the space and make it appear larger and brighter. When paired with other colors, such as neutral tones or vibrant accents, cream cabinets can create a harmonious and inviting atmosphere.
At FORM Kitchens we are experts in modern kitchen cabinets, so for this blog post, we dived into the world of modern cream kitchen cabinets, its trends and examples of how to apply the color to kitchen cabinet ideas, and also how to apply it in other areas and elements of the kitchen.
Transitional Style
Cream cabinets are often favored in transitional kitchen designs, a style that blends elements of traditional and contemporary styles. This style emphasizes clean lines, simplicity, and a balanced mix of materials. For example, combining shaker cabinets with clean lines and other minimalist touches in the design. Cream cabinets with raised panel or Shaker-style kitchen cabinets complement this design approach, providing a versatile backdrop for other design elements. Shaker style cabinets look great in cream color as the depth creates an elegant shadow that adds a modern yet elegant look.
Two-Tone Kitchen Designs
One popular trend is incorporating cream cabinets as part of a two-tone kitchen design. This involves pairing cream cabinets with a different color for the kitchen island, lower or higher cabinets. For example, combining cream cabinets with deep gray or navy blue cabinets creates a striking contrast and adds visual interest to the space.
Super Minimalist Kitchen Aesthetics
Cream cabinets are often utilized in minimalist kitchen designs, where simplicity and clean lines take center stage. As mentioned before in this blog, this design style emphasizes sleek surfaces, hidden storage, and a clutter-free environment. Cream cabinets in a flat-panel or slab-door style contribute to the overall minimalist aesthetic by providing a soft and neutral backdrop. for the perfect minimalist aesthetics, choose high-gloss cabinet fronts in cream tones, although it will give neutrality to your kitchen color palette, cream gives a completely different feel compared to white cabinet fronts. It is also recommended to think about the color of your appliances, steel looks sleek when paired with cream cabinets and can elevate the modern look. While adding some cabinets or details in wood can bring warmness to the space.
Open Shelving and Glass Fronts
To add a touch of visual interest and break up the expanse of cream cabinetry, you can incorporate open shelving or glass-front cabinets. This allows for the display of curated collections, decorative items, or stylish dishware. Open shelving and glass fronts provide an opportunity to introduce contrasting colors or textures, adding depth and personality to the kitchen. The frames of the glass doors can also be in cream tones if you want to add a more dramatic look.
Mixed Materials and Textures
Another emerging trend is the combination of different materials and textures in cream kitchen cabinets. For instance, incorporating wood accents or wood cabinets alongside cream cabinets can create a warm and rustic look. Additionally, using a mix of matte and glossy finishes on cabinet doors and countertops adds dimension and visual intrigue to the kitchen. Countertops can also be in a different material or texture to add more personality to the design, it can even be a similar tone like a white marble countertop paired with cream cabinets, but the texture will give a different feel.
Contrasting Hardware
To enhance the overall aesthetic of cream kitchen cabinets, opt for contrasting hardware finishes. For instance, pairing cream cabinets with matte black or brushed brass handles and knobs add a touch of sophistication and modernity to the space. Contrasting hardware creates a focal point and accentuates the cabinet design. Additionally, consider your kitchen appliances to be in contrasting colors like black, stainless steel or even glass hardware like the oven and convection stove.
Eclectic colors for the backdrop
Another way to compliment your cream kitchen is to have a back splash in bright or eclectic colors that will contrast with the cream's neutrality. It can be one solid bright color or a composition of tiles in different tones. This is a fun way to add a spark to your space while keeping it elegant.
Design Ideas for Choosing the Right Cream Color
Here are various design ideas, tips for choosing the right cream color, and how to incorporate these cabinets into your overall modern kitchen design.
1. Mix and Match different Materials
To create a modern kitchen with cream-colored cabinets, consider combining various materials for a visually appealing and functional space. Pairing cream cabinets with countertops in natural stone, such as granite or marble, adds a touch of luxury. Alternatively, for a more contemporary vibe, opt for sleek quartz or concrete countertops. Backsplashes in ceramic tiles can provide texture and visual interest, while stainless steel appliances and fixtures create a seamless and polished look. Balancing different materials is key to achieving a harmonious and modern kitchen design.
2. Choose Modern Kitchen Cabinet Styles and Hardware
Modern kitchen cabinets come in a variety of styles, each offering a unique aesthetic appeal. For a sleek and minimalist look, consider flat-panel cabinets with clean lines and minimal ornamentation. Shaker-style cabinets with recessed panels can add a touch of traditional charm while maintaining a modern feel. Frosted glass inserts on cabinet doors can introduce visual interest and create a sense of openness. As for hardware, brushed nickel or stainless steel handles and knobs complement cream-colored cabinets beautifully, providing a contemporary touch.
3. Maximize Storage and Organization
A dream kitchen is not only aesthetically pleasing but also highly functional. Modern kitchen cabinets offer a range of storage options to help you stay organized. Consider incorporating pull-out shelves, spice racks, and deep drawers for pots and pans. Tall cabinets with adjustable shelves can maximize vertical space, while built-in dividers and organizers optimize storage for utensils and cutlery. Customizable cabinet solutions are available to suit your specific needs, ensuring that your dream kitchen is not only beautiful but also practical. We have many options for storage and organization, so don't forget to take a look at our catalog.
In conclusion, cream kitchen cabinets have evolved to incorporate various design trends, ranging from transitional styles to minimalist aesthetics and contrasting elements. These trends will allow you to personalize your kitchen while maintaining the timeless beauty and warmth that cream cabinets offer. Whether you prefer a traditional, contemporary, or eclectic design, cream cabinets provide a versatile foundation for creating your dream kitchen. Don't forget to ask your FORM Kitchens designer for tips and inspiration of cream kitchen cabinets.