Kitchen Inspiration
Designing a European-style kitchen: 10 must-have elements for a sophisticated kitchen space
Whether you're considering a complete kitchen overhaul or just a few updates, infusing European kitchen design elements can significantly elevate your space.
Gabriela Alvarado
September 26, 2023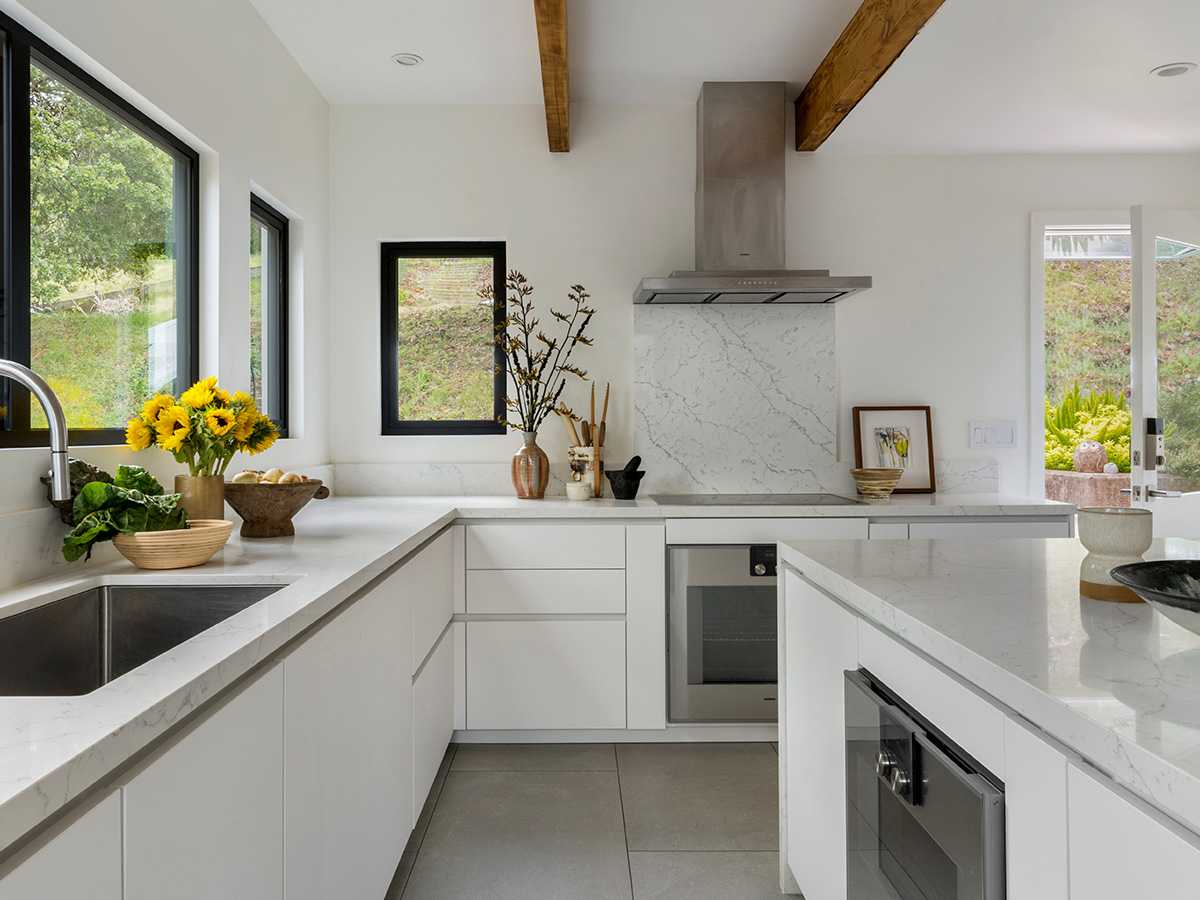 Kitchens in Europe were born to solve a problem: space. Apartments in Germany, Italy, and Spain were considerably smaller than American houses and apartments. They needed a smaller kitchen that would efficiently accommodate everything for everyday life. For this reason, European kitchens were designed with the intention of focusing on efficiency to bring the kitchen to its maximum potential regardless of the size of the space. This design style has been alive for a few decades, and over the years, improvements and innovations have been added to enhance the kitchen experience.
The beauty of European kitchen design is that it will never compromise aesthetics or functionality, creating a smooth balance between them. Whether you're considering a complete kitchen overhaul or just a few updates, infusing European elements can significantly elevate your space. Here are 10 European kitchen elements that can make a world of difference:
1. Integrated Appliances
Integrated appliances are the ones that are built into your cabinets and panels to emphasize a seamless design. By integrating appliances like refrigerators and dishwashers behind cabinet fronts, you achieve a more streamlined and harmonious look.
Having a built-in fridge, convection stove, and oven, you can save a lot of space in your kitchen. A plus is that you will get a super modern touch to your European kitchen. Remember to have your appliances' measurements when you meet with your kitchen designer.
2. Open Shelving
Imagine an Italian kitchen, rustic, beautiful and with open shelving that is filled with super cool antique cups, plates, and ornaments. Through the items on the shelf, you can figure out bits and pieces of the owner's life.  Popular in countries like Italy and France, open shelving provides an opportunity to display beautiful dishes, glassware, or curated kitchen accessories. This element can make your kitchen feel more personalized and lived-in.
3. Bistro Tables & Seating
Drawing inspiration from French cafés, adding a kitchen island and a couple of tall chairs that work as a bistro table can provide a cozy spot for morning coffee or intimate dinners. This idea works especially well for smaller kitchen spaces, where you can have a small bar table or kitchen island with only two seats.
4. Natural Materials
Authenticity matters in European kitchen design. This is why it's important to know the key elements of this design style. Then you'll be able to mix and match!
Imagine a kitchen with handle-less, natural wood cabinet fronts with a backsplash decorated with beautiful Moroccan tiles.
5. Statement lighting
Illumination is one of those things we never stop and think about; on the other hand, we feel a deep sense of loss when everything goes dark.
Having good lighting is life-changing in the kitchen, as you need clarity when chopping vegetables or checking how crispy the turkey is. In European kitchens, you can have ornamental luminaries like modern chandeliers and functional LED lighting integrated into your cabinetry.
6. Neutral color palettes
Soft, neutral colors dominate European kitchens. Whites, grays, soft blues, and greens blend seamlessly, creating a calming and elegant atmosphere. These palettes are versatile and allow for pops of color through decor and accessories. You can also play with these color palettes and their tones; this is the way to a more personalized kitchen.
7. Farmhouse Sinks
Especially popular in English and French country designs, farmhouse or apron-front sinks are both functional and stylish. They offer a touch of rustic charm while being spacious enough for washing large pots and pans. Here is an example from a project for a client.
8. Herb garden windows and indoor stations
Some European kitchens feature a window or small indoor space dedicated to growing fresh herbs. Not only is this practical for cooking, but it also adds a touch of greenery to the space. Indoor herb gardens are a great idea for smaller spaces! At FORM, we have a couple of great options for creating your personal herb haven.
9. Quality hardware in the kitchen
Don't underestimate the impact of cabinet knobs, pulls, and faucets. Opt for high-quality, timeless pieces. These small details can drastically enhance the overall look and feel of the kitchen. FORM has beautiful options to combine with any cabinet style, from golden cabinet knobs combined with white fronts to sleek stainless steel black knobs matched with a fjord blue cabinet front.
10. Functional Layouts
Above all, European kitchens are designed for cooking. This means prioritizing a functional layout where everything is within arm's reach. Whether it's the 'Golden Triangle' layout or incorporating pull-out storage solutions, European designs always keep usability in mind.
Trends come and go, European kitchen designs have stood the test of time due to their emphasis on quality, functionality, and a modern, sleek design. Their best attribute is the functionality that improves people's lives. We recommend you keep in mind what you would like your kitchen to look like and what will be its primary use. 
If you'd like to start planning your new kitchen remodel, book a free consultation with our design experts.