Kitchen Inspiration
Fireclay Tile + FORM Kitchens: elevating your kitchen experience
Meet our new partner Fireclay Tile, who offers a diverse range of product lines that cater to every design aesthetic with a thoughtful selection of sizes and hand-mixed glaze colors and finishes.
Blair Hagensen
October 31, 2023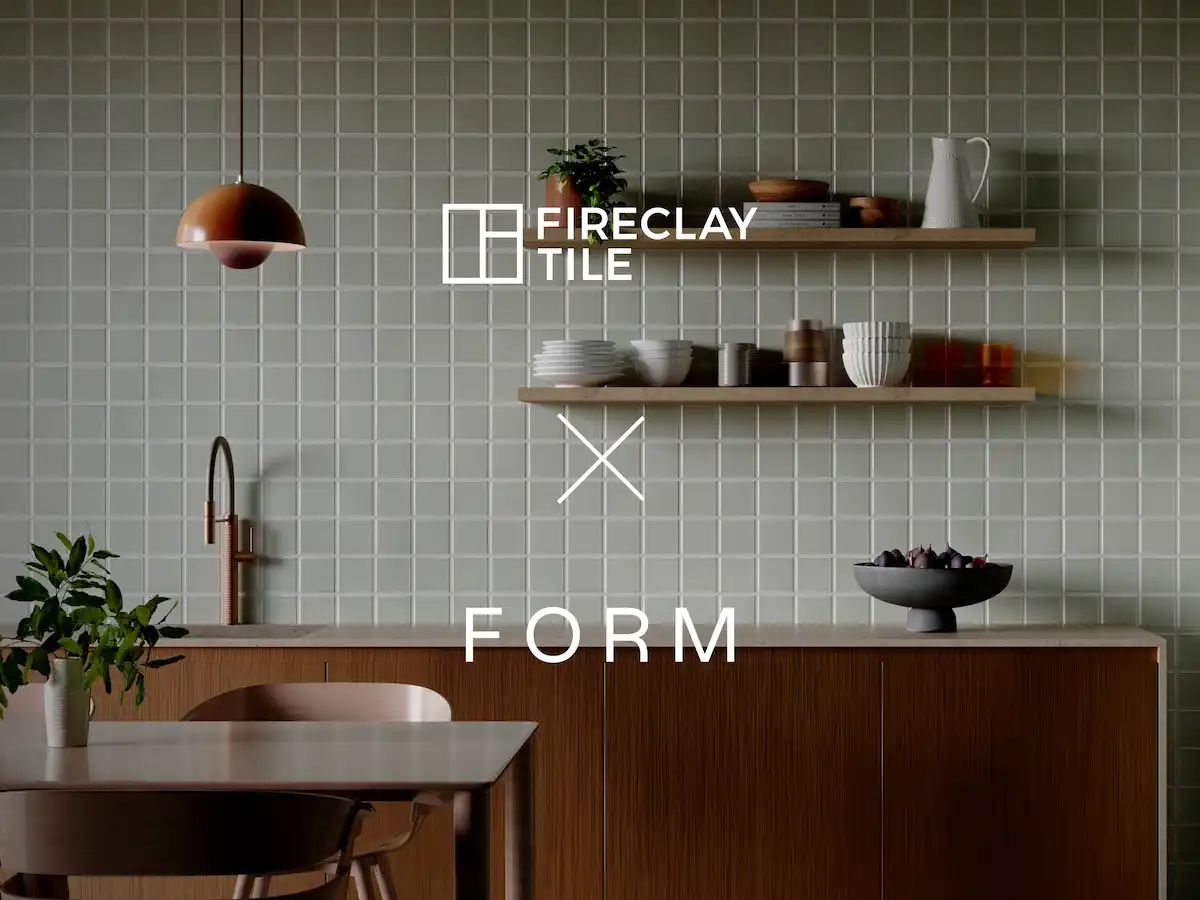 In the world of kitchen design, collaboration is key to creating spaces that harmonize beauty, functionality, and longevity. FORM Kitchens is thrilled to announce our partnership with Fireclay Tile, a brand that shares our commitment to innovation, craftsmanship, and sustainability.
Fireclay tile: where American craftsmanship meets responsible manufacturing
At Fireclay Tile, every tile tells a story of dedication to quality and sustainability. Established in 1986, Fireclay has been on a passionate journey to revolutionize the design industry with high-quality, USA-made tile and industry-leading responsible manufacturing as a certified B Corp.
Every single one of Fireclay's products is proudly made in the USA, with factories located in Aromas, California and Spokane, Washington. As the first tile company to earn B Corp certification, Fireclay's tile is manufactured as sustainably as possible using 100% renewable electricity and locally sourced materials, with all carbon emissions offset. Their dedication to eco-friendly practices ensures that your tile not only enhances your space but also has minimal impact on the planet.
Fireclay's rainbow array of products
Fireclay Tile offers a diverse range of product lines that cater to every design aesthetic with a thoughtful selection of sizes and hand-mixed glaze colors and finishes. High-quality materials ensure longevity even in high-traffic areas, making Fireclay's tile suitable for everything from kitchen backsplashes to floors to accent walls.
Original Ceramic Tile: Fireclay's signature ceramic product line, these tiles are a testament to artisanal craftsmanship and timeless design. This product line is handcrafted in their Aromas, CA factory and available in 100+ colors and over 40 sizes from subway tiles to eye-catching specialty shapes.
Natural Press Ceramic Tile: If you're looking for budget-friendly options without compromising on quality, Fireclay's Natural Press Ceramic Tile, crafted in Spokane, WA, is the perfect choice. Choose from 24 inspired colors and 15 versatile sizes and shapes for endless pattern play, starting at just $16/SqFt.
Glazed Thin Brick: For a touch of textured elegance and enduring charm, Glazed Thin Brick offers a unique twist on traditional brick surfaces with 35+ colors available. Plus, 1% of all Brick sales are donated to the National Parks Conservation Association to help preserve America's most iconic places for future generations.
Hand Painted Tile: Discover art that's made for life. Teeming with diverse patterns and vibrant colors, Fireclay's Hand-painted Tile has the power to transport, captivate, and inspire. Made with time-honored techniques, every tile is hand painted to order by Fireclay's skilled artisans in Aromas, California.
Glass Tile: Add a touch of modern sophistication to your kitchen with Fireclay's stunning Glass Tile options, handmade in-house at their Spokane, WA factory. Explore a range of 24 radiant colors, 12 sizes including mosaic and field tiles, and 2 distinct finishes to decorate backsplashes, accent walls, and more.
Quick Ship Tile: On a tight timeline? Fireclay's Quick Ship Shop stocks their bestselling sizes and colors of Ceramic, Brick, and Glass Tile, all ready to ship in 5 days or less so you can get your project up to speed.
How the FORM and fireclay partnership works for you
Our partnership with Fireclay Tile is designed to simplify and enhance your kitchen design experience. When you choose FORM Kitchens, you not only gain access to our premium kitchen solutions but also the opportunity to integrate Fireclay's beautiful tiles seamlessly into your project.
Here's how it works:
Step 1: Book a Free Consultation
Explore our catalogue with your online FORM designer, which now includes Fireclay Tile products, and let your creativity run wild.
Step 2: Samples Delivered to Your Door
Experience the quality and craftsmanship of Fireclay Tile and FORM with samples delivered right to your doorstep, ensuring you make an informed decision from the comfort of your home.
Step 3: The Home Stretch
After selecting your tile, a Fireclay tile expert will take the reins to help calculate overage and details like trim, provide you with the final quote, and assist with ordering to help bring your perfectly designed kitchen vision to life.
Welcome to a new era of kitchen design, where beauty, functionality, and innovation come together–responsibly. With FORM Kitchens and Fireclay Tile, the possibilities are endless.