Kitchen Inspiration
A functional kitchen with a cabinet for everyone, including pets.
Joyce Liu made her dream come true and transformed her kitchen into a custom-made, functional space that accommodates all the things she loves, from her pet supplies to well-organized custom cabinets.
Gabriela Alvarado
April 18, 2023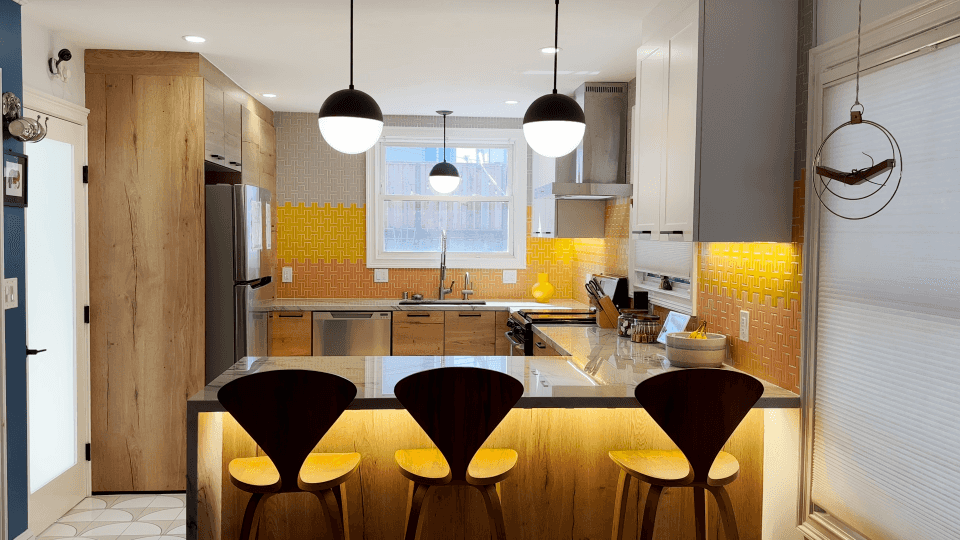 Joyce, a full-time nurse and foster mom for pets, has a very busy schedule and little time to manage a big project like a kitchen remodeling. She discovered FORM by scrolling through social media and learned that she could work with a professional designer to help her realize her dream functional kitchen. Excited by this prospect, she decided to go for it.
A design with functional kitchen cabinets that cater to your lifestyle
The purpose of a custom kitchen is to design something that truly matches your daily routine and makes your life simpler. At FORM, our designers take care and time to really get to know our clients and their needs with the objective of creating a custom-made design that adapts to the client's lifestyle. We use design as a medium to bring to life kitchens that are an expression of personality while also being functional and not just pretty. That's why listening to our clients is key.
Kitchens are a central piece of a house, and having a custom kitchen can change lives and give peace of mind. As a nurse, Joyce spends a lot of time at the hospital. When she is not there, she sees patients at home, and with her partner, they take care of their pets and foster animals. Actually, their daily routine starts every morning by feeding the pets, so it was important for them to have a designated space to keep pet supplies organized and within reach. To create a functional kitchen that also considered the pets, the design included two drawers: one for food and a second one for snacks, both at the entrance of the kitchen and right next to the counter where her pets eat. To keep the counter clean, a sliding trash bin was added right next to it.
"I love this bin. When the animals finish their food, I just drag everything into it," she said.
"We now have good flow, space to expand, and don't get in each other's way."
How to transform a small kitchen into a functional kitchen
The old kitchen was a small space with inadequate storage, making it very hard to maintain organization and flow. It was also uncomfortable for Joyce and her husband to be in the kitchen at the same time without bumping into each other. "We now have good flow, space to expand, and don't get in each other's way," Joyce mentioned while showing off her new kitchen. Organization was one of the main requests in her brief, as she prefers simple cooking for both humans and their furry friends at home.
A large cooking area was not a priority, but having things where they make sense and are within reach was important. As a result, the cooking area is small but located right above the spices cabinet and close to special storage with a cool garage door to hide kitchen appliances from view. There are drawers with cutlery inserts to keep dishwashing supplies in one drawer and baking supplies in another one. It's solutions like these that make a kitchen super functional.
The beauty of this design is that it's not only functional, it also looks stunning thanks to the color selection and materials. The kitchen backsplash evokes the feeling of a beautiful sunrise with the yellow and gray tiles, while the front of the cabinetry in the Sierra Oak finish gives the kitchen a warm touch. Lighting inside the cabinetry and in strategic spaces makes it very bright and accessible. Unlike the monochromatic and gloomy palette of a hospital, this design perfectly matches her warm and joyful personality.
This project is proof that transforming a small kitchen into a functional, organized, and joyful space is not an unattainable dream. Seeing Joyce smile and truly enjoy her kitchen space puts a smile on our faces. Watch the video for a full tour of Joyce's kitchen!