Kitchen Inspiration
Modernize Your Kitchen with High Gloss Kitchen Cabinets
In this blog post, we'll explore the benefits of high gloss kitchen cabinets, as well as some tips for incorporating them into your kitchen design.
Gabriela Alvarado
May 19, 2023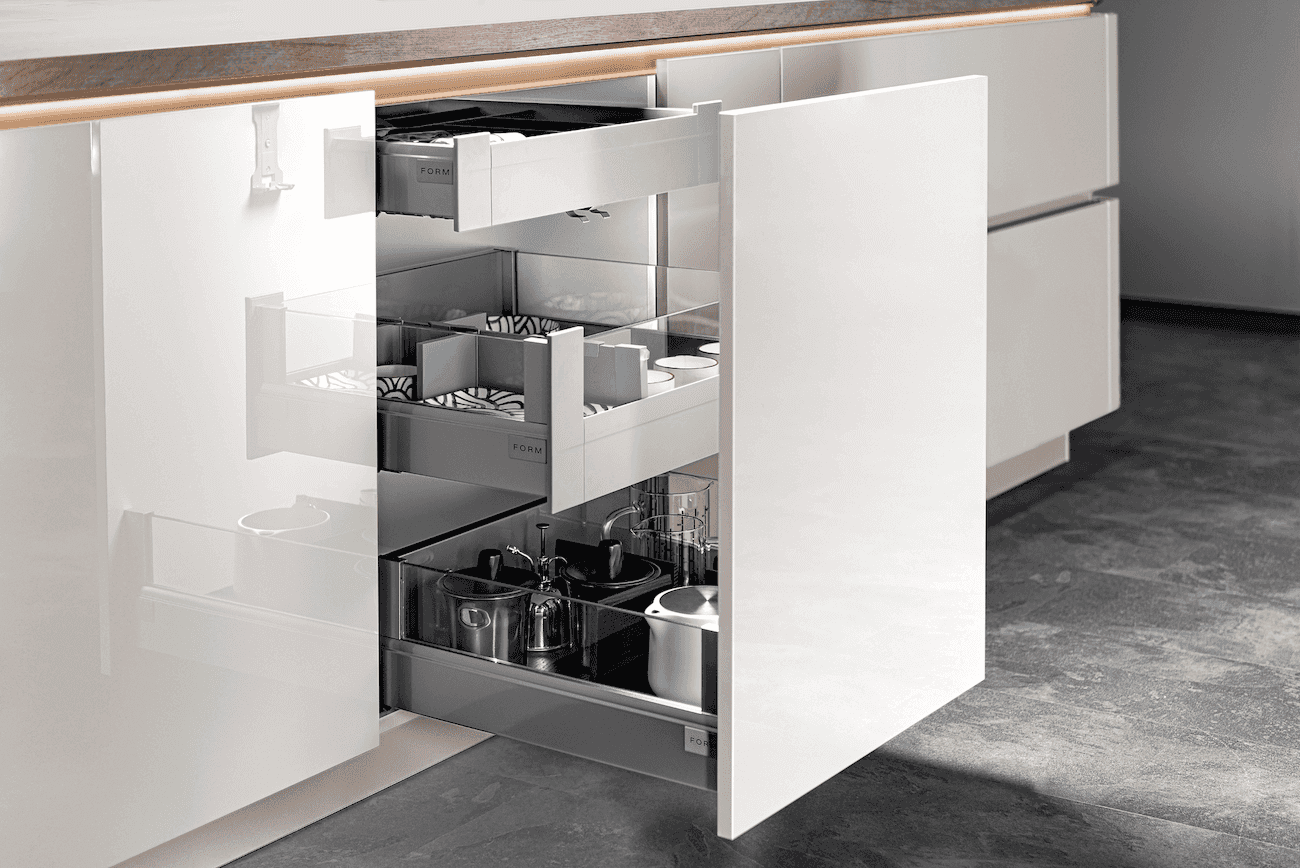 When it comes to kitchen design or if you are about to start the process of remodeling your kitchen, one of the most important decisions is what type of cabinet fronts to choose. Or maybe this is your first time designing your kitchen and you have little knowledge about materials and cabinet fronts. Don't worry! We are here to help. In this blog post, we will talk about high gloss kitchen cabinets, which have been gaining popularity in recent years and for good reason. They offer a sleek, modern look that can make a kitchen feel brighter and more spacious.
What are High Gloss Kitchen Cabinets?
Ok, we know these types of cabinets are trending right now, but what are they and how do they look like? The main characteristic of these cabinets is that they have a reflective, shiny surface that can create an elegant and sophisticated look in any kitchen or bathroom. For example, our high gloss cabinets have high-quality glossy lacquer fronts that reflect light beautifully. Most high gloss cabinets are made from one of two materials: MDF (medium-density fiberboard) or acrylic. Regardless of the specific material used, high gloss cabinets are designed to be durable and long-lasting. They are typically coated with a layer of clear protective finish that helps to resist scratches, stains, and other types of damage.
Benefits of High Gloss Kitchen Cabinets
Reflective surface
One of the main advantages of high gloss cabinets is their ability to reflect light, as they have a reflective surface that can help to bounce light around the room, making it feel brighter and more spacious. This can be particularly helpful in smaller kitchens or if you don't have enough natural light.
High Gloss Cabinets are the Easiest to clean
The smooth surface of high gloss cabinets makes them easy to wipe down and keep clean. This can be a big plus for busy homeowners who don't have a lot of time for maintenance or for families with kids. Spills and stains can be wiped away quickly, without leaving any residue or streaks.
Looking for a modern look? Choose high gloss cabinets
High gloss cabinets have a sleek, modern look that can give your kitchen an updated feel. They can be particularly effective in contemporary or minimalist kitchens.
Durability
High gloss cabinets are made from durable materials that can stand up to the wear and tear of daily use. They are also resistant to scratches and stains, which can help to keep them looking new for longer.
Versatility
Another benefit of high gloss cabinets is their versatility. They can be paired with a range of other materials, such as wood, metal, or stone. This means that you can create a unique and personalized look for your kitchen, without sacrificing functionality or durability.
Tips for Incorporating High Gloss Cabinets into Your Kitchen Design
1. Mix and match. High gloss cabinets can be a great way to add a modern touch to a more traditional kitchen. Consider mixing and matching high gloss cabinets with wood or other textured finishes for a unique look and to add a warmer homey touch to your space. You can also add a splash of color with a different tone in your backsplash.
2. Contrast with matte finishes. If you're worried about a high gloss finish looking too shiny or overwhelming, consider pairing it with matte finishes. For example, you could have high gloss cabinets paired with matte countertops or backsplashes.
3. Consider lighting. Lighting can make a big difference in how your high gloss cabinets look. Consider adding under-cabinet lighting to highlight the reflective surface, or installing pendant lights to add a warm glow to the space.
4. Consider special finishes to avoid fingerprints. If you're worried about fingerprints and smudges, there are a few solutions to consider. One option is to choose a high gloss cabinet with a textured surface, such as a brushed or etched finish. This can help to hide fingerprints and other marks, while still providing the sleek and modern look of a high gloss surface. At FORM we offer an easy-touch finish, perfect for these types of situations.
High gloss kitchen cabinets offer a sleek, modern look that can add a lot of style to your kitchen. They are easy to clean, durable, and can help to brighten up a space. With a good design, you can incorporate high gloss cabinets into your kitchen design in a way that feels modern and stylish without being overwhelming, while being super functional.
We have a wide range of cabinets in different sizes, materials, colors, and finishes. Take a look at our catalog for the complete range of high gloss cabinets.