Kitchen Inspiration
High quality German kitchens - Expertly engineered for long-term performance
At FORM Kitchens, we are proud to provide the highest quality German-made kitchens. In comparison to the flatpack cabinets which are prevalent in the US, ours are built with precision in a state-of-the-art facility.
Michael Quinn
July 4, 2023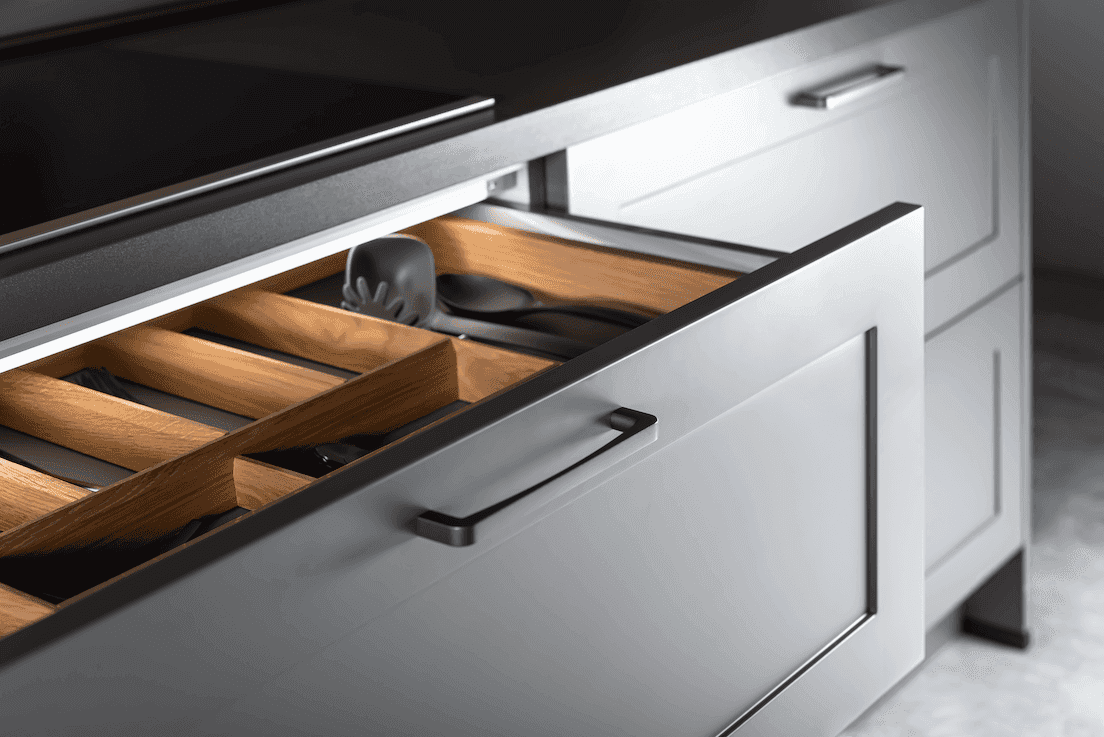 Our kitchens harmonize both form and function to create a sophisticated modern design. With a wide array of customization options and our experienced support, you can craft the kitchen of your dreams. Every component of our kitchens is selected with care, so that you can be sure it will serve you well for many years to come. German kitchenware is not widely known in the US, but we believe that once you try one, you won't look back.
Quality and Durability Above All Else
FORM kitchens are engineered at a cutting-edge factory in Germany, by Europe's foremost kitchen manufacturer. You may be familiar with the esteemed reputation of German cars: dependably reliable and of superior quality. The same applies to kitchens. Around the world, German kitchens are acclaimed as the pinnacle of kitchen manufacturing and design. They are built to last: so much so, that people in Germany regularly bring their kitchen along when they move residences.
Advanced manufacturing facility and processes
FORM kitchens are constructed in a state-of-the-art manufacturing facility. Every step of the process is highly automated, with strict quality control standards in place. Each kitchen element, such as the cabinets, fronts, and drawers, are rigorously tested to guarantee exceptional product consistency.
The factory's endurance tests are remarkable, as they can simulate 15 years of daily use in a brief timeframe; these tests include various evaluations like door and drawer opening and closing, extreme load bearing capacity and more. Surface tests determine how the materials can resist mechanical and environmental stresses like scratching, water, steam and UV rays, making them ready for years of daily family use. The end result is a kitchen that can easily stand the test of time with daily family use and beyond.
German kitchen cabinets are made using the most appropriate materials
Traditionally, American kitchens have been constructed from plywood; however, FORM's kitchens are crafted from furniture board, a high-grade particle board known in Europe as the most dependable and practical kitchen construction material. Particle board has not had a favorable reputation on this side of the Atlantic due to its early versions from the 1960s-70s; however, similar to most items in production and the world overall, it has progressed significantly in the last fifty years. Think of telephones, TVs, cars, and fashion from that time compared to now. It is reasonable to say that advances have been made.
Nowadays there is a wealth of choices in all consumer goods categories, including engineered woods. Different plywood suppliers manufacture different types and grades of plywood, and the same is true for particle board - it is not just one product.
Our kitchens are composed of an advanced, high-density premium grade material that is robust, reliable and perfect for use in kitchen cabinets. It remains stable despite varying atmospheric conditions and pressure, and it is able to hold screws better than plywood. This product provides the same advantages as plywood, and in some cases more, but at a price that is more attainable. We are passionate about making good design available to everyone, and with precision engineered German particle board kitchens, we are able to do this.
Low-impact kitchens, for your and the planet's sake
We are proud to partner with our kitchen manufacturer, who has set incredible standards when it comes to environmental performance and sustainability. Not only do their kitchens boast quality and reliability, but they also commit to low-impact environmental responsibility and prioritize the health of end users. All wood products are sourced from sustainably managed and controlled sources and each kitchen has obtained globally recognized quality certifications.
Additionally, materials used in FORM Kitchens are tested for indoor emissions to guarantee homeowner safety and peace of mind. The kitchens are rated the highest according to the rigorous German indoor emission certification system.
Aesthetics Meets Functionality
European kitchen design is often associated with Ikea flatpacks, but there is much more to it. In many ways, German kitchens stand for the exact opposite: sophisticated design with abundant personalization options, expertly engineered for functionality. With German kitchens, you really get the best of both worlds: precision engineering on the one hand, and a classy design aesthetic on the other.
A kitchen that is just right for you
Our range offers more possibilities than you can imagine. With all the options, rest assured that you will be able to create a kitchen that is truly 'you', and not a compromise that you had to settle on.
Translating your wants and needs into a kitchen design is what makes our designers tick. Prepare to be asked lots of questions: Who cooks here? When? How? Etc. Rather than being nosey, they want to know as much as possible about your lifestyle, so as to really nail the brief.
Crucially, you will have peace of mind that you made the right decisions, because our photorealistic renders allow you to see your new kitchen in your space before you commit. Our 3D images truly set us apart from the rest – every client we have worked with has been amazed by just how realistic these are.
German design ethos is not just about how something looks. It is about the interaction of aesthetics and functionality, on a deeper level. For instance, it is possible to choose from a range of cabinet heights and depths (both on base and wall units). This gives you improved ergonomic performance, but without compromising on the look. For every request and situation, even the more unusual ones, we have a solution.
Ease of installation
Our kitchens are an absolute pleasure to install, as they come fully assembled, not flat pack, and rigorously tested before leaving the factory. Adjustments can be made with ease, while drawer fronts and doors attach quickly and effortlessly. The product's thoughtful engineering takes the installer's requirements into account, allowing for smoother installation and faster completion of your kitchen.
With a quality product, you will experience time and cost savings during installation. German engineering has earned a reputation for attention to detail, as they clearly go the extra mile.
A dream kitchen that is built to last
FORM kitchens provides you with durable, long-term service. It is often thought that particle board kitchens are not resistant to water and may be severely damaged in cases of flooding or even slight water exposure. Nevertheless, all kitchens can be damaged by water, yet our designs take extra measures to prevent such damage. Melamine coatings are applied and tested for water contact, as well as shelves and panels that are sealed to avoid water from reaching the particle board core.
Our kitchens come equipped with various clever solutions that effectively protect against water and moisture damage, such as adjustable plinth legs, a water-resistant sink base, and steam protection plates. Additionally, the melamine surfaces are easy to maintain, simply requiring regular wiping down to keep them looking fresh.
Details That Make The Difference
German kitchens are renowned for their meticulous attention to detail. Given the amount of use kitchen cabinets endure, it is essential that the mechanical components used are of the highest reliability. FORM kitchens source their parts from the most dependable manufacturers in the world. Additionally, every available space is taken into account when designing, allowing you to maximize the potential of your kitchen.
Spending money where it counts: the details
Hidden within cabinets, the mechanical parts of a kitchen may be overlooked but are important nonetheless. As one of the most expensive purchases you will make, it is crucial that these small components hold up - otherwise, the whole product is compromised. We use components from leading industry providers to ensure our kitchens are more durable than competitor models that don't pay attention to detail. This has been recognized through awards that our parts have won.
Additionally, FORM kitchens feature hardwood dowels, pre-glued joints, and steel reinforcement for the cabinets, although these elements may be unobservable. If these details were absent, the cabinets would eventually lose stability and strength.
The secret to making the most of your space
Our customers often come to us for advice on how to make the most of their limited kitchen space. We offer a range of clever solutions that can help you to utilize every inch of your kitchen. For instance, our plinth drawers, sturdy pull-out table and extra capacity drawers are all great options when space is at a premium. We also have narrow pull-outs for tight spaces and the ability to integrate waste containers, towel rails and more into these. Our upward-opening wall unit doors make all their contents accessible without the fear of them swinging wide open. Another innovative option is our handleless doors; they look great and are easy to use without the need for protruding handles.
Drawers: versatile and practical
It is recommended that you upgrade to drawers instead of hinged cabinet doors if your current kitchen is outfitted with the latter. German kitchens are well-known for their drawers of varying widths and heights, including those for tall pantry units that can also have additional inner drawers. Our drawers offer a substantial load capacity and can be further enhanced with accessories such as drawer organizers. Doing so will promote better organization and accessibility to kitchen storage, putting an end to hunting through cabinets for lost items. Take advantage of fully opening drawers to maximize your storage space.
If you value exceptional functional design and engineering, you will be impressed by our kitchens. Produced with the latest German technology, we are fully confident in our product's superior quality. Only the finest materials and components are employed, ensuring reliable performance for years to come. Expertly crafted, this kitchen provides flexibility for customization and an elegant, sophisticated look. You will enjoy using it due to its numerous features and proudly show it off.