Kitchen Inspiration
How to choose appliances for your new kitchen?
With so many beautiful, modern appliances in the market we know it can be overwhelming to choose the right ones for your new kitchen! In this blog post we help you understand the available options and how to choose the right ones for your lifestyle.
Adolfo Romero
October 13, 2023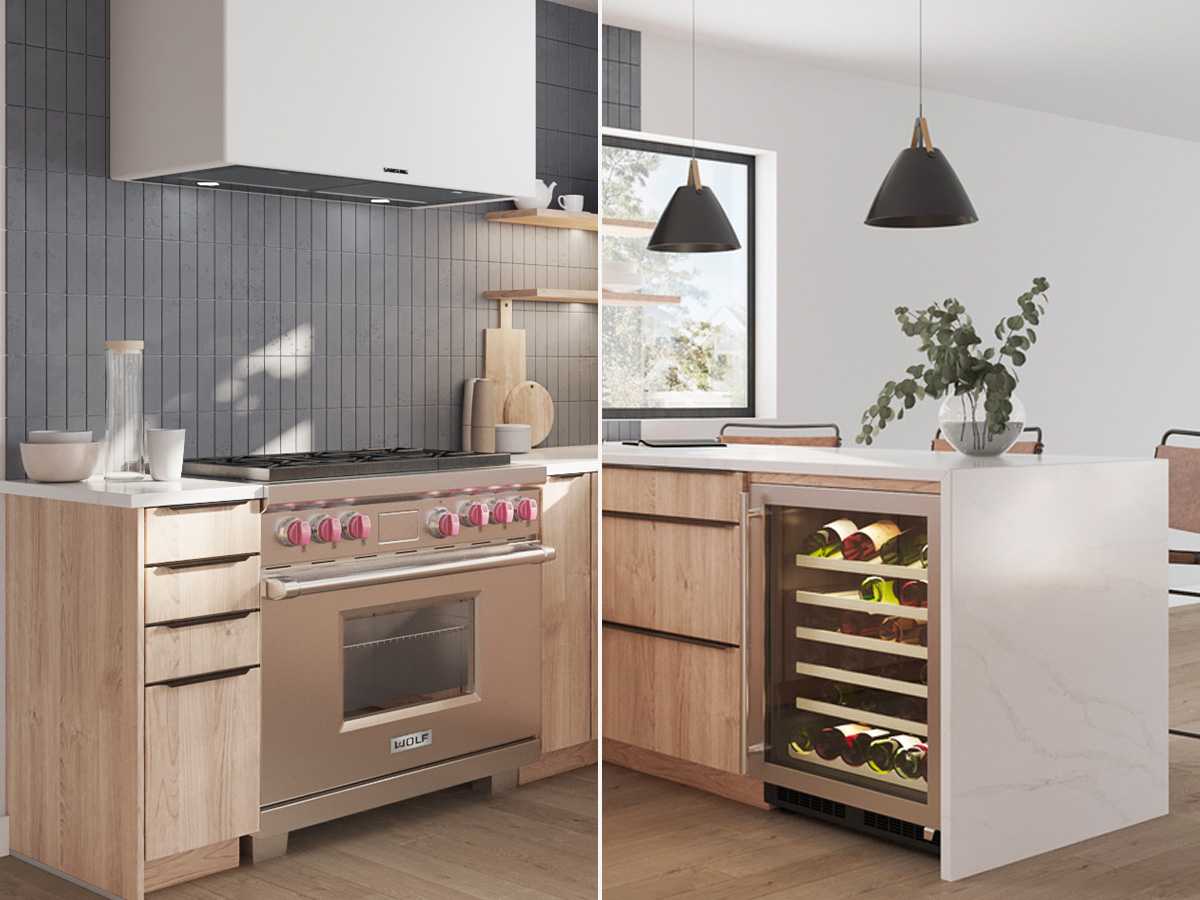 Choosing appliances for your new kitchen can be overwhelming. With a  tremendous amount of options in the market, from different technologies, types of appliances, aesthetics, materials, brands, prices, and design, it can be challenging to even start thinking of what the best option will be for us. Don't panic. We've got you covered! In this blog post we've created a guide to help you understand the variety of options that you will find out there, and what to consider for choosing the right appliances for your space.
This guide is meant to help you understand the different offers in the market and give you a guide to choose best considering the most important factors in life. We recommend you always consult with your kitchen designer before buying your appliances so that the measurements are correct and your cabinetry design makes sense with your appliances. So, let's get started!
First step: ask yourself the right questions
First of all, you have to start asking yourself the right questions to get the right answers. The objective is to really understand your needs and narrow down the options that truly match with your lifestyle, cooking habits and budget. Here is a checklist of our suggested questions:
1. How much time do you spend in the kitchen? 
2. Do you cook everyday, for every meal? 
3. Do you like cooking basic stuff or do you like to experiment with gourmet recipes? 
4. Do you like to cook in the oven or bake?
5. Do you cook for yourself or for your family?
6. Do you cook for your friends, or with your friends? 
With these answers you can start sorting out what functionalities and aesthetics will frame your decisions while selecting your appliances.
The aesthetics of kitchen appliances 
One of the key things to consider from the beginning is the aesthetics of your appliances and how they blend with your space. There is no formula to make this decision, as it depends on your personal preferences. Define the kitchen style you like and search for appliances that go with them. For example, if you are looking for a professional kitchen look, opt for stainless steel appliances with tough handles. 
Are you more keen about an elegant look? Opt for appliances with modern and sleek black glass doors and thin handles. Depending on the kind of finish, colors, materials and look you are more keen to, you can start looking for specific brands and models that will blend in with the cabinetry and other finishes around the kitchen.
Materials and finishes
Materials and finishes are the next step within looks. There are several options throughout the market with stainless steel being the main one due to its functional traits like hygiene, durability and maintenance. Then you can find black stainless steel, glass stained black or grey, and other lacquered matte, glossy and satin finishes in different colors like white and shades of grey. 
We created a list of brands according to different styles: 
- For a professional elegant and handleless look:  Gaggenau. 
- Pro and traditional: Jennair, Cafe, Sub-Zero and Bosch. 
- Minimal and sleek:  Fisher Paykel, Miele and Sub-Zero. 
- Retro: Smeg and Bertazzoni. 
- Vintage luxurious: La Cornue. 
- Modern, high-tech:  Samsung and LG.
Consider how you want your overall kitchen space to look like, the color and finish of your appliances might contrast with others around the room and they have to be well arranged and balanced. Having a contrasting finish like stainless steel can be a highlight focus point around the room, or it can be blended using the same colors or combinations to mix smoothly.
Panel-ready appliances for a streamlined design
One of the top trends for 2024 is the European kitchen style, which is known for a streamlined design that can be achieved when you  blend the appliances with your cabinet fronts. This is called Panel-ready and it is a great option if you like to homogenize the overall look of the kitchen and keep it ultra clean. 
Custom panels are provided by your cabinet supplier, and must be installed in the appliance to cover the doors. This will hide and blend the equipment through the walls. Just be aware to consider the handles, which can be sold by the appliance brand, your cabinets brand or a third party supplier. At FORM, we offer a variety of handles that can be matched with our different cabinet front. Your designer will give you the suggestions according to your desired look.  There are some appliances with a touch system, where you just have to push the door so it releases it, showing a side handle to pull. Don't lose your patience the first few days of using a panel-ready that can be confusing until you save in your memory which door is the fridge! Pro Tip: Handles can transcend their practical function, emerging as the pivotal element that defines an appliance's aesthetic. The visual appeal of some appliances is predominantly shaped by the handle design, which can vary from slender and sleek to robust and rugged—the latter often offering enhanced functionality for frequent, everyday use. Various brands allow consumers to choose from a range of handle options, while others, such as Wolf, boast iconic designs with their signature red knobs on their ranges. Often, our preconceived notions of aesthetic originate from a practical functionality that is seamlessly integrated into our daily-use items.
Freestanding vs. built-in appliances
After you've decided on the looks, you will have to decide whether you want your appliances to be freestanding or built-in. Both options have their advantages and complexities, and are great! The decision is more about the look you want to achieve and the space available.
Freestanding appliances are the ones that support themselves over the floor or over a countertop, and they usually have a carcase or case that covers the body of the appliance.
For example, fridges are usually freestanding because they have large dimensions unlike a fridge drawer, which has to be integrated within cabinets to be encased and placed in a usable ergonomic height, or like some European brands that have fridge models that can be mounted into high boards or tall cabinets. Built-in, which means that it needs to be placed inside a cabinet or special base support to function and in most cases they don't have a "case" that covers the body of the appliance, it only shows a finished front of a door or drawer. For this type of appliance  it's important to consider the dimensions and weight to fit the carcase, and of course the required utilities specific for each equipment depending on the technology they use to work.
Choosing the main appliances for a kitchen
When designing a new kitchen, we recommend starting with the main appliances, which are those that are the most important as you need them to perform basic activities like storing your food and cooking. We will first focus on the basic ones that require specific installations or utilities due to their size and functions such as: the fridge/freezer, cooktop, oven, hood and dishwasher. 
After deciding on these main ones, you can think about the secondary appliances that have more specific functions like a wine cooler, fridge drawer, and coffee machine. These should match the main appliances to create a uniform look.
Final thoughts
Appliances are an important part of a kitchen, just as the countertop and cabinets, these machines are statement pieces that play a big part in the overall aesthetics of your space. Consider these tips when choosing appliances, with a special focus on your lifestyle, cooking habits, preferred aesthetics and budget. And remember, we're here to help so don't forget to ask your designer for tips and recommendations as we can guide you in this kitchen remodel journey!