Kitchen Inspiration
The Ultimate Countertop Guide by Caesarstone
Choosing a countertop is like finding your kitchen's soulmate. Caesarstone is our brand partner in finding your perfect match, so we've created a guide to help you choose the right countertop that matches your lifestyle and aesthetics.
Gabriela Alvarado
October 24, 2023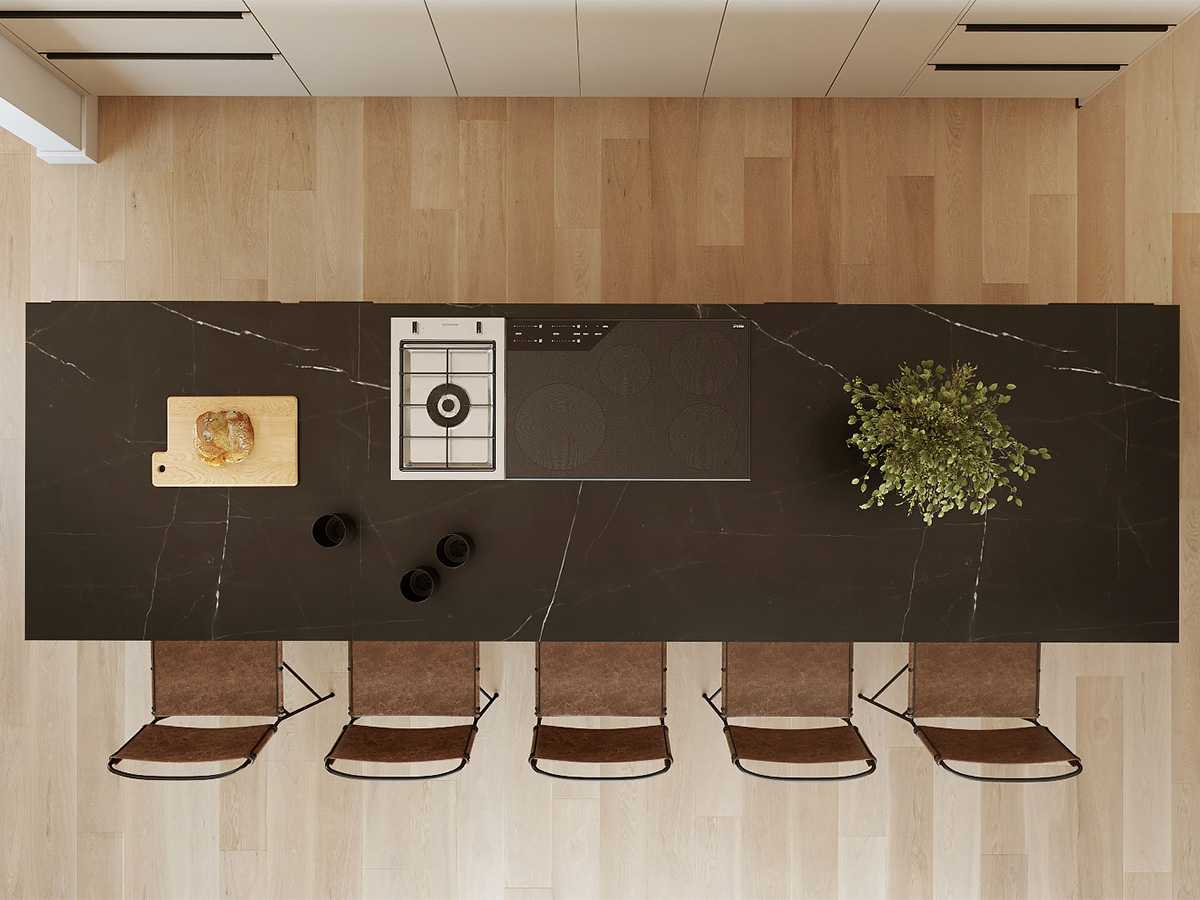 The countertop is one of the most important elements in a kitchen. It's the surface where most of our daily activities happen, from chopping vegetables to kneading your sourdough to having cocktails to getting work done. Whichever the lifestyle, you need long-lasting quality and easy-to-clean surfaces that look at home with the aesthetics of your kitchen.
Together with Caesarstone, we've created this guide and checklist to help you choose the right counter for your style. You'll need to consider cabinet color, flooring and high-end components like your appliances,, as well as the activities you'll be using your counter for.
Remember to talk about countertops early in the design process with your FORM designer. Some people even like to start their kitchens with the countertop and then design everything else to match with it. Knowing your preferences, the designer will be able to suggest the right options for you.
Lifestyle check - what do you plan on doing in your kitchen?
To choose the right countertop it is important to consider your lifestyle and the activities you most frequently do in your kitchen. Maybe you are an aspiring cook who needs a heavy-duty surface that can handle all the chopping and fire. Or perhaps you have children who paint and draw on the kitchen island while you cook. The secret is to first set your needs and then find the right solutions the different materials offer.
We have some examples of how to match your lifestyle with a worktop:
- The entertainer: You need a countertop that can handle the heat (literally) of cooking up a storm while also serving. Go for quartz or granite – they can take the heat and look fabulous doing it.
- Families with kids: We know spills and messes are inevitable. Quartz comes to the rescue with easy cleanup. Plus, quartz is non-porous, which means it won't soak up stains from those tomato sauce splatters.
- The home office heroes: If you're turning your kitchen island into a makeshift office, choose a countertop that can withstand the daily grind of work. Quartz or concrete will keep up with your productivity.
Budget 
Caesarstone suggests following the general rule, you should allocate between 20-30 percent of your budget to the worktop given that it's such a significant element of the design both visually and functionally.
There are less expensive options like laminate, but these are not as durable as quartz or concrete. Even though the initial investment will be higher, in the long term, the best quality options need less maintenance and you won't have to change them in two years. It's a lifetime investment!
Want more inspiration? Add your email to receive more beautiful surface ideas.
- Our Caesarstone: FORM Catalog
- Pantry and Bar Lookbook
- Bathroom Lookbook
Express your style
The countertop is a huge piece of the kitchen, it's a centerpiece that sets the tone for the overall design of your kitchen. Having a clear vision of the overall style you want to achieve is key to choosing the right colors and materials. The beauty of Caesarstone's products is that you can find different finishes and patterns that will allow you to get creative and express your personality.
Marble is a popular choice for an elegant look, while stainless steel and concrete are perfect for industrial, minimalist looks. And quartz is trending now as it is a very durable material that can be found in different colors, robust patterns and different finishes – it is perfect for doing a lot of activities.
Maintenance and durability
It all depends on how much time and money you want to spend on cleaning and maintenance. Each material and finish has its different maintenance needs. For example, marble looks amazing but it requires a special type of cleaning routine. And some finishes are more sensitive to heat and water so you'll have a lot of smudges and stains. Ask your designer for all the possibilities and ask yourself what are you willing to do and what not. 
Durability is linked to maintenance. Whichever worktop you choose, be sure they all require a level of maintenance and cleaning, and when done right the life of your countertop will be longer. There are materials like marble that last a lifetime, but they require more maintenance. On the other hand, quartz is a great option in terms of durability and low-maintenance.
Ask the experts!
Talk about countertops with your FORM designer from the very beginning, as they can show you the available Caesarstone options and help you choose the ones that fit your style. This conversation is also important to define the size of the worktop and whether there are any large elements like a fridge. And, installation: make sure you consider this as installing the countertop has to be aligned with the installation of your cabinets.
Want more inspiration? Add your email to receive more beautiful surface ideas.
- Our Caesarstone: FORM Catalog
- Pantry and Bar Lookbook
- Bathroom Lookbook
How do I know I've found the right countertop?
Consider these key points and take your time answering these questions. When you've ticked all the boxes: style, lifestyle and maintenance, it's when you know you have found the right one. Choosing a countertop is like finding your kitchen's soulmate – it's a long-term commitment. Sleep on your decision, visualize your future kitchen, and make sure it's love at first sight. 
Ready to start your kitchen journey? Book a free consultation with our design experts.