Kitchen Inspiration
JennAir + FORM: a shared commitment to innovation, sustainability, and performance
We've partnered with JennAir to get you beautiful, modern appliances for your home. Just like FORM, JennAir is committed to lasting quality, stunning aesthetics, and sustainable practices.
Michael Quinn
November 10, 2023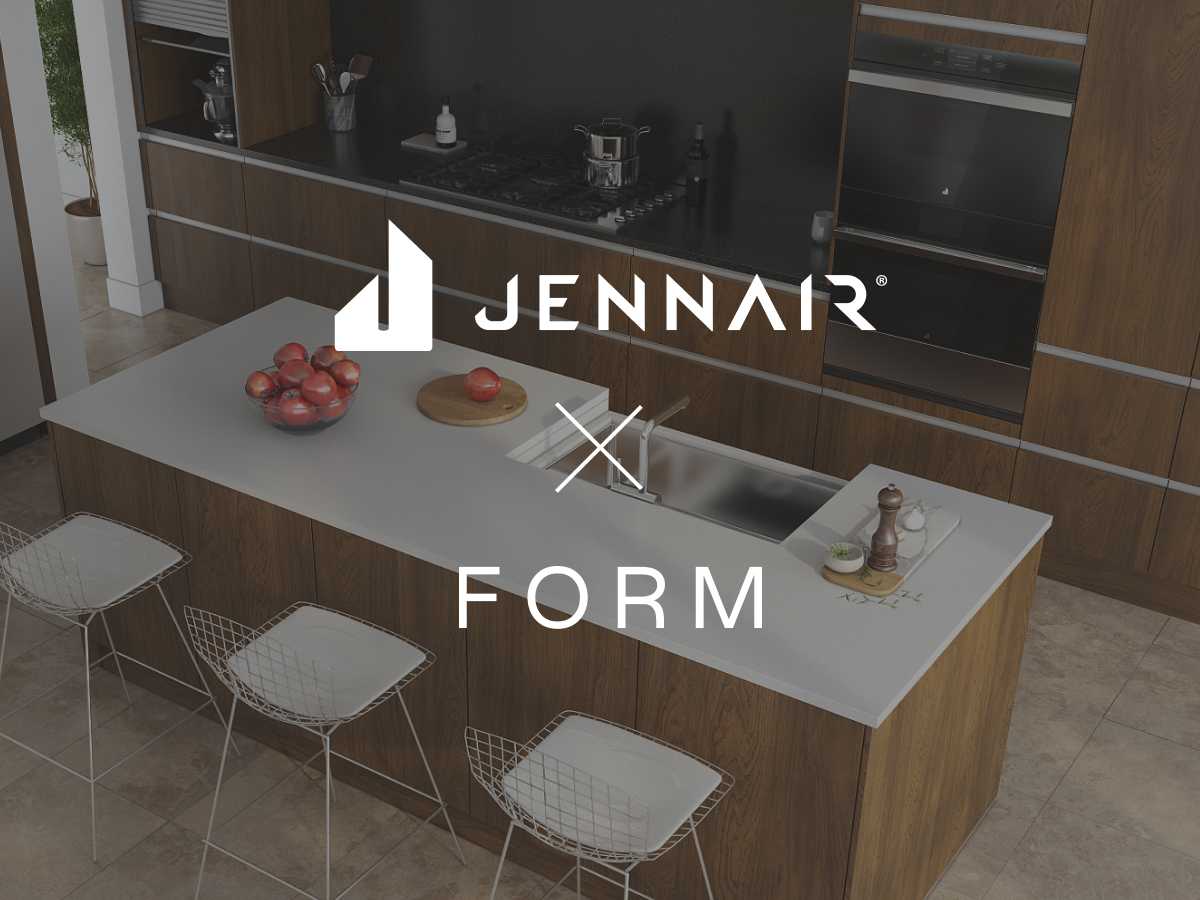 We're excited to announce FORM's collaboration with JennAir, a luxury appliance brand with roots that go back 76 years but a brand that is still tirelessly committed to reinvention and innovation. JennAir brand's first hallmark invention was the self-ventilated downdraft range in the 60s, a remarkable technology. And they haven't stopped. In 2018, the brand relaunched its identity with a multi-design expression product line-up we're excited to offer our clients.
FORM and JennAir: A New Era of Quality
The JennAir brand's RISE and NOIR design expressions provide a collection of luxury appliances that are undoubtedly beautiful. But JennAir understands that appliances aren't just statement pieces in a home – they are tools for you to get the most out of your kitchen. Whether it's their bold selections of materials built to dazzle and endure or the seamlessly integrated technology that allows for smart cooking, JennAir has taken the time and effort to deliver appliances that seamlessly merge luxury and function.
One of the most stand-out features in their new lineup of appliances is how notably silent they are. Their quietness is a nod to the understated elegance and power of the products they build. We also love the JennAir app that allows you to cook effortlessly and its vibrant LCD displays that hammer home the smart technology to ensure extraordinary results every time.
A Shared Commitment to Sustainability
JennAir doesn't just do right by your home, they are also committed to doing right by the environment. JennAir has made significant commitments to reduce emissions in their materials and manufacturing process by 2030, and they've fully integrated comprehensive sustainability practices into their entire product development.
The most significant commitment that JennAir and the larger Whirlpool corporation have made is to achieve net-zero manufacturing by 2030 across all the brands. We share in doing right by our customers and the globe and are thrilled to work alongside a brand with a bigger purpose.
Beloved and Trusted by Some of the Best
Many FORM customers, like Justin Schaeffer from High Tide Homes, love integrating the JennAir appliances into their projects with us because of the performance and beauty.
Design trailblazers like Kelly Wearstler also love the bold, harmonic design of the appliances, paired with the strong functionality and ultra-modern technology. In her words, "I love that JennAir has pushed the boundaries to give designers incredible products to incorporate into our kitchens." And she's in good company: Jeremiah Brent, another widely celebrated tastemaker and designer, is a fan of the brand and its luxury offerings. He loves that the appliances have a "truly differentiated aesthetic", making them rise to the top in the sea of luxury appliances.
Some of Our Favorite Pieces 
We love the ranges in both the RISE and NOIR design expressions. They're made with eye- catching materials featuring mixed metals, diamond etched knurled handles, and intricate details that allow them to elevate the spaces they occupy. We also love the powerful and precise burners that have such an excellent temperature range on them – from a high-heat sear to a low, slow simmer. The app's remote access allows you to easily knock out some amazing dishes while feeling like a pro.
The column refrigerators are equally stunning – in fact, they are award-winning. They received the 2022 IBS Kitchen and Bath Best Product Award. The cinematic lighting and cooling elements are truly sensational, and the industry exclusive obsidian black interior is really such a rebellious and memorable touch that makes your food look like art.
Get Going with Your FORM-Exclusive Discount
Once you're in process with your FORM designer, inquire about JennAir appliances, and they'll let you know about our FORM-exclusive discount and pass along the contact information for our dedicated team over at JennAir. Modern cabinets call for modern appliances that deliver both beauty and functionality.