Kitchen Inspiration
A Kid Friendly Kitchen for a Modern Family
The kitchen is often called the heart of a home and the Jones family demonstrates that for a modern family this is more important than ever. Discover how Alexandria and Tyler Jones worked with Form to design a flexible communal gathering space where the family can cook safely, eat and be together while achieving a modern and sleek look.
Gabriela Alvarado
May 5, 2023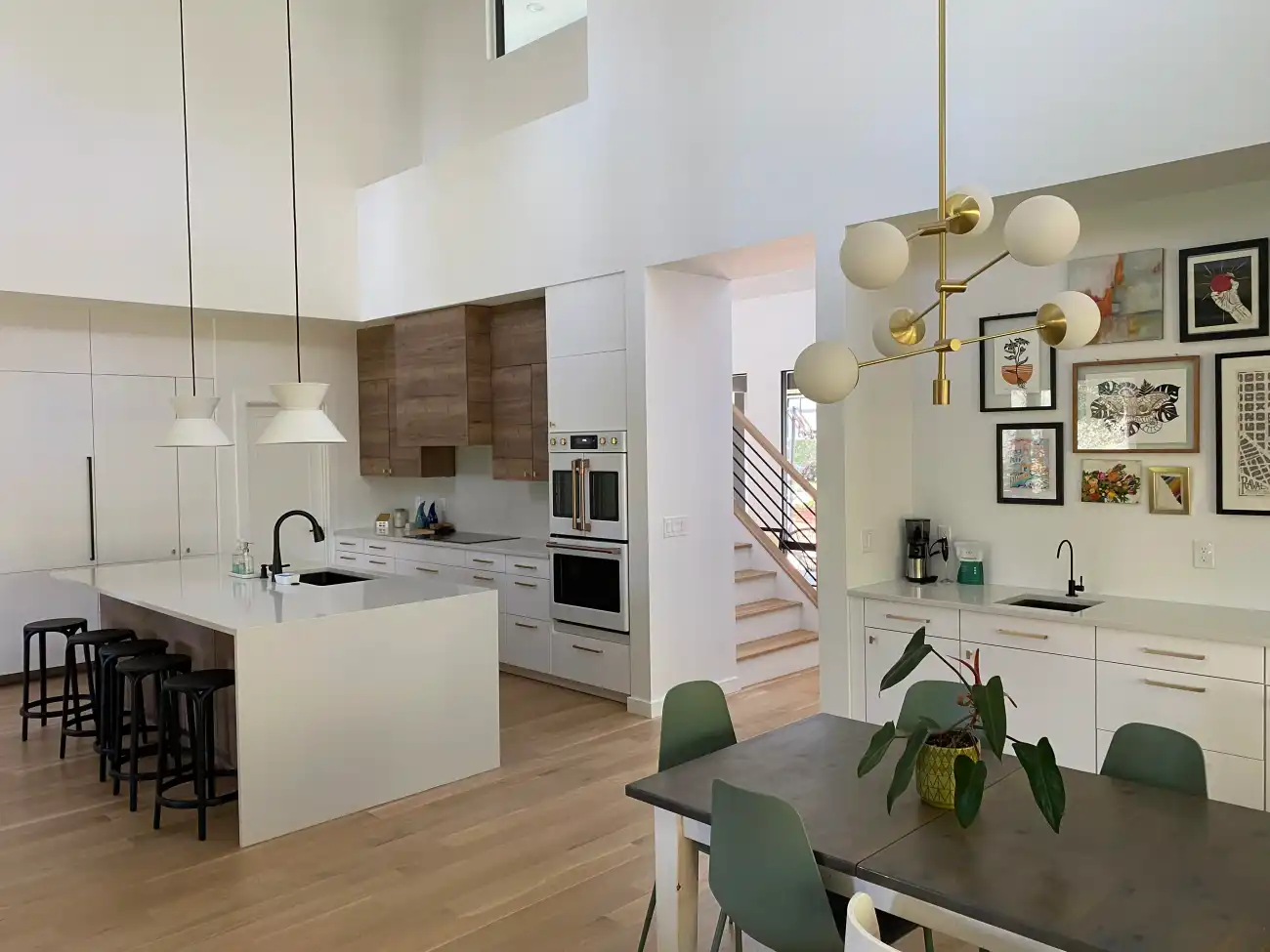 The kitchen is often called the heart of a home, where families gather to cook, eat, and spend quality time together. In today's world, modern families need spaces where everyone can multitask, and the kitchen has evolved into a multi-functional space that not only serves as a cooking area but also as a safe and comfortable space for kids to learn while mom and dad cook and work from home. Meet Alexandria and Tyler Jones, who live with their 4 children and a dog, in a beautiful modern house surrounded by forest just outside of Raleigh, North Carolina. The Jones had a clear vision of what their dream kitchen would look like, so they contacted FORM to get help from a professional designer and co-design their dream. We fell in love with the Jones' kitchen and their house, and we made a video of the tour they gave us in their kitchen. Watch it here to enjoy every detail of this kid-friendly kitchen.
The Heart and Soul of the Home
The Jones house is a wonderful sweet spot between modern and cozy. With Oxford gray walls on the outside and white, sleek interiors with warm wooden details, this house is welcoming and peaceful, with well-thought spaces that make it both beautiful and functional. "We were looking for that modern clean style that is also super functional, and FORM has it. They really helped us bring our vision to life", says Alexandria Jones, mom and official narrator of the family. Together with their designer they created the next level kid-friendly kitchen and multifunctional space that truly meets their needs.
"We really love to cook, and we make most of our meals from scratch, so we are always in the kitchen. It's literally the heart and soul and the center of our home."
Alexandria Jones tells us about their daily routine. With four kids, the Joneses are experts in creating multi-functional spaces and finding solutions to make everyone's life easier, and the kitchen has become one of those places where the family meets not just for dinner, but also for other activities like homework or a pizza night; it's were they start their mornings and were they have dinners with friends. So it was important to have enough space for everyone and everything.
The original kitchen was tucked away in a far corner of the house, which wasn't ideal, so their vision was to create a communal, flexible gathering space where they could work, eat, cook, and spend time together as friends and family. The first step was to move the kitchen to a better location in the house. "This was a bit challenging as we had to consider a lot of things, like where to put the big appliances, but our designer was great helping us with the layout, and we love the final result!" .The result was an open plan, large kitchen right next to the dining room, creating a big communal space with an incredible view of the woods. "We wanted a contrast between the natural scenery and the modern".
With an open plan layout, the kitchen and the dinning room merge to welcome everyone in the family and enjoy the view at all times. White and glossy, easy clean cabinet fronts and countertops give a bigger feel and brightness, the wood fronts in some of the cabinet like the ones above the convection stove give the space a nice balance for a warmer look. It's a place where you want to be!
"We wanted a contrast between the natural scenery and the modern."
A Kid Friendly Kitchen
When living with kids, practicality and safety are top priorities in kitchen design. Maintaining a sleek, clean look can be a challenge. For Alexandria, it was important to create a kitchen that was safe and comfortable for kids to learn, play, cook, and gather. The Jones family focused on safety and practicality.
To ensure safety, they switched to all electrical appliances to avoid fires and fumes that could harm the kids. Additionally, the cabinets accessible to the kids were placed within reach. For practicality, they chose easy-to-clean cabinet fronts and countertops, as the kids like to have fun and get messy in the kitchen. "You just wipe it off!" says Alexandria with a smile.
Kids often do their homework in the kitchen, so it was important to have a large kitchen island that would allow Alexandria to cook and help her kids with homework or chat with them. The space can also accommodate all four kids when they cook together for a family dinner.
Another innovative feature is the drawer for the trash bin, which also includes a compost bin. After learning that the family composts at home, the designer suggested this compost bin, which allows them to keep the compost hidden but easily accessible right below the sink. "It's even easy for the kids to take the bin once it's full and take it outside," says Alexandria. This way, the kids are involved in the kitchen experience and learning about composting.