Kitchen Inspiration
Designing a unique kitchen for a modern-day getaway in the woods
Orphy and John, FORM clients and experienced hosts, share tips for designing a guest-centric kitchen in rental properties. Perfect for newcomers or those upgrading their spaces.
Gabriela Alvarado
October 27, 2023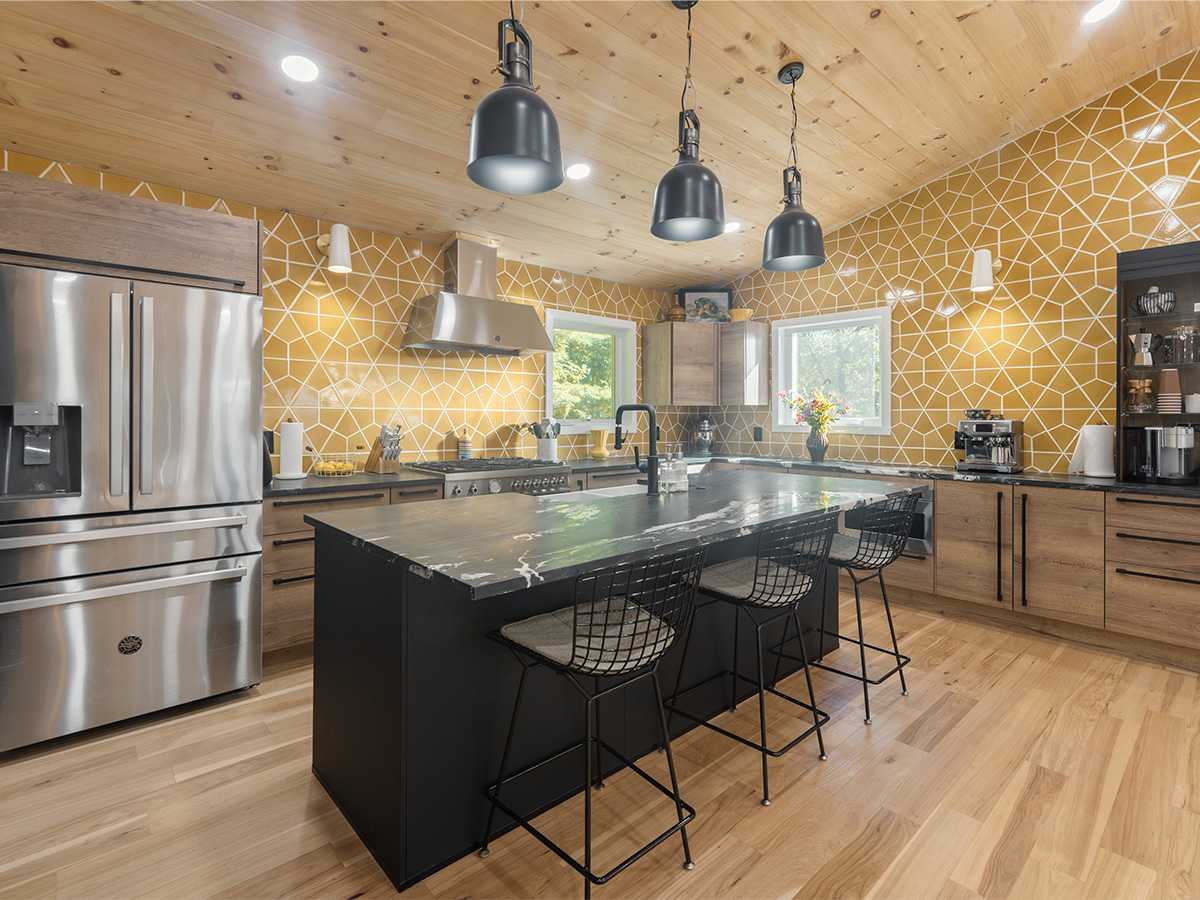 Meet Orphy and John German-Tucker, owners of Clapper Hollow Cabins, a vacation rental business that gives people the opportunity to relax and connect in nature with three stunning homes thoughtfully designed to make guests feel, well, at home. For their most recent project, a mid-century ranch style cabin in the woods in upstate New York, they chose FORM as their partner to transform a worn-out nineties kitchen into an original, modern and cozy space with everything visitors need for a memorable vacation.
With years of experience hosting visitors in their three houses, Orphy and John are now experts in hospitality and really know how to create places that feel like a home away from home. We talked with Orphy  about the essentials for designing a kitchen for a rental property. So, If you're venturing in the world of rental properties or looking to upgrade your existing space, you've come to the right place. Today, we're going to delve into the art of creating a guest-centric kitchen.
Designing a kitchen for guests
When we design a kitchen it is essential to know the lifestyle and habits of the users, but how do you do this when the kitchen is meant to be used by different people? According to Orphy, you have to think about the experiences the space can offer to your guests. 
"The kitchen was thoughtfully designed with a focus on catering to our guests' needs in this rental house. It takes inspiration from other well-designed homes and flows seamlessly. I had a clear vision in mind - cooking space on the left and right, a range, spice racks, and storage for cooking sheets for those who want to cook, bake, or make cookies."
A rental does not need a lot of storage, instead you have to focus more on the aesthetics and making sure the kitchen has everything to cover basic needs. This is why this design only has one upper cabinet and the necessary storage like a pull-out spice rack and cabinets for daily use dishware and special occasion ones like baking dishes, a cake platter, and even candles for those celebrating birthdays during their stay.  "Our aim was to ensure that everything our guests need is easily accessible, creating a seamless experience. Many of our guests come to celebrate anniversaries or spend quality time with family", mentions Orphy.
To enhance their stay, they included a library of cookbooks and a convenient coffee station that has become a favorite! The coffee station is so popular because they added a garage door to that big cabinet where guests can find everything they need, from mugs to coffee, honey, sugar and all the tools. You close the door and everything is out of sight!
A unique design that creates a memorable experience
Even before they started renovating the house, Orphy had a clear vision in mind. She explained, "Since this is a mid-century modern cabin, which we affectionately call the 'modern-day getaway cabin, I knew exactly what I wanted for the kitchen – a modern, beautiful, and clean look. To achieve that, I aimed to incorporate black elements and stone features to enhance the overall modern aesthetic."
The kitchen is an eclectic combination of different textures and colors that create a modern yet cozy atmosphere. The Oak cabinet fronts are a reference to nature and connect the kitchen with the outside landscape, while the black marble countertop and the black island are a luxury statement, and the yellow tiles in the backsplash add a fun homey feel to the overall design (note: they're from our friends over at Fireclay).
"Everyone was against the yellow backsplash but I really wanted it to create something original and never before seen" — commented Orphy.
And indeed, the kitchen turned out to be an authentic design that was achievable thanks to the help of FORM professional designers who were able to guide Orphy and John through the design process, balancing out the different elements. 
Like the kitchen, the whole  house seamlessly blends modern luxury with nature, providing everything guests need to escape the hustle and bustle of city life. Whether it's enjoying a game of pool in the basement or baking up a storm in the cozy, ultra-modern kitchen, they've got the essentials for a perfect weekend spent with family and friends.
Working with FORM
"Our journey to finding FORM kitchens and our experience working with them was a crucial part of achieving our dream kitchen", says Orphy.  Initially, she embarked on a research quest to identify a company that could turn their vision of a modern, warm, beautiful, and high-quality kitchen into reality. In Orphy's words, it was quite a challenge to find the right fit for such a project.
For the couple, it was truly a collaborative experience with the designer, which made it enjoyable. "After paying the design deposit, we received samples, and the designer's guidance in selecting the perfect elements was invaluable". 
Every project is different and from this one we truly enjoyed helping Orphy and John create a space where many people will be able to find happiness and create memories. So if you have a rental property project that needs remodeling, don't hesitate to set up a free consultation and we'll help you figure out the path towards designing the perfect spot for your guests.