Kitchen Inspiration
Brighten up your kitchen with these lighting ideas
We understand the challenges of finding the perfect lighting that strikes a balance between functionality and style. That's why we've crafted a detailed guide showcasing various lighting styles tailored for modern kitchens.
Gabriela Alvarado
October 3, 2023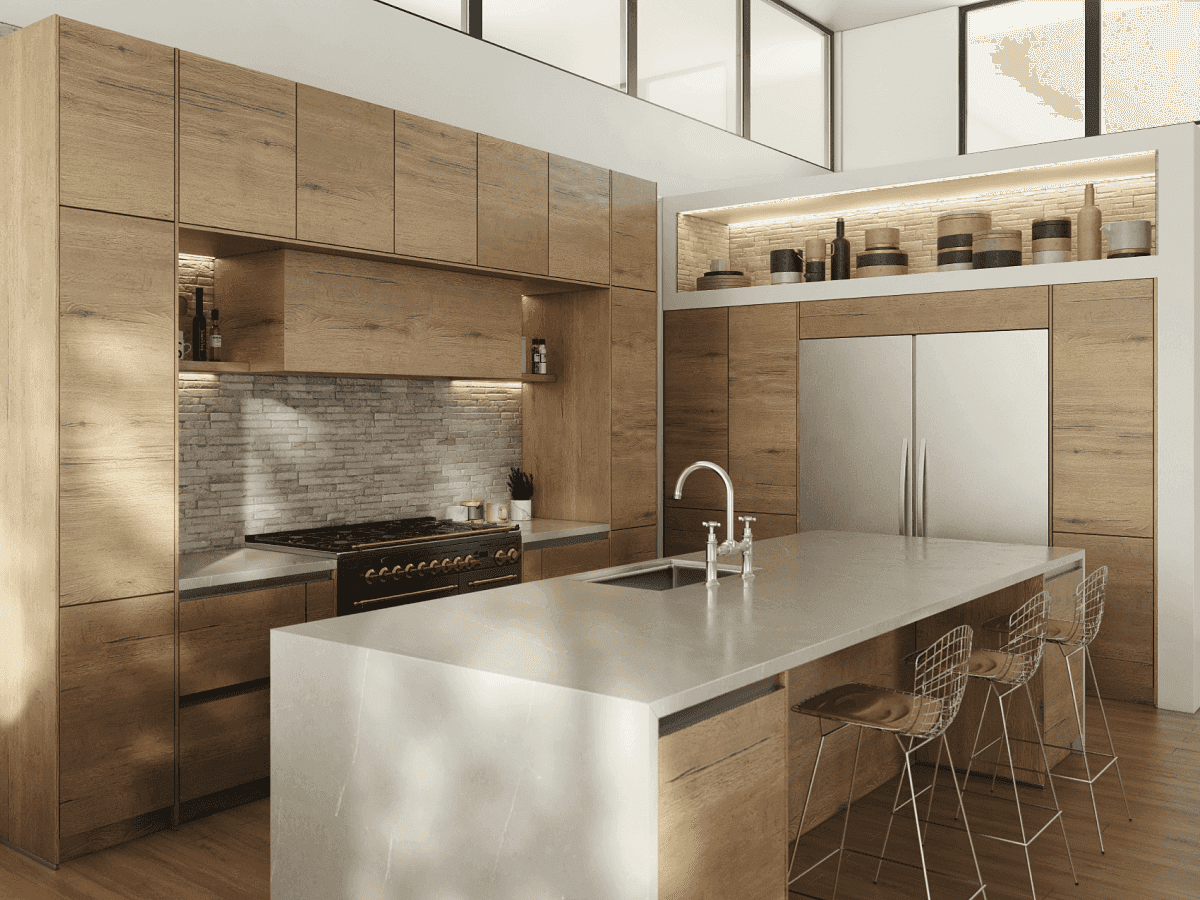 Lighting is one of those things we take for granted, we never really stop to think much about it, but when it gets dark, we feel lost. Proper lighting is essential not only for enhancing the design and ambiance of your kitchen but also for ensuring safety and well-being. In this post, we will explore various lighting options that complement contemporary European kitchen aesthetics, offering both functionality and beauty.
Much like kitchens, lighting boasts an array of design styles and functionalities. In this guide, we've handpicked styles that seamlessly blend with European-style kitchens.
It's crucial to discuss lighting during your initial conversations with your designer. The more informed we are, the better guidance we can provide!
Pendant lights: the showstoppers!
Nothing says "modern European" quite like pendant lights. Whether you're choosing sleek, minimalistic pendants or ones with intricate designs, these lights are perfect over kitchen islands and dining areas. You can match the color of your pendant lights with the cabinet handles or other elements of your color palette.  Tip: Consider adjustable pendant lights for flexibility in mood setting.
LED under-cabinet lighting for the subtle glow
Illuminate your countertops and ensure that every corner of your workspace is well-lit. This not only ensures better visibility but also adds a warm, welcoming ambiance to the kitchen. LEDs are energy-efficient and can be chosen in various color temperatures.
Recessed lighting: the quiet influencers
Recessed lights, or downlights, are a great choice for those who prefer a clean ceiling line. They provide ample light without becoming the focal point. It's the minimalistic charm that's very in-tune with European aesthetics. Another advantage of this type of lights is that they can come in LED options for a longer duration, and you can also find lots of intelligent options if you'd like to connect it to Alexa.
Track lighting: adaptable and chic
If you like an industrial, minimalist touch, track lighting is a very cool way to do it. Choose a black version for a bold statement piece. Plus, track lights are versatile – you can position them to focus on areas where you need the most illumination. They're perfect for highlighting artwork, architectural details, or even your favorite culinary books!
Linear suspension lights: modern artistry
These lights hang from the ceiling but spread out in a line, or unexpected linear forms, often making them ideal for long dining tables or kitchen islands. These modern chandeliers are a super chic statement piece that will elevate the elegance and avant-garde look of your kitchen.
Smart lighting systems
Why not elevate modernity with a touch of technology? With smart lights, you can change the color temperature, brightness, and even set schedules. Whether you want a bright workspace or a cozy dinner setting, control is just a tap away.
Natural light: the timeless choice
Of course, nothing beats the charm and warmth of natural light. Large windows, skylights, or even glass doors can flood the kitchen with sunlight, making it feel airy and spacious. It's a nod to the Scandinavian influence on European designs. Consult with your designer -floor plan on-hand-, to identify where natural light enters the space and take advantage of those light sources.
Tips for choosing the right lighting:
1. Layering is Key: Lighting plays a pivotal role in setting the mood and functionality of a space, often achieved through three layers. First, ambient lighting provides the overall illumination, setting a room's general brightness. Think of it as the base layer, often delivered by ceiling fixtures and pendant lights. Second, task lighting focuses on specific areas to facilitate activities like reading or cooking, like under-cabinet kitchen lights. Lastly, accent lighting adds drama and visual interest, spotlighting particular objects or architectural features. This can be seen in the form of wall sconces or track lights highlighting artwork. Together, these layers create a harmonious and versatile lighting environment.
2. Think Energy Efficiency: LEDs are a great choice; they're long-lasting and consume less energy.
3. Adjustability: Dimmable lights allow flexibility to set the mood for any occasion.
4. Design Cohesiveness: Ensure the style, material, and color of the lights complement the overall design of your kitchen.
Lighting is more than just a functional aspect of your kitchen; it's an integral part of its design and feel. With a plethora of options available, there's something to illuminate every corner and cranny of a modern European kitchen, adding character and warmth. Whether you're redesigning or just updating your kitchen, make sure to shine a light on its best features!