Kitchen Inspiration
A Modern European Kitchen for an Architectural Mountain Home
Delve into Julie and Scott Keyes' extraordinary design journey. The husband and wife architectural team built their state-of-the-art Greenville home to settle their growing family and showcase their growing business.
Kristen Davis
September 22, 2023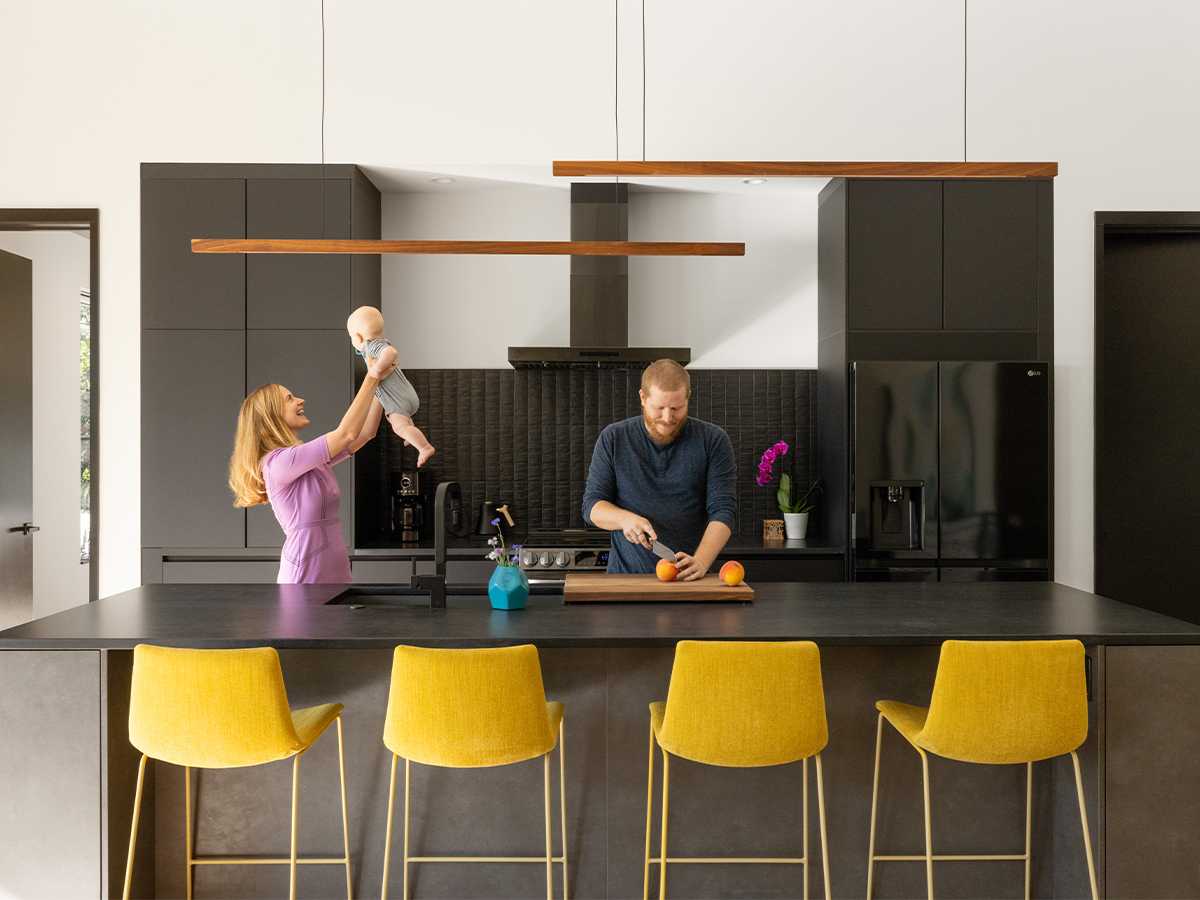 Building a mountain home in Greenville's greenbelt
For many, dreaming of a fresh start paints a picture of a new life in a bustling city or a far-flung place. But for Julie and Scott Keyes, it wasn't about escaping to somewhere new; it was about coming home. Returning to Greenville, South Carolina, they've quietly gone against the grain of local architecture with their contemporary Paris Mountain home. As architects, business partners, and a married couple, their new home is a special blend: it's where they work, where they showcase their style, and where they kick-back with their family. And the best part? They've shown how you can integrate nature, beautiful sustainable materials and smart design, without breaking the bank.
Doing things differently at Fortress Architecture
Julie and Scott's architectural firm, Fortress, has always been about pushing boundaries. "We really wanted to do more modern work," Julie explained. "That's sort of how we've steered our firm." For them, the challenge was to showcase their modern sensibilities while respecting the site and the demands of a home with a young family underfoot.  "It's always been our dream to design and build our own house, plus we saw it as an opportunity to showcase our work for our clients, so they could see what we see," Julie said. This dream took them back to Greenville and up the slopes of Paris Mountain,  a location that attracted them with its blend of South Carolina and mid-century modern homes, its tree-filled landscape and its proximity to the vibrant city center of Greenville.
Fortress Architecture partners with FORM Kitchens
In 2022, their dream became a reality after two years of careful planning and building.
Designing their kitchen was a key element for Scott and Julie. The space had to be multifunctional; user-friendly for the family, sophisticated for clients, and resilient for everyday living. "The kitchen is definitely the most used and abused part of the home," Julie commented frankly.
A modern way to buy a kitchen 
Julie, discovering FORM online, identified the German engineering and design as an ideal match for their look, feel and longevity goals. "I knew it was a certain level of quality that we needed," Julie reflected. She added "FORM was new to me, but I could see from the online specifications that they had all the storage, finish options and detailing that we were looking for." The couple had very clear budget boundaries and FORM hit that value for money sweet spot with an equal measure of style and functionality 
Scott and Julie approached FORM with a clear design concept and met one-on-one with their online designer, Debora. This was the start of a fantastic collaboration, beginning with clear, realistic 3D visuals so Julie and Scott could see exactly how the new kitchen would fit into their living space.
"There were some really cool design options, even the ones that we didn't go with, it was just kind of exciting and fun to see what we could do with the different storage and drawer options".  
Several video discussions followed to iron out the details of the custom-made kitchen after which the design was sent to Germany, triple-checked, built and shipped to South Carolina.
An exciting virtual endeavor with real-world rewards
Ultimately, the blend of the couple's industry knowledge and Debora's extensive product understanding and technical skills led to a really stunning space. Julie reveals that 'our kitchen could definitely have been in a more expensive home but we had a budget and this is the primary reason we went with FORM and not other companies…. it was a quality German kitchen and it was within our budget"
And the final verdict from Scott and Julie?
"It was the right choice. I genuinely love it. I'm still really, really pleased with both the layout and the product."
Digging into the details of their striking FORM Kitchen
While the post-pandemic introduced logistics challenges, Julie and Scott's dedication to their vision never wavered. The light-filled interior centers around the living space, Julie reflects 'we wanted the kitchen to be part of the wider scheme, so we chose dark cabinet finishes which balance and play-off the lighter walls and soft furnishings.
The end result is an exercise in visual restraint inspired by the Modernist and Brutalist movements as well as the Prairie style of Frank Lloyd Wright. Scott's interest in innovative technology and future-focused design also contributed to the overall look and feel of their home.
FORM Kitchens is extremely proud to have played a part in delivering this family's modern made-to-order vision. So which cabinets and finishes did the couple opt for to create this striking space?
- They selected FORM'S Graphite Black in Ultra Matt for the cabinets along the back wall, which includes a large refrigerator, deep pantry storage and a full run of easy to access soft-close drawers
- The kitchen island provides a subtle contrast in FORM's Concrete Terra Grey Reproduction and hosts the remainder of the services and storage drawers, filled with organizers to keep clutter to a minimum. "It's not always this tidy with a 4 year old and a 7 month old, but the great thing is I can sweep everything out of sight in minutes," Julie says with a genuine sense of relief. 
- The handles are recessed to maintain that seamless European aesthetic
- For durability and a strong style statement, they went with Caesarstone's "Black Tempal" honed quartz countertops
The backsplash is a tile from Tilebar which, for the couple, evokes a charred wood effect, yet again tying in with the surroundings and the focus on quality, textural materials.
Mastering the Modern Balance: Living, Working and Raising a Family
Julie and Scott's innovative approach to design is reflective of a couple that does things differently, and it feels like they have accomplished exactly what they envisioned. "We're working from here, but we also have two young kids now - a four-year-old and a seven-month-old," Julie shares.
Juggling the demands of their flourishing business and parenthood, they have strategically compartmentalized their spaces, allowing them to switch effortlessly from business meetings to family meals. "We need a separate office so we can just close the door," emphasizes Julie, pointing out the necessity of having concentrated work zones within the home.
However, above all, family considerations were the linchpin of their design choices. "We wanted everything to be really family-friendly." True to their commitment, the Keyes have designated the downstairs to meet the functional and practical needs of their family, making it "deliberately much more utilitarian." The design underscores that while work is pivotal, family invariably takes precedence.
A Design Philosophy: Beautiful, thoughtful, sustainable, resilient
The feedback from their Fortress clients is a strong endorsement of their design philosophy.  "Clients often ask us where our kitchen is from. I think it matches the overall quality we sought, the modernism we were after, and definitely a high level of design".
So, was it worth it? Julie believes so, "it is definitely a haven for the kids, and that is probably what makes it most worthwhile. My four-year-old knows where to pull out her utensils; she helps unload the dishwasher and puts everything away. She's always eager to help cook, chopping scallions on the counter with her kid-friendly knife. That is definitely what makes it worthwhile!"
The team at FORM wholeheartedly agrees and we're thrilled to have  shared the Keyes' family, and Fortress Architecture's journey.