Kitchen Inspiration
Give your kitchen a new life with European style cabinets
Learn how to create the perfect kitchen with our design, and style selection. Discover how to incorporate the perfect blend of form and function to create a dream kitchen. European kitchen cabinets are renowned for their sleek and modern designs, offering a range of options to suit various aesthetic preferences.
Gabriela Alvarado
June 9, 2023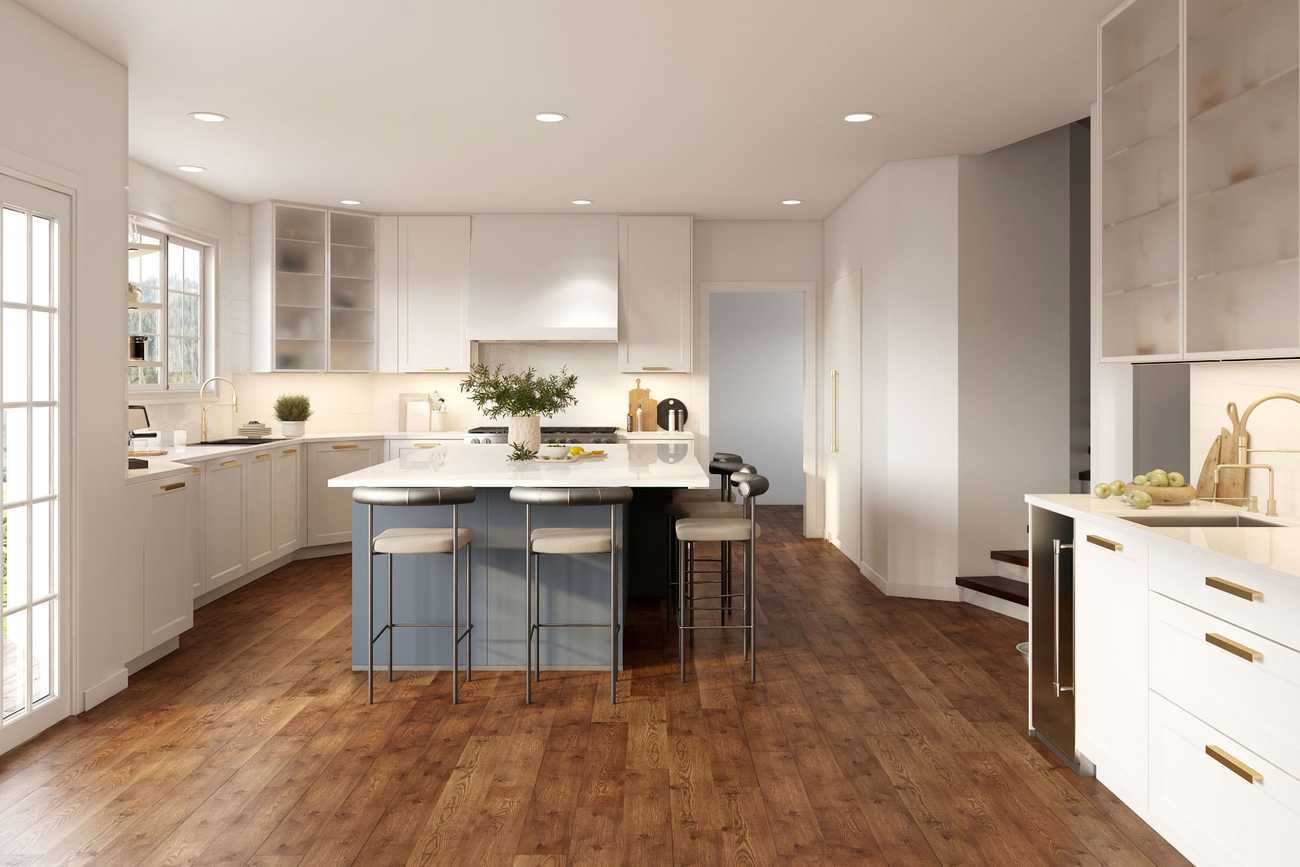 If you are bored with your 90's classic kitchen that came with your home, it's time for a kitchen transformation, and the best way to modernize it is by changing your cabinetry for modern European style cabinets. These types of cabinets have been gaining popularity in recent years because, let's face it, they are the new standard of a contemporary kitchen. Why? Amongst other benefits, their sleek aesthetics make them timeless and can be customized to different preferences of materials, colors and front finishes.
Benefits of European-style cabinets
European kitchen design is often associated with Ikea flatpacks, but there is much more to it. In many ways, German kitchens stand for the exact opposite: sophisticated design with abundant personalization options, expertly engineered. With German kitchens, you really get the best of both worlds: precision engineering on the one hand, and a classy design aesthetic on the other
Choosing the right type of European kitchen cabinets
Flat panel cabinets
The slab or European-style cabinet has flat panel doors. These modern cabinets feature clean lines and a smooth, unadorned surface, creating a minimalist and contemporary look. They are often made from high-quality materials like wood veneer or laminate, providing durability and a seamless appearance. They are versatile and look great in almost every color; white cabinets can provide a more spacious feel, gray cabinets can add elegance, and wood cabinets feel cozy and in harmony with nature.
Shaker kitchen cabinets
Another type is the shaker cabinet, which originated in the United States but has gained popularity in European kitchens. These cabinets showcase a classic, timeless design with a five-piece door featuring a recessed center panel. Shaker cabinets offer versatility and can be adapted to both traditional and modern kitchen styles. These are a nice way to balance a minimalistic design with a more classic American look.
Glass Cabinets
For those seeking a touch of sophistication, there are the glass-front cabinets. These cabinets feature doors with glass panels, allowing for the display of decorative dishes or glassware while adding an airy and open feel to the kitchen. Glass-front cabinets can be framed or frameless, and the glass panels can be clear, frosted, or textured, providing options to suit different tastes.
Handleless European kitchen cabinets
Lastly, there are handleless cabinets, which have gained significant popularity in European kitchen design. These cabinets create a seamless, streamlined look by eliminating visible handles or knobs. Instead, they utilize innovative mechanisms such as push-to-open or touch-release systems, allowing for easy access while maintaining a clean and uncluttered appearance.
Things to consider when choosing European cabinets
Now that you know the options, there are some things you need to consider before choosing the cabinet type. First of all, think about the look you want to achieve in your kitchen. You might be one hundred percent sure you want a modern style kitchen but also think about the feeling you want the atmosphere to feel like, whether you are looking for a sleek, elegant black and white kitchen or a warm, cozy feeling that can be achieved with white cabinetry and wood details. You should also consider.
Planning the layout of a modern kitchen
Designating storage space in your kitchen
One of the many benefits of Euro-style cabinets is their functionality. Behind that sleek aesthetic are years of engineering to create beautiful cabinets that are also practical, and useful cabinets for your everyday life. Designating storage space in a kitchen involves strategic planning to maximize functionality and efficiency. Start by assessing your needs and categorizing items based on the frequency of use. Reserve easily accessible areas for everyday essentials like cookware and utensils.
Utilize upper cabinets for items used less frequently while keeping frequently used items within reach. Consider installing pull-out drawers or shelves for deep cabinets to optimize accessibility. Utilize vertical space by installing wall-mounted racks or shelves for pots, pans, and spices. Consider all the available customization options, like FORM's list of features ranging from drawers to pull-out rotary shelves. Designating storage zones based on usage patterns will help streamline your kitchen workflow and keep everything organized and easily accessible.
Creating an ergonomic kitchen design
Ergonomics is more important in the kitchen than in any other room in the home. In no other room are the same tasks carried out repeatedly, day in and day out, to quite the same extent. Not only this, but the range of tasks in question is also at its widest in the kitchen.
Dividing your kitchen into zones such as Preparation, Cooking, Cleaning and more will result in a logical and harmonious space: everything fits together like a jigsaw puzzle.
To bring ergonomics into your kitchen design, consider the following:
European style cabinets are also famous for their functionality. But to really leverage this benefit you must include ergonomics in your kitchen design, which you can achieve by working with a designer. We recommend you start thinking about these points before starting your design journey or while you are at it.
1. The layout of your kitchen, and the resulting flow through space.
2. Storage. This must be convenient and safe to use: both boxes can be ticked with our special storage solutions.
3. The third is customization. We don't do generic kitchens but focus on designing for you as an individual. Much like clothes, a kitchen that fits is your best kitchen.
You'll want a kitchen that allows you to be as efficient as possible while carrying out day-to-day tasks in the space. Eliminate the excess steps and reduce distances traveled. Working in the kitchen needn't be tiring. Save yourself for the gym. If you want to learn more about kitchen ergonomics, we have an awesome article about this.
Creating a dream kitchen with European-style cabinets
European style cabinets have a sleek, clean contemporary aesthetic that can enhance the overall look of a kitchen. Their modern nature makes them an excellent option for a kitchen remodel project, bringing a new life to your old kitchen. The simple lines and minimalism make them timeless. European cabinets prioritize functionality, offering innovative storage solutions like pull-out drawers, corner cabinets, and adjustable shelving to maximize space and organization, making your life so much easier! If you have decided to go for this cabinet style, just remember to work with a professional kitchen designer and think about your layout and storage space that covers your needs. Consider your color preferences, but most of all, have fun and enjoy the ride.