Kitchen Inspiration
A Truly Modern Design-and-Build Approach with Two Nantucket Homes
Nantucket is a captivating island retreat 30 miles off Cape Cod, Massachusetts. Its historical charm shines through stringent preservation regulations, seamlessly blending architecture with the natural landscape. Here, Justin Schaeffer and Claire, founders of High Tide Homes, established their luxury home development company. Overcoming island building hurdles with innovation and creativity, their story unfolds.
Michael Quinn
July 7, 2023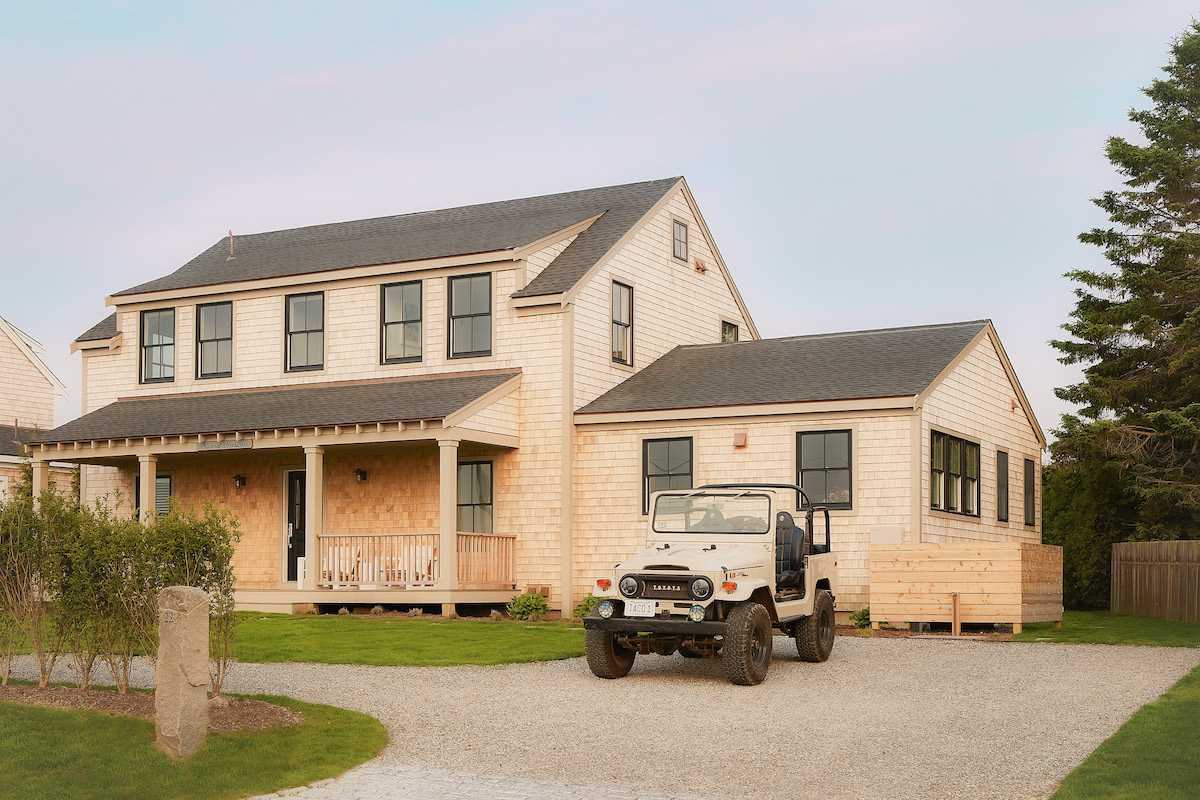 Nantucket's distinct blend of historical charm, natural beauty and understated luxury are what make the island, located 30 miles off of the coast of Cape Cod, Massachusetts, standout as a summer retreat. For the better part of the 18th and 19th centuries, Nantucket was the world's whaling capital. The dangerous but lucrative industry made it one of the wealthiest communities in America, attracting families from Boston, seeking respite from the city. Over the years, Nantucket's historic architecture has been preserved by strict development and design regulations, creating a seamless integration of architecture and natural landscape that give the island its unique sense of character.
"I was looking for a high-quality modern aesthetic that aligned with the High Tides brand. The options on the island were limited, but I was sure there was a more cost-effective option out there that didn't compromise on aesthetic and quality. Form gave that to me."
From mobile-app building to building houses.
All this is what drew Justin Schaeffer and his wife Claire to move to the island, start their family and create their luxury home development company, High Tide Homes. Originally from New Jersey, Justin spent his childhood vacationing with his family in the summers, then worked his teen years at the local market and 'Sconset Surf, a beloved local surf school. After college in Boston, he spent 11 years in the tech industry developing digital platforms and innovative solutions that were leveraged by companies like Sweet Green and Yum Brands.
As his digital expertise grew, so did Justin's desire to shift from mobile app-building to building physical assets. In 2020, High Tide Homes was born, a manifestation of Justin's vision to combine his tech background with his deep ties to Nantucket, creating extraordinary living spaces that embody the modern Nantucket experience. His goal from day one was clear: provide homeowners and vacation home renters with impeccable craftsmanship, attention to detail, and a seamless blend of innovation and timeless design.
"It should be functional, modern, and have a clean look. FORM totally achieved that for me and for the people enjoying my homes."
The challenges of building a house in Nantucket island
Building on Nantucket is no small feat. Part of what makes Nantucket so unique is its accessibility (or lack thereof). Nantucket is a true island, with no bridge on or off. Visitors, Amazon packages, fuel and building materials have to get there one of two ways: airplane or ferry boat. The additional logistics to ship materials (and sometimes labor!) has stymied home building design options and creativity over time. It's been Justin's ability to think outside the box, leverage technology, and embrace innovation that has set him apart from traditional residential contractors on the Island. As a developer, he recognized the importance of using online-first companies and tools like FORM, and exploring unconventional approaches to elevate the development process.
"My only regret is not incorporating FORM in other parts of the home. The consistency FORM provided is crucial to me, and I wish I had utilized the cabinetry throughout, like the laundry room and butler pantry areas."
Innovation and Craftsmanship for house-building
When choosing partners for his projects, Justin prioritized those who shared his dedication to craftsmanship and innovation. Justin's tech-driven mindset aligned perfectly with FORM Kitchens' integration of technology throughout their process, from impressive photorealistic renderings to a seamless ordering experience. The modern aesthetic, durable, and German-engineered cabinets, with a 25-year warranty, perfectly complemented High Tide Homes' commitment to creating extraordinary summer homes. This sort of thinking also led him to choose to work with other brands with an eye for the future, like JennAir, Peacock Alley, and Helix. 
By partnering with FORM Kitchens, Justin Schaeffer and High Tide Homes seamlessly blend their shared vision of innovation, impeccable craftsmanship, and attention to detail. Together, they elevate the luxury home market on Nantucket, providing spaces that are visually stunning but also spaces that are functional, organized, and durable enough to last through summer vacation renters season after season.
Interiors: Olson // Twombly Architects: Studio BPC  Builders: Jason Perkins Photography: Matt Kisiday