Kitchen Inspiration
4 Steps To A Modern Kitchen Remodel
Kitchen remodels are never easy. That's why FORM transformed the process, breaking it down into four clear, achievable steps that take you from our first meet-and-greet call to the final delivery of your beautifully designed European cabinets.
Gabriela Alvarado
July 14, 2023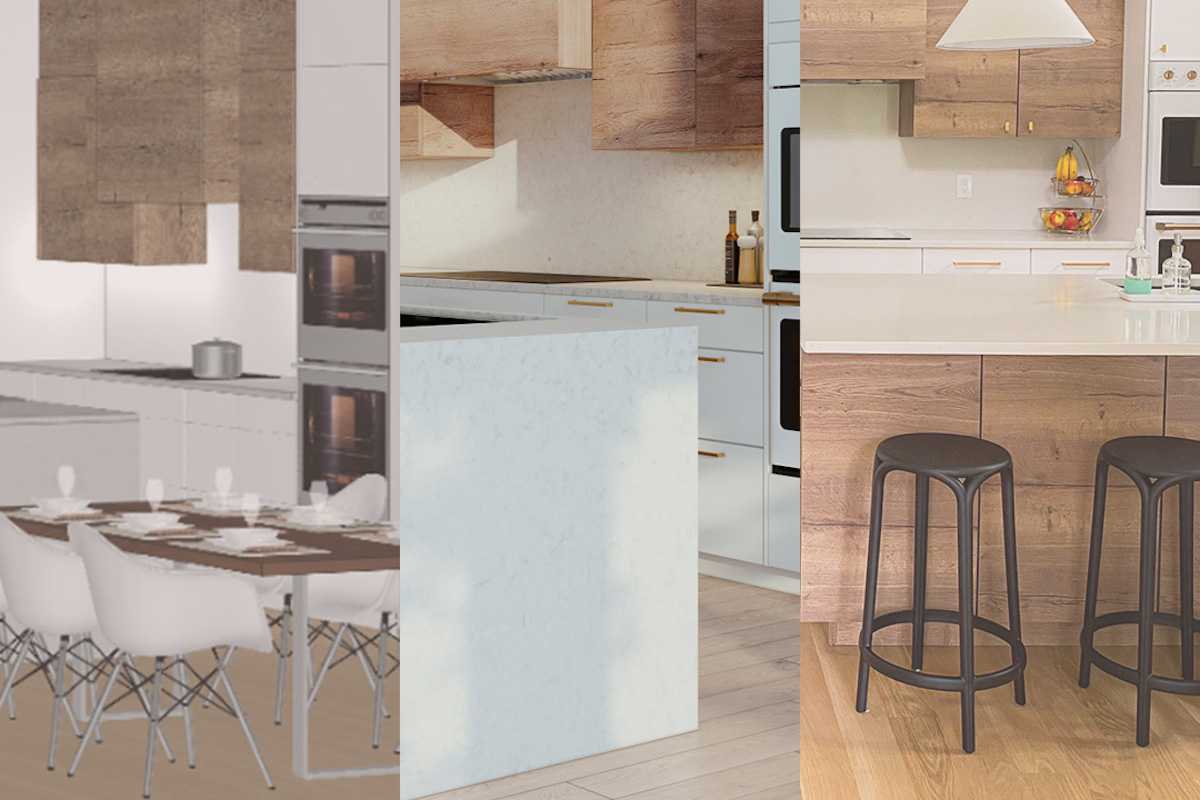 What makes our process really different is our modern, online approach to designing and delivering made-to-order kitchens without the showroom markup. Stunning European kitchens aside - our system is all about seamless communication and creative partnerships with our clients. In this blog post, we'll share our one-of-a-kind process, demonstrating how our expert designers collaborate with you to create visually captivating, functionally brilliant, personalized kitchens.
"Our designer was so wonderful to work with. She really got the vision I was after. She worked through my thinking with me to come up with the best space with all the detailed functionality I didn't think was possible until I met FORM. I'm really excited!"
A step-by-step Journey
1. See if we're a good fit for you
Chemistry counts. That's why every project begins with a free 60-minute video consultation so you can meet your designer, see how we work and decide if our styles, budget and timelines truly work for you.
Sign up on our website and upload some inspiration and rough measurements. This helps our designers arrive on the call already familiar with your project and ready to dive into what really matters - your vision, how you want to use the space and your budget guidelines.
Step 01 guide:
- Sign up on our website
- Meet your dedicated designer
- Share your project details + rough measurements
- Get a price estimate on the call
- Find out about timelines
- Understand next steps
- Start designing if we're a good fit
What will happen on the call?  You'll meet your dedicated designer, discuss your project, receive a preliminary cost estimate, understand delivery timelines and learn about our online-first approach. Understanding your needs and preferences helps us create a really personalized design because we take into account all aspects of your lifestyle, cooking preferences and day-to-day functional needs.
If it's a good fit, we can start planning your kitchen on this call and set you up for the design phase.
TOP TIP: With a 3000+ cabinet collection we can design to suit any space and offer our Perfect Fit Guarantee on every project.
2. See your initial design
To create your design we ask for a $299 deposit which is fully redeemable against your project. In return we send you 3 full-sized samples of your choice and prepare your detailed design and quote. We also prepare stunning photo-realistic 3D visuals, so you can see how your new kitchen will transform your space. The initial design usually involves about 10 hours of design work, so expect a really thoughtful, beautiful, one-of-a-kind design coming your way.
"Truthfully, it was design wizardry. On rainy days we'd look at our 3D visuals to get excited about our plans … the reality was beyond beautiful"
Checklist
✓ $299 Design Deposit
✓ A 1 hour design presentation
✓ Initial design with pricing
✓ 3 full size samples delivered to your home
✓ A set of photorealistic renders
✓ Access to your FORM Kitchens dashboard
Once your design is ready we meet again in our 60 minute Design Presentation call. What to expect? Your designer will first share the 3D visuals so you can see and feel the transformation before they walk you through each design element, the functional choices and the pricing. If you like the way we work and the design is promising, this is the time to decide if you'd like to refine and order a FORM Kitchen.
TOP TIP: Before the design presentation, ask your designer about our 10% Factory Discount.
3. Perfect your final kitchen design
A $1,999 Project Deposit unlocks the refinement stage. We adjust and finalize the design and budget, ensuring every single detail is just the way you want it. If you wish, cabinetry for other rooms in the house can also be designed and added to your order. Our bathrooms, closets and laundry spaces are particularly popular.
"We were really pleased with the kitchen design, so we decided to do the rest of the house. Now the whole place feels modern, connected and organized. Everything in its place."
Checklist
✓ $1999 Project Deposit
✓ Typically 20 -60 hours of design work
✓ Detailed kitchen plans with itemized pricing
✓ 3 revisions included (extra revisions $199 each)
✓ Option to add additional rooms to your order
Once you approve the design, we double-check every detail with you and your contractor. Only after this thorough verification is the order sent to the factory.
TOP TIP: You can share access to your project dashboard with contractors so everyone on your project team is working from the same streamlined information.
4. Shipped directly to you
Once the factory has confirmed your order, your dashboard will be updated with a factory quoted delivery date. This is calculated by the factory's planning department and includes a small buffer.
We know that receiving your cabinetry on the scheduled date means you can install on-time. Once your order is confirmed with the factory, production will be scheduled and you will receive a 'factory quoted delivery date'. If your order is delayed beyond the 'factory quoted delivery date', we will refund 1% each business day. We handle remedial orders separately.
The good news is you can track your order progress from Germany to your local warehouse, after which someone from the warehouse will be in touch to coordinate the last mile delivery. It's a good idea to prepare a safe, dry place accessible by pallet jack to receive your order, such as a garage.
Before the installation begins, our success team will host a 30-minute video call with you and your contractor. We'll share tips on preparing for delivery, checking your order, and installation guidelines.
"It's a big deal when a kitchen arrives. I won't lie, I was quite daunted. I set aside time to go through the order with my contractor…. the Customer Success team was great. They even called on Thanksgiving to check we had everything we needed"
Checklist:
✓ Fully assembled cabinetry with award-winning hardware
✓ 25 Year Manufacturing Warranty
✓ Perfect Fit guarantee
✓ Order status check-in call with your designer
✓ Best-in-class installation documentation and support
✓ Final set of photorealistic visuals
✓ Includes European and free shipping to your U.S. project address.(1% refund for each business day the order is late)
TOP TIP: If you have installation queries on the day, the Customer Success team will be available to call and text.
At FORM Kitchens, we coordinate your project entirely online, but it's our team that makes the process personal. We're here to offer a smooth, responsive journey, delivering the kitchen you've always wanted.
Got More Questions?
If you have further questions, a good place to start is our FAQs
Ready to get started?
Book a call to speak to one of our dedicated designers about your project.