Kitchen Inspiration
A Modern Mountain Kitchen for Ex-NYC Entrepreneurs
For Emily and George Bibb, co-owners and founders of Breef and The Aspen Office, the pandemic changed their lives. The global situation forced them to cancel their wedding celebration but ignited the dream of having a second home outside of bustling New York City.
Gabriela Alvarado
June 23, 2023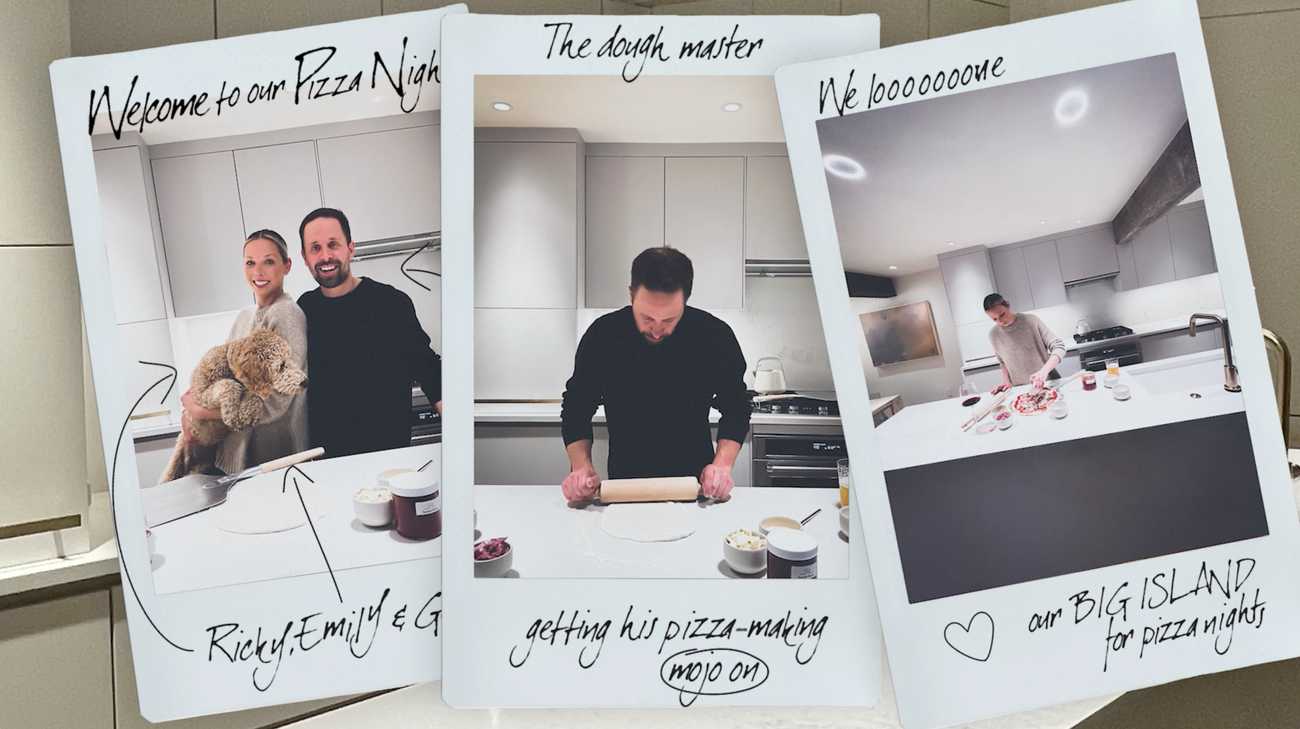 Like many of us, this creative couple dreamed about escaping the city every once in a while, to a house that would be a haven from the complicated city life and their busy schedules.
New York City had been home for a while. It's where they met six years ago and where they created their company, Breef, an agency marketplace and payments platform that is changing the agency industry. NYC was awesome to start a business, but not great for housing options. They wanted a spacious house, with a garden, and with a huge kitchen with a big island to cook, where they could have dinners for two, and Friday Pizza Nights with friends.
What started as a getaway home to relax and visit family and friends, is now their home and where they spend 90% of the year. They've renovated the whole house and since they're avid cooks, one of the first rooms to remodel was the kitchen. They co-designed this kitchen with FORM and the result is a spacious, sleek, minimalist-meets-the-mountain style that has become, according to Emily's words, their favorite room in the house.
I had the chance to talk with Emily and learn more about the inspiration for their kitchen design, and why the kitchen became a haven for two successful entrepreneurs.
"Cooking made romantic, in a spacious kitchen."
Hi Emily! How are you? Where are you now?
I'm good! I'm in our office, in Aspen, Colorado. We're mostly based in Colorado. I just love it here so much! It has such a balance. I love the people, nature, and the ability to turn off the pressures of being in the big city 24/7. We do travel a lot across the country, and very often to New York City, as that's where we started our business. I actually enjoy going to NYC or L.A. for that energy jolt. But having our home in Colorado gives us a nice balance.
Colorado is the home of your beautiful kitchen, how did you decide to move from New York City to Aspen?
We had always been going between New York and Colorado, and during the pandemic, we decided to come here to breathe fresh air and take a break from the city. And what I thought was going to be three days in March of 2020 has turned into three and a half years here, which is kind of crazy!
Since the creation of Breef, we were building the business remotely, because we really believe in remote work, which allows you to not commit to just one place. And we decided to invest in Colorado, purchase our home, and had to completely rebuild it and revamp it. But the thing that we wanted more than anything was just a beautiful kitchen to cook in and like unwind and do all that good stuff like our everyday meals, dinners for two and nights with friends.
"Clean, minimal, and clutter-free: our style."
That's awesome! How did you find us?
Living in the mountains, there are not a lot of kitchen showrooms or many options to buy kitchen cabinets. We're very far from Denver or a big city. And so when we came across FORM online, it was kind of a dream come true. Because we were like: Hey! this is a marketplace. They're changing the kitchen industry like we're changing the agency industry, let's give it a try! And we ended up falling in love with your design and customer support teams, and everyone involved in the whole process.
Why is the kitchen so important to you?
We are really big cooks we rarely eat out. And so having a place with a massive counter to cook on and all the storage in the world, it's almost overwhelming compared to where we started in New York. And now it's our favorite part of the house.
Even back in NY, cooking was one of our favorite things to do. George would always cook for me. And we would try new recipes and talk about our weeks. But it wasn't that romantic. In New York City, the kitchens are tiny. Cooking wasn't always fun. There was always a lot of work and cleanup that went along with it. So we always dreamed of a bigger space to do all of this cooking we love.
"From New York to Colorado, a dream realized."
Can you tell me about your Pizza nights? I've seen on Instagram that you host these every Friday.
We do pizza night every week. And it started about a year and a half ago, because even before we had our new place we thought it'd be fun to make pizza and we started to experiment. And then we started inviting friends over and it kind of just became this tradition of just trying a new recipe every week. It's our way to turn off work. We work really long days, we probably work almost 18 hours a day because we have two companies: Breef and the Aspen office, which is our co-working space in Aspen. So this became our tradition to end the week and wind down without feeling like we had to go out or stay up late. Just a nice way to have friends over or hang out with ourselves and our dog Ricky, and try something new. And now everyone asks about our pizza night constantly!
That sound like so much fun. I would like to know more about the kitchen design. How was the old kitchen and what changes needed to be done?
The house we bought is a townhome. We were tired of tiny NY kitchens, and the kitchen in this house was also small. It was vital to remodel it. As we wanted an open kitchen with enough room for cooking, enough storage, and a place for us and our friends, we shifted the position of the counter and opened it up to take part of the adjacent space to the living room.
Given how much we cooked and the amount of storage we wanted, we decided that the kitchen island would take up a considerable part of the space. And so it does, and now we have a whole entertaining area and doubled the size just by shifting the configuration of the kitchen.
What was your style inspiration?
Our style is very clean and minimal. We do not like clutter. So one thing that was key was to have everything on the counters pretty have a spot or be hidden. That's why we chose an appliance garage, and we took advantage of the fruit and vegetable drawer. So nothing's really out and about.
I also wanted it to look modern but also the mountains, which is why we got the barn wood beams for the ceiling. We upcycled them from a barn in Colorado. So the kitchen has that very clean polished lines that make it super modern, but you still have the barn wood that gives the space warmth.
"Technology meets hands-on experience in kitchen design."
How was the design process with FORM Kitchens?
I loved the design process because it was so collaborative. It was so visual and I loved how I got the samples. I loved the photo-realistic renders,  that is one of the most incredible things, to see a render that looks just like the real thing, as it allows you to make changes more accurately and get a real sense of the design you are getting.
I also think that the technology behind FORM has enabled you to design your kitchen over the Internet without feeling like it's a massive burden. The whole process felt very physical and hands-on as you're getting the samples delivered to your home, you're seeing the beautiful renders where our designer can make tweaks on the fly. It didn't feel like I was missing out on anything because I wasn't sitting in the showroom. And so that was an amazing component. And having your customer success team available to help and being super collaborative with our contractors made also the installation process go smoothly.
We love Emily and George's kitchen story and how they enjoy their kitchen as a space to relax from work and share with friends. If you'd like to have a kitchen design as stunning as this one, don't forget to book a design call with one of our designers.