Kitchen Inspiration
A Pinterest-Inspired, Warm, Minimalist Haven: A Mill Valley Family's Quest for a Tranquil Space with FORM Kitchens
Our clients were looking for a modern look, but also tons of functionality, since they have three kids with busy lives. They discovered our cabinetry on Pinterest and made their dream kitchen happen, all from the convenience of their home. Tour this stunning spot and learn more about their kitchen and experience.
Michael Quinn
July 28, 2023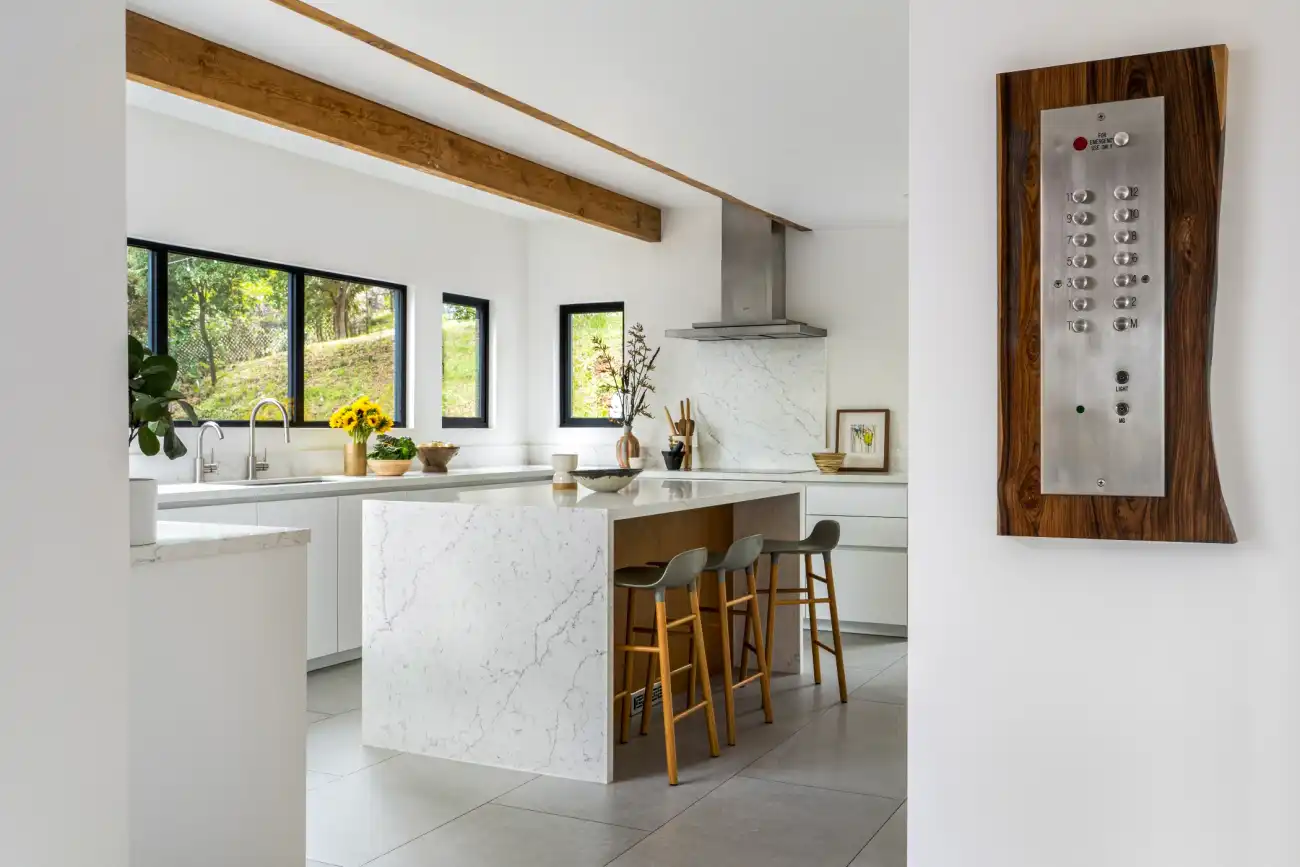 "For every minute spent in organizing, an hour is earned." These words of wisdom from Benjamin Franklin resonated with these incredibly busy Mill Valley, CA homeowners. Amidst the whirlwind of their lives, with one spouse holding a c-suite executive position for a multi-billion dollar social network and three teenagers vying for their attention, chaos often reigns supreme. Recognizing the need for a welcoming family space that would stay clutter-free, their kitchen renovation goal was clear— create a warm, minimalist haven that would exude a tranquil vibe.
"For every minute spent in organizing, and hour is earned", -Benjamin Franklin
A Kitchen Renovation Journey
Their renovation journey began on Pinterest, their go-to resource for all things kitchen inspiration and for uncovering newer, lesser-known brands that would spark design ideas. As they curated their board, they kept pinning images of modern, European-style kitchens that embodied the aesthetic they sought from projects that were designed by FORM. Intrigued, they researched the new-to-them cabinet company, looking over the blogs, IG account and reviews on the Houzz profile.
How to create a Kitchen with a clean minimalist aesthetic
Both homeowners agree, it was the clean, minimalist aesthetic FORM offered that initially grabbed their attention. But it was the combination of FORM's  25-year warranty, German quality craftsmanship at an accessible price point, and a guaranteed delivery date that truly sold them. Their project was taking place at the height of the pandemic and global supply chain issues, and FORM's on-time-guarantee program offered some much-needed reassurance, compensating them in the event of any delays. As their friends encountered supply issues while working with other vendors, the homeowner's faith in FORM was further solidified when their cabinets arrived and their friends were still left with uncertainty for their renovation projects.
Kitchen Design: Art and Science
Kitchen design is both an art and a science. The homeowners understood and excelled at the artistic aspect, but agree their project would not have been successful without the experienced FORM designer (standard with every FORM purchase) who provided the necessary "scientific expertise." After engaging in a detailed kickoff call, simplification became the guiding principle as they sought to pare down their lifestyle. The homeowners embraced a "fewer, better things" approach, echoing the ethos of the Cuyana brand and Marie Kondo's philosophy.
Together, the homeowners and their senior FORM kitchen designer developed a storage system that catered to the needs of the family of five. Upper cabinets were replaced with a minimalist island and lower wrap-around cabinets, creating an open and airy atmosphere. Wood tones from floating shelves in the living room were pulled in to match sections of the kitchen island. Organizational tools from FORM were utilized in every cabinet and drawer, ensuring efficient and streamlined functionality. Each item now has a designated space, promoting tidiness and simplicity and achieving a perfect balance of aesthetics and functionality.
The homeowners describe the completed project "as a self-cleaning kitchen." Even the kids appreciate the pared down appliances and items.The meticulously planned organization system has the effect of encouraging everyone to put things where they belong, making everyday tasks effortless and keeping their space clutter free. All five family members agree, the finished space fully embodies the original intent of the design: a warm, minimalist haven, exuding that much-sought-after, tranquil vibe.