Kitchen Inspiration
Stuga + FORM: beautiful and sustainable flooring to complement your kitchen
We're excited to announce FORM's collaboration with Stuga. This direct-to-consumer flooring company curates and sells thoughtfully designed floors for thoughtfully designed homes. They've partnered with Scandinavia's most forward-thinking hardwood flooring companies to bring you a collection of dreamy floors that you can browse, sample, and buy online.
Michael Quinn
November 1, 2023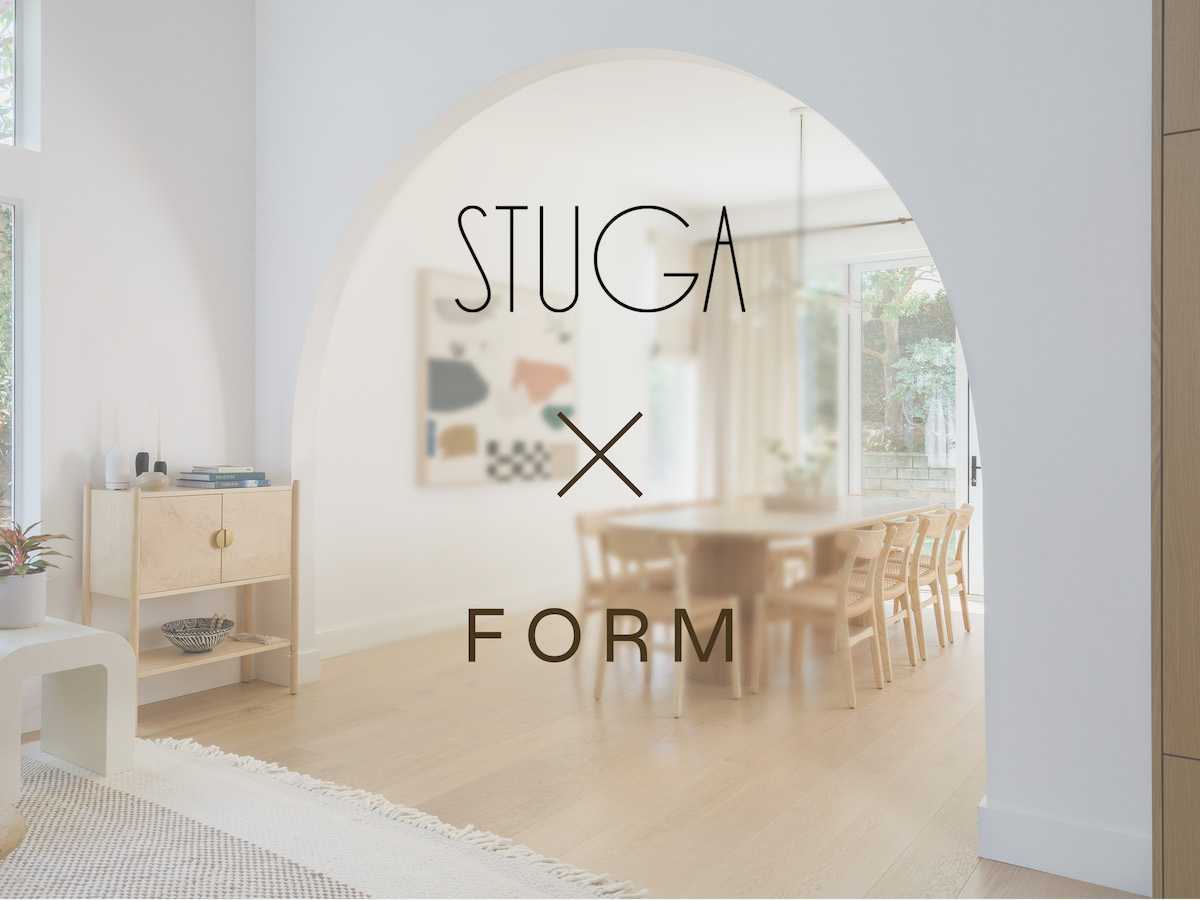 FORM and Stuga, a Shared European Heritage 
Both FORM and Stuga are relative newcomers to the industry, but our products have rich histories and decades of craftsmanship behind them. Stuga's hardwood flooring partners in Sweden invented engineered flooring back in 1941 to create stunning flooring and high-performing floors in a more sustainable way, and were the first to remove all solvents from their acrylic finishes back in the 1980s, way before "green" was ever a buzzword.
Inspired by the Scandinavian design ethos that the role of design is to improve the lives of everyone, Marc Bacher founded Stuga to not just elevate every step in your home, but to help you create environments that foster better living.
Floored by Their Quality and Service
Renovation is hard, but finding the perfect floor shouldn't be. Stuga hardwood floors are built on 80 years of European craftsmanship and innovation, infused with beauty that evokes modernism, attitude, and warmth – because you deserve a wonderfully designed floor.
And it's not just about aesthetics, their unmatched construction is designed to last a lifetime, certified against the toughest environmental and indoor air quality restrictions in the world. Buy once, buy well. 
And Stuga has really elevated shopping for wood flooring, with a beautiful, end-to-end experience. Their online resources make it easy to understand how to order and install your floor. And to make your purchase even better, they offer free samples, transparent pricing, and a knowledgeable support team that is easy to reach and knows how to answer your questions.
"We set out to create a consumer-focused brand based on Scandinavian design principles with an intuitive and thoughtful online shopping experience. We wanted to curate and showcase wood floors as interior design products, not as building materials", says founder Marc Bacher.
More About Their Construction and Materials 
Since we spend 90% of our time indoors, the Stuga team wanted to make sure their flooring wasn't just aesthetically stunning and pleasing to step on, they wanted to make sure their product was good for you and the globe. 
The careful selection of materiality and construction is really about a healthy living environment. The acrylic finishes are water-based and free from toxic solvents, the factory is carbon-negative, and all production wood waste is recycled into biofuel, used for energy in the surrounding communities. 
And the floors are really engineered to last a lifetime, because they've been performing for that long in Europe. These floors can be refinished twice - so anyone can change the color down the line if they want to, making it a product that is designed to grow with you and your home. And the finish is so minimal that you can really feel the texture of the wood under your foot as you move about your space.
Some of Our Favorite Finishes 
Take a spin of their wonderful catalog, and we'll just highlight a few of our favorites: 
Greta: Named after trailblazing Swedish actress Greta Garbo, this white oak floor is understated and subdued, yet incredibly powerful and elegant. 
Moonlight: This is the flooring we feature in our Selection Centers. This floor brings the beauty of a silvery moonlit night to life. With a clean, grey-white tone and oak planks that create long uninterrupted lines underfoot, Moonlight shines with a soft modernity. Just like the moon, the surface has some character.
Fika: Swedish for "coffee break," this white oak floor is so popular in modern Scandinavian homes, it seems fitting to honor it with that name. With wide-planks, a soft blonde tone that just brightens up the oak's natural color, and an even grain dotted with occasional knots, this floor strikes the perfect balance of a modern look with a subtle connection to the forest.
Shell: Made of natural oak with just enough white stain to cancel any honey tones, this floor's color and texture are reminiscent of one of the sun-bleached treasures to be found washed ashore on the coasts of Scandinavia. An oiled, hand-scraped finish means this floor has the same ultra-matte and raw texture of a sand dollar, but with heavy brushing so the wood, its grain, and the tree's original knots shine through.
Perfect for Any Room, or Staircase
Whether it's your kitchen, your bedroom, or a whole-home transformation, Stuga has a wonderful array of finishes to create a beautiful aesthetic throughout the whole home. They also have an ingenious stair solution to match your floors. 
Homeowners can choose between flush nosings – creating a modern waterfall effect –  or squared nosings, overhanging the risers for a blend of traditional and modern. An architect that FORM works with called Stuga's stair solution both "brilliant" and "easy." 
Get Going with Your FORM-Exclusive Discount 
Once you're in process with your FORM designer, inquire about Stuga flooring and they'll let you know about our FORM-exclusive discount and pass along the contact information for our dedicated team over at Stuga. Modern cabinets call for modern flooring.