Kitchen Inspiration
Tiny kitchen ideas - 15 ideas to maximize space in a very small kitchen
In this blog post, we will talk about very small kitchens, and by "very small," we mean those really tiny kitchens that are common in New York City apartments. Our audience often asks if our cabinets and kitchen designs are suitable for extremely small spaces that don't seem to fit anything.
Gabriela Alvarado
August 15, 2023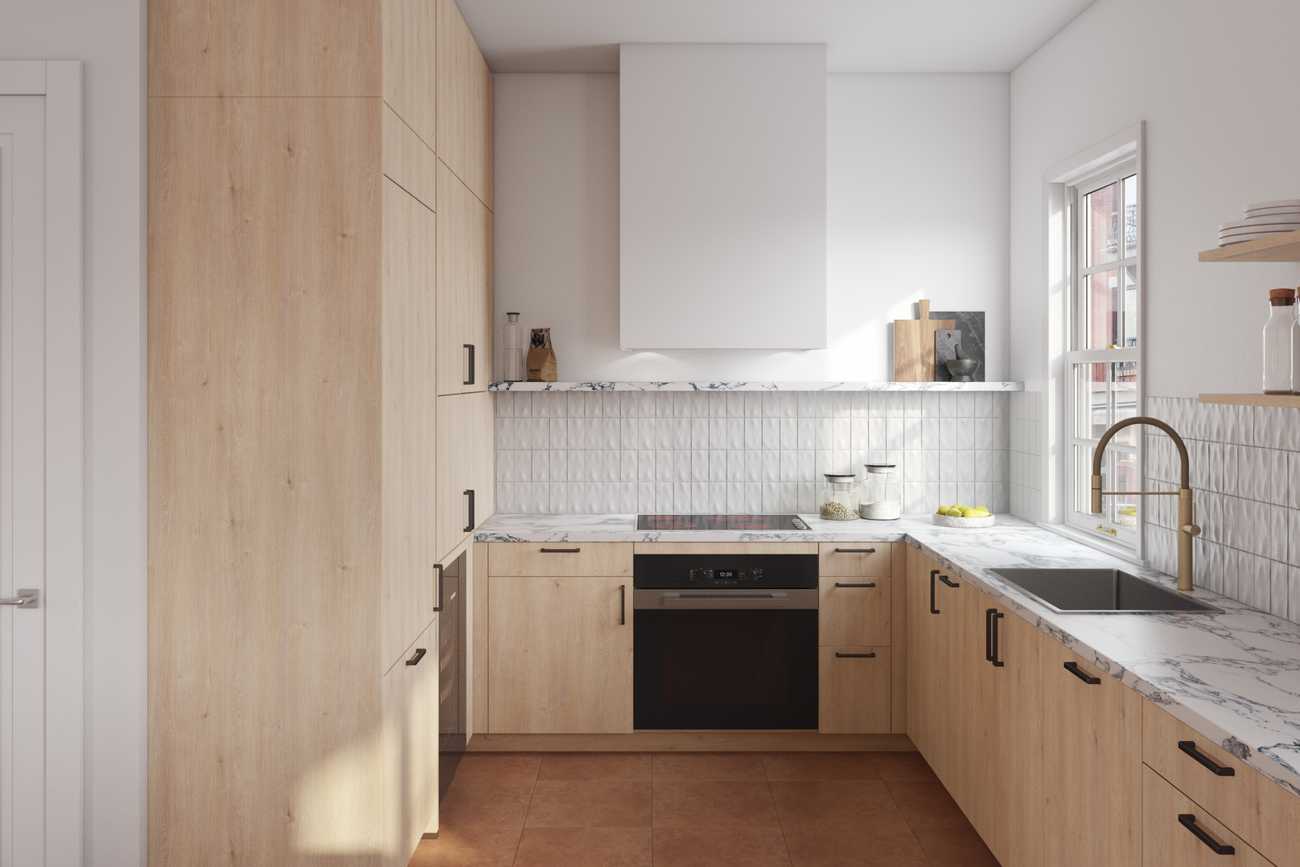 Our designers have faced this challenge many times and have created a list of recommendations and tips to maximize every inch of your tiny kitchen. Small spaces are defiant, but with creativity and expert designer advice, you can transform your compact kitchen into a functional and stylish culinary haven. Let's dive into these  savvy ideas that will make a big impact in your tiny kitchen space!
If you need more detailed information or want to explore an estimate of a design for your tiny kitchen, you can book a free consultation with one of our designers here.
1. Tiny space? Get a professional kitchen designer
When the space is too tiny or has a complicated distribution, you need professional help to achieve a functional and aesthetic design. A professional kitchen designer has the knowledge and experience to balance both function and aesthetics. They understand the "work triangle" concept (the optimal distance between the stove, refrigerator, and sink), know how to maximize storage space, and can recommend materials and layouts best suited for your usage patterns. This ensures that the kitchen is not only beautiful but also functional, efficient, and safe. Most importantly, they are able to see the possibilities in a reduced space.
2. Tailored to fit: custom cabinets for your unique space
The beauty of custom cabinetry is that it's designed to fit the dimensions and layout of your tiny kitchen perfectly. Even if you have an awkward corner that doesn't seem to fit any cabinet, a professional designer will be able to create a solution with custom cabinetry
3. Slim profile big impact: custom cabinets for narrow spaces
No more wasted inches! Opt for custom cabinets with slim profiles to make the most of narrow spaces in your kitchen.
4. Floor-to-ceiling elegance: maximize vertical space with custom cabinets
Embrace the power of floor-to-ceiling custom cabinets to expand your storage capacity and create a stunning visual impact.
5. Custom cabinets with hidden features
Discover the wonder of custom cabinets with clever built-in features like pull-out spice racks, tray dividers, and more.
6. Say goodbye to wasted corners with corner cabinet units
Utilize every inch of your kitchen with custom cabinets that optimize corner spaces and make them fully functional.
7. Under-Cabinet Drawers: Custom Solutions for Extra Storage
Custom drawers tucked under your cabinets create bonus storage space for utensils, linens, and cutting boards.
8. Island of Efficiency: Custom Cabinets for Your Kitchen Island
Transform your kitchen island into a powerhouse of organization with custom cabinets designed to fit your ideas.
9. Slide-Out Pantry: Custom Cabinets Convenience
Maximize storage and accessibility with a slide-out pantry custom cabinet that keeps your kitchen essentials in order.
10. Go Vertical with Custom Wine Racks
Elevate your kitchen's style with custom wine racks that artfully store your favorite bottles while saving space.
11. Concealed Trash and Recycling: Custom Cabinet Tidiness
Keep your kitchen clean and organized with custom cabinets that hide trash and recycling bins out of sight. We have some really cool accessories that not only have trash or compost bins, they algo have space for cleaning supplies.
12. Tame the clutter with customized drawer dividers
Say goodbye to cluttered drawers with custom dividers that keep everything in its place. Divisions for cutlery or special accessories to keep your dinnerware safe and out of sight.
13. Optimize every inch of your kitchen
Oversized drawers are perfect for the storage of your dinnerware and pans.
14. Custom Cabinet Lightning: Illuminate and Expand
Enhance your kitchen's ambiance and create a sense of space with custom cabinet lighting.
15. A functional backsplash
In a tiny kitchen, consider adding accessories to your backsplash to make it functional. Hangers and shelves add storage space for your kitchen essentials.