Kitchen Inspiration
The Value of Kitchen Renovations: Insights from One of Boston's Best Realtors
In an uncertain real estate market, one of Boston's top realtors, Stone Prum, sheds light on the often overlooked importance of personal satisfaction in your living space. Through his kitchen renovation with FORM, Stone balanced the pragmatism of a businessman with his desire to create a space he loves to live in. Doing it in a way that enhances his home's value and his quality of life.
Michael Quinn
August 3, 2023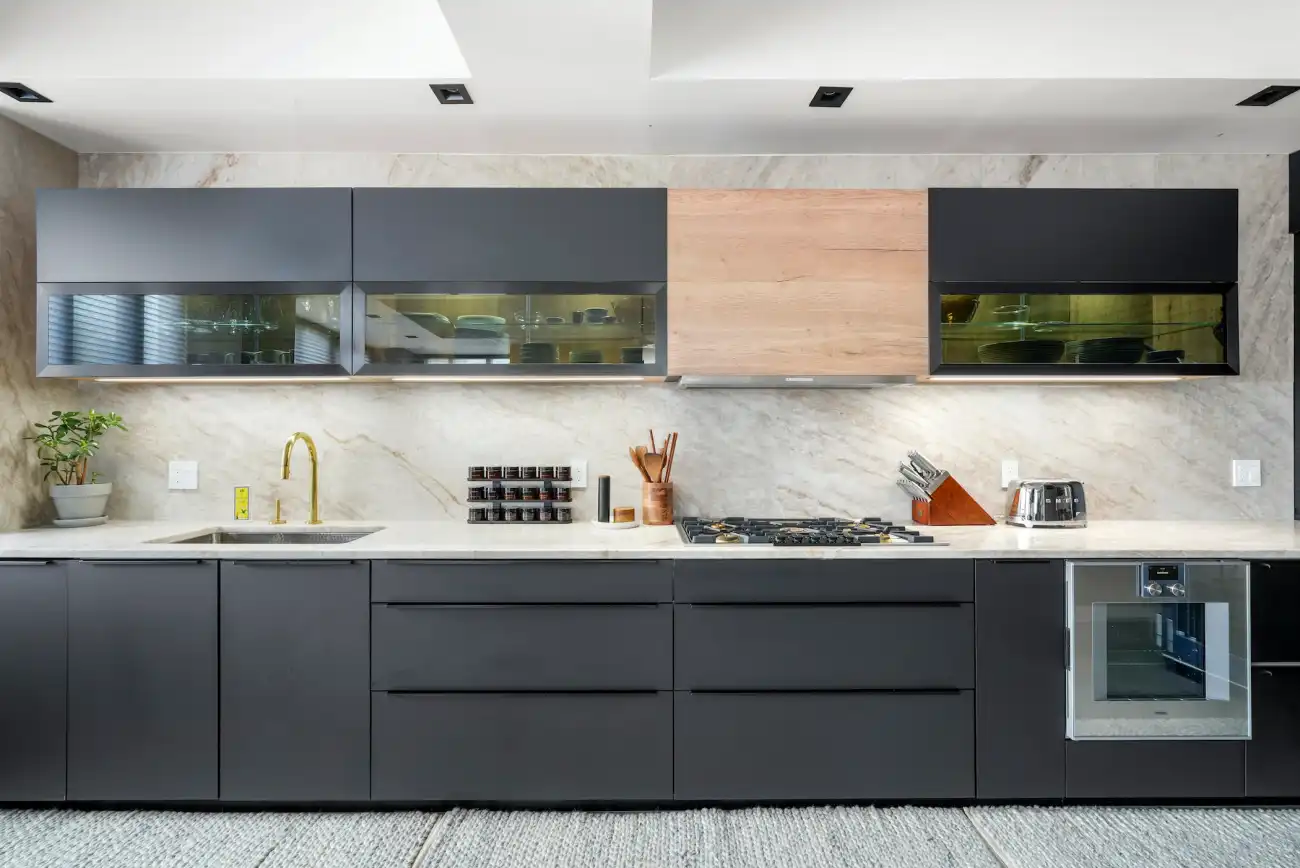 Stone Prum a native Bostonian, grew up on the North Shore. His foray into real estate began before he graduated elementary school. "My parents bought their first home, a total gut renovation. I was the one who found the listing in the newspaper and set the showing up with the realtor. Being exposed to the process of searching for and buying the perfect property, I became transfixed with real estate by fourth grade."
Thirty years later, Stone's early fascination has flourished into a highly successful real estate career. As the Vice President at Compass in Boston, he's achieved recognition among the top 1.5% of over 1.6 million licensed Realtors nationwide in 2023. His latest success? Selling the most expensive single-family home in a local Boston zip code.
A Real Estate Expert with a Passion for Home Sanctuaries
Suffice to say, Stone is an expert in real estate. He deeply understands market trends, how to navigate uncertain markets and the value of a renovation. Stone is also pragmatic. He's a businessman. But like many homeowners, to him, his home - specifically, his kitchen - is more than a property, it's his sanctuary. It's not just about quick meals and clean up, it's about living and loving the space.
"Covid changed home-life for all of us. We work from home, we're always there. I have an open concept kitchen that's very visible to the rest of my space. I can't just microwave something and call it a day. I live my life in and around the space."
Don't let him fool you. Stone is likely not microwaving much of anything. He was classically trained as a chef in Paris before he began his real estate career. As an avid, expert cook, he was absolutely miserable with his kitchen when he first moved in. It was dark, cramped and lacked function and space he needed. But the conservative businessman in him (as well as some of his real estate colleagues) warned that taking on a kitchen renovation when prices are high, supplies are in short demand and labor is inconsistent might not be the right move.
"I debated the pros and the cons of a kitchen renovation. In the end, the mental aspect of not loving the space I live in was something I couldn't put a price tag on."
Creating an affordable modern kitchen with high-end features
Stone's experience in the luxury real estate market meant he had a specific aesthetic in mind for his cabinets. He was searching for European-style, either German or Italian and wanted to mimic the look of the Scavolini cabinets in the $3.2 million development he'd recently sold--just not for that price. There was a local cabinet vendor a block down from his house, but the quality and style of the American cabinets weren't doing it for him. Then the infamous Instagram algorithm led him to FORM, the first time he had heard of the brand. Quality and durability were critical factors to him, so he ordered several samples from FORM to assess.
"When I judge the quality of cabinets and materials, I'm looking at the MDF (medium density fiberboard) qualities. I'm comparing the feel and durability of the material to American and Brazilian products. FORM's cabinet samples totally stood out as being a much higher quality product. Even better, because of the savings with FORM, I was able to go higher-end on my appliances. But I never compromised. I got the aesthetic and the quality I was after."
The undeniable quality of German-made cabinets
Traditionally, American cabinets have been constructed from plywood. FORM's German-made cabinets are crafted from furniture board, a high-grade particle board known in Europe as the most dependable and practical kitchen construction material. Consumers on this side of the Atlantic have heard of particle board's less-than-savory reputation due to its early versions from the 1960s-70s. However, technology in manufacturing has meant it's advanced significantly in the last fifty years.The high-density premium grade material used by FORM is robust, reliable and incredibly durable. 
"I may not own my place for 25 years, but knowing that FORM stands by their product for 25 years with a guarantee was the deal-sealer for me to move forward with the purchase of my cabinets."
"The renderings were my go-to. You can see this new kitchen is going to be worth it, even when you're neck-deep in the middle of the renovation process. The FORM renderings even helped me assess what design changes I needed to make with the rest of my house."
The new way to buy a kitchen: how FORM simplified the kitchen design process
When it came to the process of working with FORM, Stone says having a designer (one is assigned to every FORM project) was critical. "I'm working all day, constantly holding showings and managing a large portfolio of business. There was no way I could have designed and managed a kitchen renovation project if I hadn't had my FORM designer." He says the photo-realistic renderings were also incredibly helpful during the renovation process. Being able to visualize the kitchen with such detail helped him select appliances and other design elements like lighting.
Stone is like most FORM customers: deeply invested in their homes and the spaces they create through beautiful design. When it comes to home renovations, it's easy to get caught between practicality and personal satisfaction. It's about finding the sweet spot - creating a space that boosts your home's value, while also making it a place you truly love to live, and doing that without compromising design or quality.
"Trends come and go. The market is constantly changing. But quality is timeless. And the quality of FORM stands out. The kitchen will forever be the most valuable asset to a home in terms of resale, regardless of what the market is doing. I am 100% confident I made the right call for my current quality of life and for the future sale of my home."