Kitchen Inspiration
The essentials of designing a Mid-Century modern kitchen
This guide -created by James- takes a deep dive into the defining elements of this beloved design era, offering invaluable tips and inspiration for those looking to design a Mid-Century modern kitchen.
James Bloomer
October 6, 2023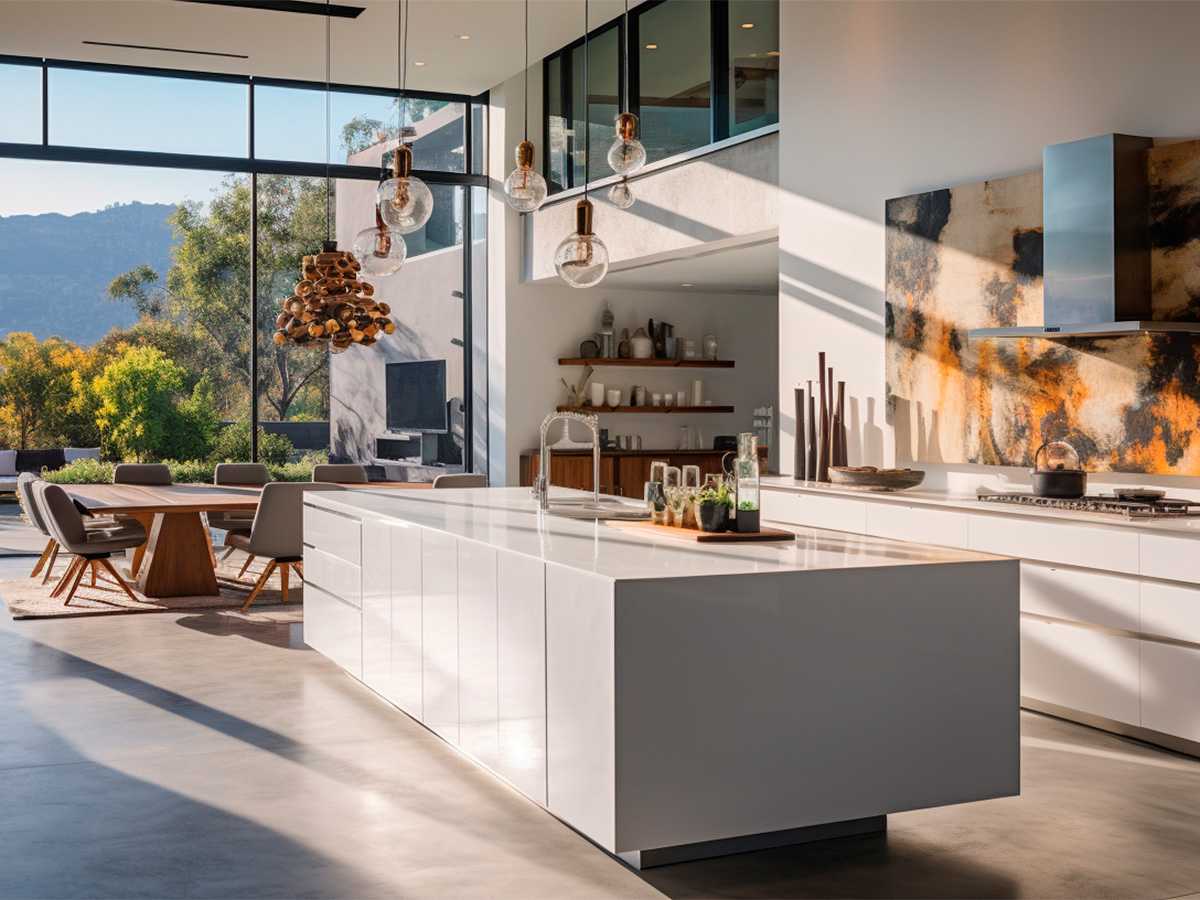 Designing Mid-Century Modern (MCM) residential kitchens has become more prevalent in recent years. The great interest in the MCM style has become popularized in the media and provoked a resurgence in the real estate market where everyone seems to be looking for that elusive MCM gem. The design principles of a mid-century modern kitchen are timeless and today can be seen in new homes and remodeled homes of all styles and time periods. 
The MCM homes built during this period have aged to the point of needing remodeling/updating, and the kitchens are always a major undertaking where many people begin. The proverbial question is always asked, "How do I design or what are the essentials of a mid-century modern kitchen?"
So, let's get started ! 
Here are 10 essential ideas and issues to think about as you start your journey to a new mid-century modern kitchen.
01. Research and inspiration
As in many things in life, when planning where you want to go, one must understand where you have been. 
In 1945, the Arts and Architecture magazine in America developed an experimental residential architecture program. The program facilitated modern single-family home design and construction. The goal was to feature each home in the magazine with photographs and articles about the homes. The most talented architects of the time participated and tasked themselves with the goal of creating well-designed and affordable homes for everyone. Homes were built and displayed across the US but architects in the Southern California region had sparked the most interest. If you are curious about these housing projects, I recommend you visit the Los Angeles Conservancy website to learn more about the history and get inspiration: Case Study Houses.
Architects such as Richard Neutra, A. Quincy Jones, Pierre Koenig, and Cliff May, to name a few, designed beautiful and affordable homes. Everyone traveled to see the open houses and gather ideas for their own homes. Real estate developers started new developments based on these new ideas, and the new modern American home of the future was born.
As you start your new kitchen, look for inspirational ideas from the past and present. Gather images of spaces and kitchens that inspire you and give you joy. As you move forward with your kitchen designer they will become essential to communicating your wants and needs.
02. Layout and space planning
MCM kitchens are open and uncluttered with every detail designed. They are designed with a flow and open connection to adjacent spaces such as living rooms, dining rooms, and even the outdoors.
Our modern culture has changed since the original mid-century kitchens, with new technologies, materials, and appliances, but the essential design principles of layout and space planning remain the same. 
Understand how you use your kitchen. Do you have a particular interest such as baking? Do you cook with a partner? Children? Does everyone gather together in the kitchen? Does dancing break out? We all have that kitchen dance move! 
In the midst of all this chaos are some essential layout rules to consider. The 'work triangle' of the sink, cooking range, and refrigerator. Provide proper space in a clean and accessible way so that you can operate within your kitchen. Provide a clear countertop area adjacent to the fridge to load and unload food items. Essential spices, oils, and vinegars accessible to the cooking area are a must-have. A work-station sink with ample area for cutting, preparing, and washing. Keep in mind that you are moving between these areas constantly… see, you are dancing in the kitchen. Flamenco is my favorite!
Thinking about how you use your kitchen will help you communicate with your kitchen designer and help you attain the perfect kitchen for you.
03. Material and Color Palette
MCM is known for its use of natural materials and tones mixed with man-made materials such as laminates and terrazzo. Many materials such as exposed concrete and terracotta floors have seen a resurgence today and laminates have some very interesting patterns and textures that fit well in an MCM kitchen. Clean lines and consistent use of materials in modern kitchen design will take your MCM kitchen into the future.
Color palettes are always much talked about during design and are one of the most anxiety-ridden pieces of design work for any space. MCM kitchens are bold in their use of color. Even the avocado and mustard colors of the original mid-century designers have made a comeback in today's kitchens. But bold can be implemented in many ways. 
All-black islands with contrasting white wall cabinets, Dark blue cabinets with pure white countertops, or large white porcelain floor tiles with walnut grain cabinets. Today's 'bold choices' are different from the original MCM kitchens of our parents and grandparents but have the same design impact.
One essential item for any design project is to develop a physical material/color board with all your samples together. The ability to see your cabinet door colors with your floor color, wall, tile, and countertop material will relieve your anxiety as you make choices. Your kitchen designer can help with this item and make qualified suggestions for you.
04. Cabinetry
The prime essential element of an MCM kitchen is cabinets. MCM kitchens are known for their flat-panel cabinets and modern lines. When originally conceived, this was considered an affordable choice for cabinets, and the architects used them to create a very modern and simple geometry for the kitchen space.
Today, production technologies have allowed a very refined cabinet system with this aesthetic. European hardware and hinges allow for soft-close features, drawers within drawers, and up-swing doors are all concepts that were not available to original MCM architects and designers but they would surely have used them if they could. Explore all the options available with your kitchen designer.
Cabinet materials and colors for your MCM kitchen can be as mentioned earlier. Natural wood grains such as walnut grain or teak grain for dark texture and tone or the grains of Baltic birch, oak, or ash for lighter texture and tones would work beautifully with simple, clean lines.
Solid colors can also work with flat panel cabinets. Graphite or white are elegant choices. Muted blues or greens can also be a beautiful choice for an MCM kitchen. Mixing and matching colors for contrast and variety in today's kitchen can be a way to make a design statement in your new MCM kitchen. Remember how the mid-century architects would transform simple, affordable materials into strikingly modern designs with bold use of color and texture in unusual ways?
Our modern lives today are a little more complex. Your kitchen design will reflect that cultural change. Cabinets and accessories are a new detail that makes up today's kitchen. Accessories like appliance lifts or appliance garages are a keen detail to consider. Cabinet drawers-within-drawer detail add to the organization. Plate storage in drawers, and cutlery accessories, all add to the finish details of cabinets that make our complex modern lives easier. This is certainly an MCM detail concept brought forward to our modern time.
05. Open Shelving
Yes, open shelving. And we all have the same thought… Am I really organized enough to display my kitchen items openly??  Yes !, yes you are!! Because you are designing a new MCM kitchen with a place for everything. This is where the simple and minimal design becomes the hero. Your storage cabinets now hold the items that you need and want to hide away until required for cooking, etc. But now you can curate those few simple items you want to display on those open shelves.  The ideas are endless. Nesting bowls or that special bowl your grandmother gifted to you. Live herbs and plants. A seasonal display of a cut tree branch of fall foliage lays across a shelf.
Open shelving was an iconic design of the original MCM architects and it still works today.
06. Countertops and Backsplash
Original MCM countertops were made of several materials that were considered new at the time. Laminate was a common choice but had limited colors and no textures at that time. Laminates are returning with new colors, patterns, and textures that could be considered in a new MCM kitchen today. 
Natural materials such as stone (marble, quartz) or wood countertops are considered essential elements of today's modern kitchen.
Whichever material you use, edge designs need to be clean modern lines that continue the aesthetic of MCM.
Backsplash materials and colors have a wide variety of choices. Just remember the mantra, be Bold and Beautiful ! 
Backsplashes can be the same material as the countertop for an elegant transition from counter to wall. Or some of the 3D geometric tiles available today could be a beautiful contrast to the flat lines of the cabinets.
07. Flooring
MCM architects used various materials on floors, many of which were considered affordable options back-in-the-day but are expensive choices today. Your choices are many, exposed concrete floors, large format tiles, wood, etc.
As an example, you could choose a tile floor with a large size such as 24-inch or 30-inch square or rectangle. Color choices could be a solid color such as white (yes I consider white a color) or select a tile  with a concrete texture/color. Terrazzo was a beautiful flooring used by the MCM architects and can still be used today or select a tile with a terrazzo texture.
Again, your kitchen designer can help with the selection.
08. Iconic and atomic lightning
Iconic and atomic! Lighting was inspired by the new science and innovations of the times. Exploration of space flight, Sputnik satellites, and nuclear science were developed into a design aesthetic. The MCM lighting inspired by the Atomic Age can be seen in today's lighting designs in a more refined manner.
Lights of round milk-glass fixtures or chrome metal rods with clear LED bulbs are simple, clean and modern choices that have practical value and provide a perfect aesthetic for a new MCM kitchen. Lighting over an open island cabinet will be on display for all to see.
But hidden lighting will be needed in a new MCM kitchen. Integrated LED cabinet lighting will provide lighting for work surfaces and display items. Edge lighting at the countertop can also be considered for modern ambient lighting. Edge lighting can be an integrated option from a cabinet manufacturer like FORM.
09. Furniture and decor
Many original mid-century designers have influenced our furniture and décor today but none as greatly as the Eames's. From furniture to ceramics, the frosting on your cake will be your furniture and décor in a new MCM kitchen.
10.  Details
One of the most challenging design styles to achieve is the modern and minimal aesthetic. At a glance, it can be seen as simple and easy to create but when trying to achieve it you soon realize just how difficult the mid-century design aesthetic can be to create a perfect MCM kitchen. The simple, clean lines are there for everybody to see. The grout lines of tile that line up with walls and cabinets. Cabinets that are mounted to the same height as the windows. The details all come together to create the MCM aesthetic. Everything is exposed to the eye. Be detail-oriented. Everybody, from the kitchen designer to the installers, needs to be detail-oriented.
Cabinets like FORM cabinets are precise and detail-oriented. They are the baseline of a Mid-Century Modern kitchen project.
Final thoughts
Remember that balance is key in mid-century modern design. While you want to capture the retro aesthetic, ensure that your kitchen remains functional and comfortable for modern-day living. Personalize the space to your taste while staying true to the design principles of simplicity and elegance that define mid-century modern style.
About our guest writer
Bloomer has over 30 years of experience in architecture and urban design, including regional and international experience. After graduating from Columbia University with a Master in Architecture and Urban Design in 1987, James worked in the Western US and Asia designing various building types from religious architecture and master planning to international schools in Asia and Africa. In 2008, James began living and working in the Middle East designing large-scale masterplans, office superstructures, and urban restorations of UNESCO Historical sites in Dubai, Abu Dhabi and Doha, Qatar. Currently, James is living and working in Dallas, Texas designing various small architecture projects with an emphasis on elite athlete sports nutrition kitchens for professional and university sports teams around the US.
His various clients include PepsiCo, Gatorade, Nike, Disney-Hong Kong, Qatar Royal Family (BARWA), House of Maktoum (Dubai Royal Family), and various United Arab Emirates Royal Families.
Render & Project by James Bloomer